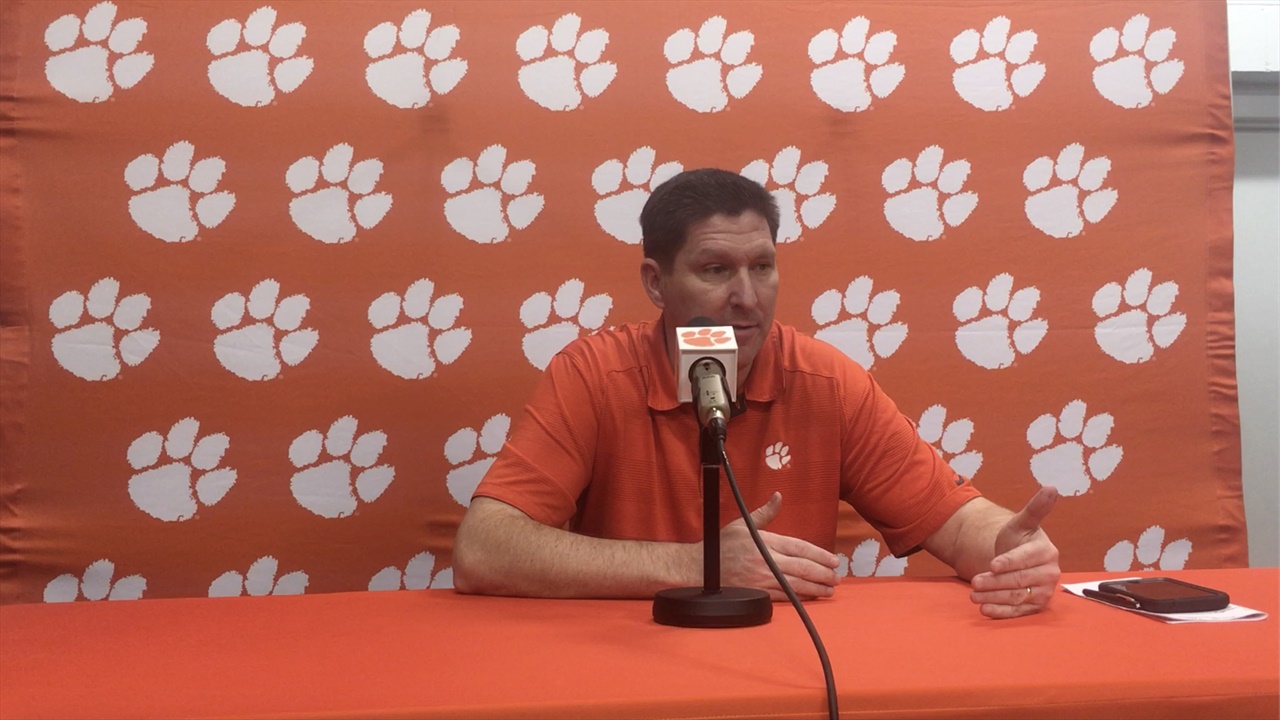 Clemson Basketball
Starting with one: Clemson looking to break losing streak against Boston College
---
About two weeks ago, Clemson was coming off a huge 59-51 win over then No. 11 Virginia Tech. Now, the Tigers can't get out of their own way as they are riding a three-game losing streak after winning four straight conference games.
Boston College rolls into Littlejohn tomorrow afternoon at noon after dropping a close one on Wednesday against NC State, 89-80. Brad Brownell said Friday that the Eagles are playing very well.
"Really impressed at what they did at (NC) State. Obviously had the ball with a chance to win down the stretch. Jimmy Christian is a good coach, he does a lot of really unique things offensively and I think he does a really good job of putting guys in good positions," Brownell said.
One of the leaders for Boston College is Ky Bowman, who is averaging 19.3 points per game and is what Brownell calls one of the better guards in the ACC, who can get his own shot and do anything.'
Nik Popovic is a junior forward for the Eagles who Brownell says is similar to Eli Thomas and credited the BC staff for doing a good job of developing him.
"He can dribble it from out on the floor and make some dribble plays for himself and others but he also can shoot a three and presents a unique challenge for a guy of that size and that skill set having that kind of ability."
Brownell was asked if some of the Tigers shooting lately is due to his guys being tired because of the emphasis the coaches place on defense. Brownell says it can certainly be a factor, and it comes down to continuing to develop and trust his guys.
"Our younger players need to play well and when they have opportunities, they need to go in there and capitalize. We're far enough in the season now where you should know what's going on, you should've played enough to where your past, all the butterflies all the time and now you just need to go out and trust yourself and your game. That's something we're trying to get to, but sometimes that's easier said than done."
Clemson has five games remaining in the regular season, and while the hopes of an NCAA Tournament are low, Brownell knows life in ACC basketball provides the Tigers with the opportunities to play good teams.
"If you can play well and handle your business, you've got a chance to string along some significant wins together and that's what we're trying to do. We did it a little bit earlier in the year and haven't done it the past couple of games and it starts with one. We just need to play a little bit better and try to finish a game and we'll go from there."
Never miss the latest news from Clemson Sports Talk!
Join our free email list