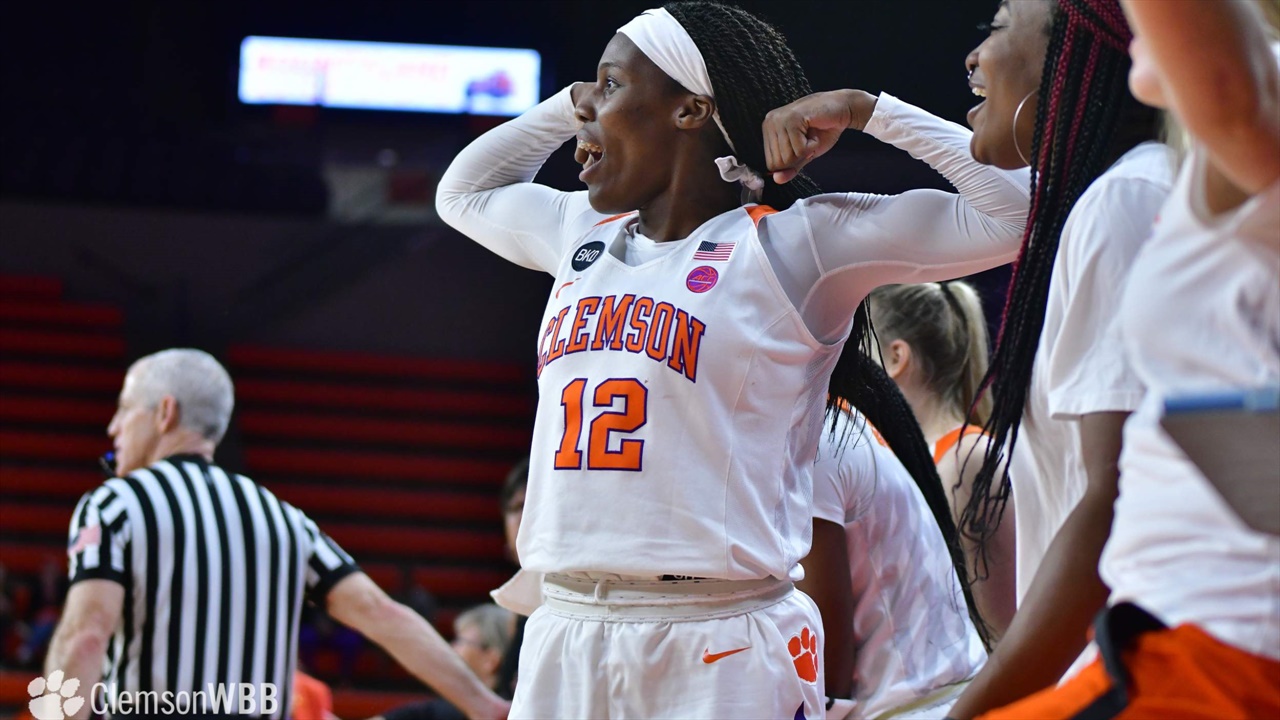 Clemson Women's Basketball
Clemson wins final home game of season against Virginia Tech
---
---
The Clemson Tigers (18-10, 9-6) defeated the Virginia Tech Hokies (17-10, 4-10) in their final home game of the regular season. Seniors Aliyah Collier, Danielle Edwards, Keniece Purvis and Simone Westbrook all worked together to outscore the Hokies by nine points in the fourth quarter.
Head coach Amanda Butler said of the victory: "That was a tremendous win and Virginia Tech challenged us in really specific ways, especially in the first half. The seniors showed a tremendous resilient spirit and I am so happy for them."
The second half saw Clemson redeem its offense. The Tigers posted 20 points to the scoreboard from 10 turnovers and shooting 47 percent from the floor. Junior Kobi Thornton was a major contributor to the offensive turnaround, scoring 13 points after making six of eleven attempted shots and seven rebounds. In addition, Thornton led all players with 23 points and 10 rebounds on the afternoon for her ninth double-double of the season.
The Tigers' defense allowed for a 10-8 lead at the end of the first quarter, which featured a major block by Thornton. Yet, Virginia Tech managed to swipe the lead after making a 15-0 run that put them up to 26-17 with 4 minutes and 5 seconds left in the second period.
Despite the Hokies' quick comeback, they couldn't hold on to their 51-49 advantage going into the last frame. With Clemson shooting 50 percent from the field in the fourth quarter and Danielle Edwards' only three-pointer of the game, the Tigers took the lead back after scoring four points. As the game neared its end in the fourth quarter, Clemson displayed a drive like no other, going 6-of-6 from the floor to reign victorious.
On Thursday, the Tigers will face the Duke Blue Devils (12-14, 4-10) in Durham, NC. Tipoff for the final game of the regular season is set for 7 p.m. and the game will air on ACC Network Extra.
Never miss the latest news from Clemson Sports Talk!
Join our free email list