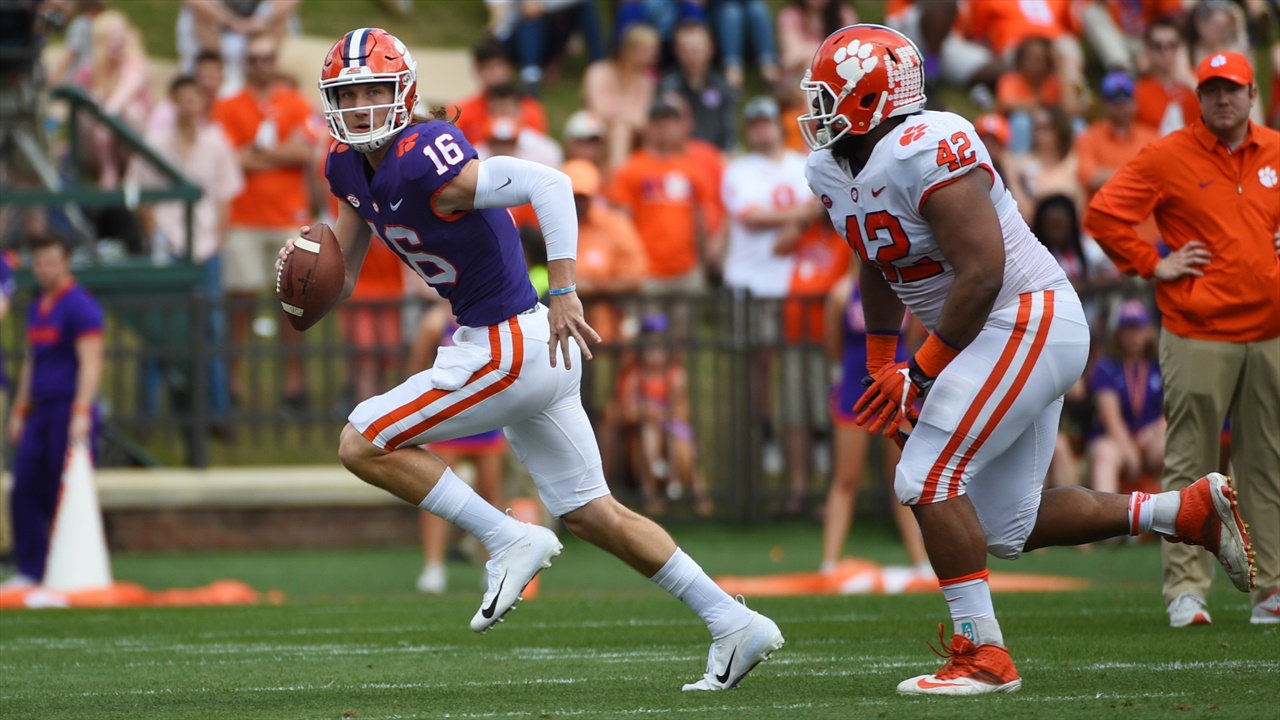 Photo by © Adam Hagy-USA TODAY Sports
Clemson Football
Christian Wilkins on what caused Trevor Lawrence's early success: "He's as cool as can be"
---
In the 2018-2019 season, Trevor Lawrence stunned college football fans everywhere when he lead the Clemson Tigers to the national championship as a true freshman.
Despite having all eyes on him when the Tigers' former QB1 Kelly Bryant stepped down, Lawrence performed incredibly under the pressure. His record-breaking arm threw for 3,280 yards and 30 touchdowns, putting Clemson at a perfect 15-0 for the season.
In an interview on The Jim Rome Show last Wednesday, former Clemson defensive tackle Christian Wilkins spoke volumes about his teammate, who's already a top-candidate for the 2019 Heisman Trophy. Wilkins described how Lawrence's personality and love for football contributed to his ability to perform and allowed him to surpass everyone's already high expectations last season.
Wilkins, the Clemson fan-favorite, said of the young quarterback:
"He's as cool as he can be, and I feel like that's just a testament to — there's a reason he's been so successful already in his time just because he's so nonchalant, just so laid back, so cool, just wants to play the game, just loves the game. (He's) always appreciative of his opportunities, but he's just a cool customer.
"There's people in life who are low maintenance or high maintenance, he's really like no maintenance. He's just like, 'Yeah, whatever.' He just does his job, shows up, does everything you ask, and he's a special kid, off the field and just on the field too. You can see that arm — the way he can sling it, the way he can throw it around. That special talent speaks for itself."

Never miss the latest news from Clemson Sports Talk!
Join our free email list