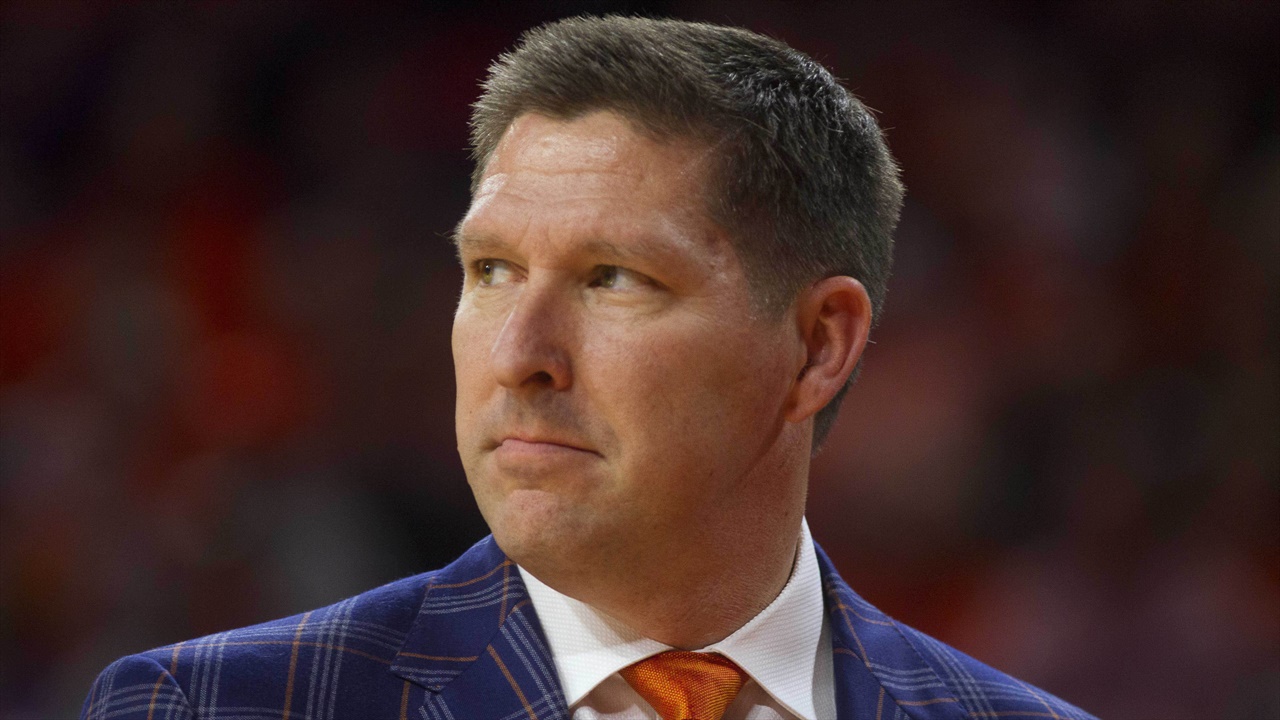 Photo by © Joshua S. Kelly-USA TODAY Sports
Clemson Basketball
Pressure Point: Clemson's Brad Brownell needs a promising season
---
After Clemson's season wrapped up in March, Brad Brownell and Dan Radakovich sat down to evaluate the Clemson basketball program like they do every year. After returning a core group of players from the 2017 Sweet Sixteen run, Clemson (20-14, 9-9) took a step back, falling to the NIT after a season littered with heartbreaking losses.
In the Tigers' final contest against Witicha State, a game that featured a bit of everything that went wrong from a season that began with high expectations, Clemson basketball fans were left wondering if Brownell was the right man for the job.
The 2018 season featured prolonged scoring droughts, poor shooting, getting out-rebounded, and not winning the 50-50 balls. Those are correctable and in some respects, "hustle" plays, but knowing Brownell's passion for that part of the game, it had to be frustrating to watch.
Last season's team was arguably the most experienced and talented team during Brownell's tenure. Yet the top four players last season all transferred into the program, and that trend has continued as the Tigers welcomed several transfers to fill gaps on the roster this season.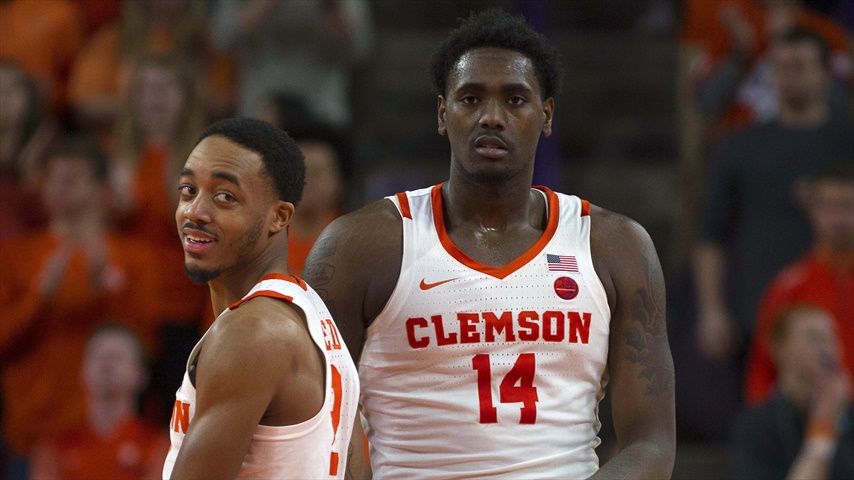 © Joshua S. Kelly-USA TODAY Sports
The Tigers added Curran Scott, and Tevin Mack as grad transfers and expected Jonathan Baehre to contribute until a knee injury in May ripped him from the roster. Fortunately, Khavon Moore from Texas Tech was granted a waiver and can play this season for the Tigers, but guard Nick Honor will have to sit for a season until he is eligible to play.
Via High School Ranks (9)
Clyde Trapp (2017 recruiting class)
Al-Amir Dawes (2019 recruiting class)
Chase Hunter (2019 recruiting class)
Hunter Tyson (2018 recruiting class)
Parker Fox (2018 recruiting class)
Alex Hemenway (2019 recruiting class)
John Newman III (2018 recruiting class)
Aamir Simms (2017 recruiting class)
Trey Jemison (2018 recruiting class)
Via Transfer Portal (6)
Jonathan Baehre (2018 transfer from UNC Asheville)
Nick Honor (2019 transfer from Fordham)
Curran Scott (2019 graduate transfer from Tulsa)
Tevin Mack (2019 graduate transfer from Alabama)
Khavon Moore (2019 transfer from Texas Tech)
Paul Grinde (2019 graduate transfer from Vassar)
As long as the transfer portal is a big part of Clemson's model, it seems that the Tigers will be forced to rely on a lot of inexperienced players and guys who haven't had a ton of time together. That fact alone makes playing in tournaments over the summer, like the University World Games, a huge opportunity for Brownell's squad.
Not only did they bring home a gold medal for the USA, but they got a chance to mesh and work together in actual games and not on the practice floor.
Looking at it from the outside, the model of building a team using the transfer portal does not seem sustainable, but that might just be the era we are living in. Mix in the fact that over a dozen players transfer out of the program since 2010, and it only compounds the issues of building depth and, perhaps more importantly, building the culture in the program.
| | | |
| --- | --- | --- |
| Class | PLAYER | STAR RATING |
| 2010 | Corey Stanton | ★★ |
| 2010 | Noel Johnson | ★★★★ |
| 2011 | Bernard Sullivan | ★★★★ |
| 2011 | Devin Coleman | ★★★ |
| 2011 | T.J. Sapp | ★★★ |
| 2012 | Adonis Filer | ★★★ |
| 2013 | Austin Ajukwa | ★★ |
| 2013 | Patrick Rooks | ★★★ |
| 2013 | Ibrahim Djambo | N/A |
| 2015 | Legend Robertin | ★★★ |
| 2015 | Ty Hudson | ★★★★ |
| 2017 | A.J. Oliver | ★★★ |
| 2018 | Javan White | N/A |
(Players who have transferred out under Brad Brownell)
This season, things will be even tougher as the Atlantic Coast Conference shifts to a 20-game regular-season schedule, meaning Clemson's route to the postseason is even more difficult. The Tigers open up tonight with an ACC battle with Virginia Tech, and all eyes will be on Clemson's new-look roster.
Failing to recognize how tough it is to win in the ACC would be quite naive, but this season seems to hold a level of urgency for Brownell's staff.
The identity of the program has been that of a gritty defensive team who grinds you down and runs intricate sets on the offensive end to get open looks. Neither of those qualities seemed to show up enough last year. The Tigers averaged 69.2 points per game, good for 270th in the country. That number needs to improve by 6-7 points per game in 2019.
Last season the Tigers ranked 24th in the country in total defense, but that doesn't tell the whole story. Dive more in-depth, and you'll see a team that got destroyed by teams who could shoot the three-ball, placing them 220th in the country in three-point defense. That's a number that needs to improve in a hurry.
The Tigers gave up an average of 7.5 three-pointers per game, allowing opponents to connect from deep 35 percent of the time. Even in this free-flowing era on offense, if you are going to be an elite or even average defense, you have to trim that number significantly. There just isn't enough room afforded for any offensive deficiencies when you give up three-point shots at that rate.
At this point, all Clemson fans want to know is that the team they are watching is headed in the right direction. Looking back at Oliver Purnell's tenure, things weren't all sunshine and rainbows, but fans felt like they knew the program was pushing forward. While Purnell never won an NCAA tournament game, it still felt steady.
In four of Brownell's nine seasons, Clemson has missed out on any kind of postseason play, and perhaps worst of all, there hasn't been any real sustained success. A prime example of that took place last year when a talented and veteran Clemson squad failed to make the NCAA's and got bounced from the NIT.
Can the Tigers be consistent enough to feel less like a rollercoaster and more like a train headed the right direction?
That's really all Tiger basketball fans want to know.
It's not about winning the national title-- it's about being consistent and putting a team on the court that plays with effort, energy, and emotion. This team did that this summer. Can they do it through March?
Only time will tell, but for Brownell, the pressure is real.
Never miss the latest news from Clemson Sports Talk!
Join our free email list