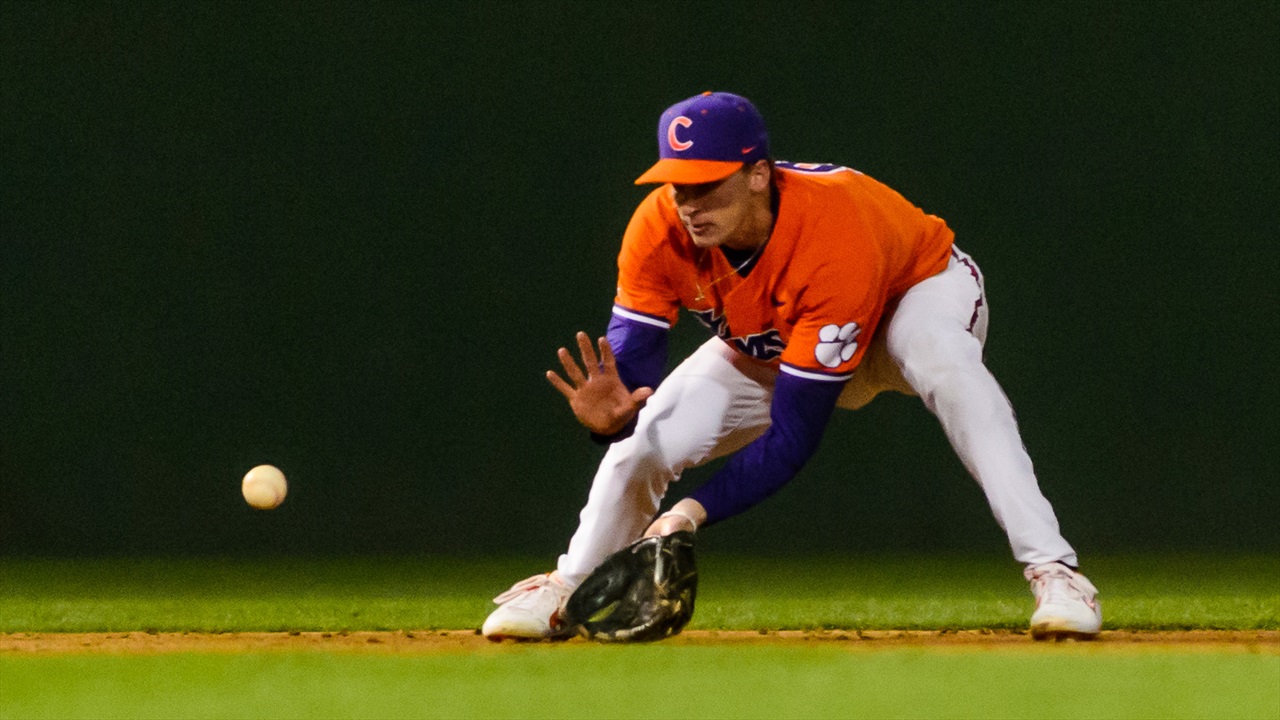 Clemson Baseball
Tigers Hit the Road Again to Play At Virginia Tech
---
CLEMSON, S.C. - The Tigers travel for the second weekend in a row, this time to Virginia Tech for a three-game series.
SERIES SETUP
• Who - Clemson (19-6, 6-3 ACC) vs. Virginia Tech (16-9, 4-5 ACC)
• Best Ranking - CU - No. 15 Collegiate Baseball; VAT - NR
• When - Friday (6 p.m.), Saturday (3 p.m.), Sunday (1 p.m.)
• Where - Blacksburg, Va. (Union Park)
• Watch - ACC Network Extra
• Video Announcers - Evan Hughes, Andrew Wells
• Listen (Radio) - WCCP (105.5 FM), ESPN Upstate
• Listen (Internet) - ClemsonTigers.com, TuneIn
• Live Stats - ClemsonTigers.com
• Social Media - ClemsonBaseball
SERIES HISTORY
• Overall Record - Clemson leads 44-24-2 (1902-2017)
• Record at Virginia Tech - Virginia Tech leads 15-12-1 (1916-15)
STARTING PITCHERS
• Friday - RHP Davis Sharpe (CU) vs. LHP Ian Seymour (VAT)
• Saturday - LHP Mat Clark (CU) vs. LHP Peyton Alford (VAT)
• Sunday - LHP Keyshawn Askew (CU) vs. TBA (VAT)
CLEMSON OVERVIEW
• Clemson defeated Charlotte 8-5 at BB&T Ballpark on Tuesday night.
• The Tigers are averaging 6.8 runs per game and hitting .270 with a .380 on-base percentage and 45 steals.
• The pitching staff has a 3.29 ERA, .232 opponents' batting average and 3.14 strikeout-to-walk ratio and Clemson is fielding .967.
VIRGINIA TECH OVERVIEW
• Virginia Tech is led by second-year head coach John Szefc.
• Liberty defeated the Hokies 6-1 in Blacksburg on Tuesday. They are hitting .269 and have a 3.03 ERA and .976 fielding percentage.
• Jack Owens is hitting .345, Kerry Carpenter has six homers and 26 RBIs and Luke Horanski has seven homers and 26 RBIs.
QUICK HITS
• Clemson won two of three games in its last series at Virginia Tech in 2015.
• The Tigers have answered each of their last 13 losses dating to 2018 with a win in their next game.
• Clemson is 16-2 when outhitting the opponent and 3-4 when getting outhit.
FAMILY CONNECTIONS
• Clemson has several players who have family ties to current and former professional athletes as well as former Tigers.
• Grayson Byrd's father, Paul Byrd, was a righthander at Louisiana State and played 14 seasons (1995-02,04-09) in the major leagues.
• Logan Davidson's father, Mark Davidson, played at Clemson in 1982 and played six seasons (1986-91) in the majors with the Twins and Astros.
• Chad Fairey's uncle, Burke Fairey, played baseball at Clemson (1985-88) and his grandfather, Jim Fairey, played six MLB seasons (1968-73).
• Adam Hackenberg's brother, Christian Hackenberg, was a quarterback at Penn State from 2013-15.
• Ryne Huggins' father, Mike Huggins, played three seasons (1986,87,89) at Clemson and had a 4-3 record and four saves in 41 relief outings.
• Bo Majkowski's father, Don Majkowski, played football at Virginia, then played 10 years (1987-96) in the NFL, totaling 12,700 passing yards.
• James Parker's father, Tim Parker, was a pitcher at Clemson in 1987,88,90 and was a third-round draft pick by the Chicago Cubs.
• Carson Spiers' cousin, Will Spiers, was a sophomore starting punter on Clemson's 2018 national championship team.
• Carson Spiers' father, Michael Spiers, hit .301 with 16 homers, 110 RBIs and 32 steals in 184 games over four seasons (1988-91) at Clemson.
• Carson Spiers' uncle, Bill Spiers, played three seasons (1985-87) at Clemson and played 13 seasons (1989-01) in the major leagues.
• Carson Spiers' grandfather, Bud Spiers, hit .254 with seven homers and 44 RBIs in three seasons (1956-58) at Clemson.
Never miss the latest news from Clemson Sports Talk!
Join our free email list