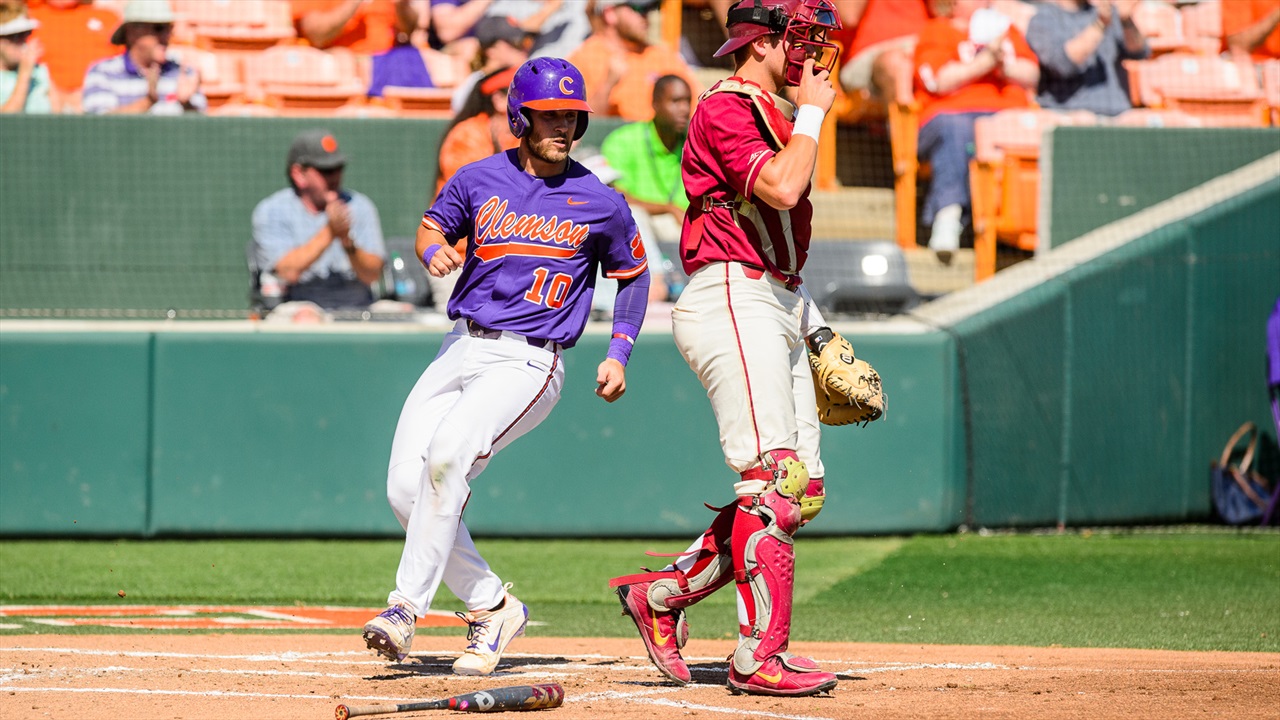 Photo by © David Grooms/Clemson Sports Talk
Clemson Baseball
Tigers Travel to Tallahassee to take on Seminoles
---
CLEMSON, S.C. - The Tigers travel to Tallahassee to take on Florida State this weekend in Mike Martin's final season as head coach of the Seminoles.
SERIES SETUP
• Who - Clemson (25-8, 11-4 ACC) vs. Florida State (19-13, 7-8 ACC)
• Best Ranking - CU - No. 13 Collegiate Baseball; FSU - NR
• When - Friday (6 p.m.), Saturday (2 p.m.), Sunday (1 p.m.)
• Where - Tallahassee, Fla. (Dick Howser Stadium)
• Watch - ACC Network Extra (Friday, Saturday), ESPN2 (Sunday)
• Video Announcers - Chip Baker (Friday, Saturday), Shawn Davison (Friday, Saturday), Tom Hart (Sunday), Kyle Peterson (Sunday)
• Listen (Radio) - WCCP (105.5 FM), ESPN Upstate
• Listen (Internet) - ClemsonTigers.com, TuneIn
• Live Stats - ClemsonTigers.com
• Social Media - ClemsonBaseball
SERIES HISTORY
• Overall Record - Florida State leads 76-69-1 (1958-18)
• Record at Florida State - Florida State leads 39-20-1 (1962-17)
STARTING PITCHERS
• Friday - RHP Davis Sharpe (CU) vs. LHP Drew Parrish (FSU)
• Saturday - LHP Mat Clark (CU) vs. RHP CJ Van Eyk (FSU)
• Sunday - TBA (CU) vs. LHP Shane Drohan (FSU)
CLEMSON OVERVIEW
• Clemson, who has a 7-2 road record, defeated Furman 2-0 at home on Wednesday night.
• The Tigers are averaging 6.8 runs per game and hitting .268 with a .374 on-base percentage and 57 steals.
• The pitching staff has a 3.23 ERA, .227 opponents' batting average and 2.93 strikeout-to-walk ratio and Clemson is fielding .969.
FLORIDA STATE OVERVIEW
• Florida State is led by head coach Mike Martin, who is in his 40th and final season.
• The Seminoles lost at home 3-1 to Florida on Tuesday. They are hitting .247 and have a 4.74 ERA and .969 fielding percentage.
• Robby Martin is hitting .324, Drew Mendoza has eight homers and 23 RBIs and J.C. Flowers has a team-high six saves.
QUICK HITS
• The Tigers have answered each of their last 15 losses with a win in their next game dating to back-to-back losses on April 13,14, 2018.
• Clemson is 21-0 when scoring five or more runs and 4-8 when scoring less than five runs.
• Clemson is outscoring its opponents 33-3 in the fifth inning. It is its highest-scoring inning and its opponents' lowest-scoring inning.
WILKIE USING BAT & ARM
• Junior catcher Kyle Wilkie has helped keep opponent running games in check with his ability to throw out basestealers.
• He has thrown out 11 of 28 basestealers, and many of the successful steals have come with no throws due to great jumps.
• He was named to the Buster Posey Award Watch List during the season.
• He is hitting .275 with a homer, five doubles, 16 RBIs, 18 runs, a .369 on-base percentage and four steals in 30 games (28 starts) in 2019.
• He had a 10-game hitting streak from February to March after ending the 2018 season on a 29-game hitting streak.
• He had a 41-game on-base streak, which comprised the last 39 games of 2018 and the first two games of 2019.
• In his career, he is hitting .298 with 16 doubles, six homers, 61 RBIs, a .400 on-base percentage and six steals in 116 games (106 starts).
Never miss the latest news from Clemson Sports Talk!
Join our free email list