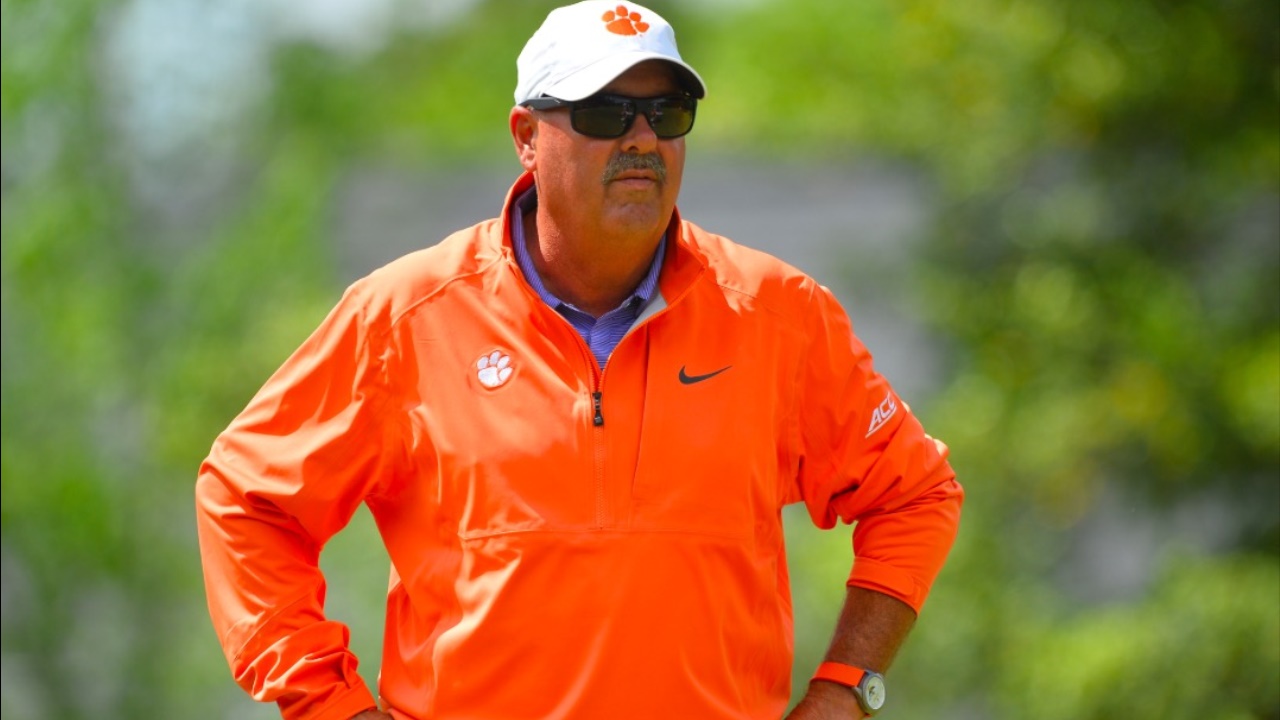 Exclusive interview with Larry Penley ahead of the NCAA Tournament
---
Clemson, S.C.—The Clemson men's golf team begins play at the NCAA National Tournament at The Blessings Golf Course in Fayetteville, Arkansas on Friday. Clemson will be paired with Georgia and Brigham Young for the first two rounds. The three teams will begin play at the 10th tee on Friday at 3:00 p.m. eastern time. The 30 teams will play 18 holes a day, Friday through Sunday. Sunday night the field will be cut to 15 teams. After the fourth round, the field will be cut to eight teams and an individual National Champion will be ground. The top eight teams after Monday will go into match play starting Tuesday.
Clemson will bring a senior, a junior, a freshman and two sophomores as its starting lineup to the par 72 course that is 7,501 yards in length. It will be the fourth longest course Clemson has played in its history.
Clemson is led by graduate Bryson Nimmer, the ACC Player of the Year, who was named to the All-ACC team for the fourth time. The native of Bluffton, Ga. is on pace to set the Clemson record for stroke average in a season, as he has a 69.06 figure for his 33 rounds this year. He has 20 rounds in the 60s, also a single-season record, and 24 rounds under-par, three behind D.J. Trahan's record of 27 set in 2001-02.
Jacob Bridgeman, who has been Clemson's second best player all year, will be the number-two man in Clemson's lineup. The rookie has a 71.45 stroke average, on pace to be the fourth best by a freshman in school history. He has four top 10 finishes this year, second to Nimmer's 10.
Sophomore Colby Patton is coming off his best tournament of the year, as he finished eighth at the NCAA Austin Regional thanks to a two-under-par 211 after rounds of 71-71-69. It marked the first time in his career he shot par or better in all three rounds of a tournament in which he was not playing as an individual. It was also his first top 10 of the year.
Kyle Cottam and William Nottingham also will be in the Clemson lineup. Cottam is a sophomore who was Clemson's top player for the first 36 holes of the Austin Regional. He is third on the team in stroke average this year at 72.79. Nottingham had a strong even par 71 in the final round in Austin to help bring the Tigers home to a third-place team finish and the bid to the National Tournament.
Nimmer, Patton, Cottam and Nottingham all have NCAA National Tournament experience and were on Clemson's 13th ranked team last year.
Clemson is competing at the NCAA National Tournament for the fifth consecutive year. The Tigers are one of nine schools playing in the NCAA Championship for at least the fifth straight year. It is the program's 32nd time in the NCAA National Tournament, the 29th time in 36 years under Penley. Clemson won the National Championship under Penley in 2003 and has 12 Top 10 finishes.
Live scoring will be available throughout the tournament on golfstat.com. The Golf Channel will begin coverage of the tournament on Monday.
Clemson Lineup for 2019 NCAA National Tournament
| | | | | | |
| --- | --- | --- | --- | --- | --- |
| Player | Height | Weight | Class | Hometown | Stroke Avg. |
| Bryson Nimmer | 5'8 | 160 | Gr. | Bluffton, SC | 69.06 |
| Jacob Bridgeman | 5'10 | 150 | Fr. | Inman, SC | 71.45 |
| Kyle Cottam | 6'2 | 170 | So. | Knoxville, TN | 72.79 |
| Colby Patton | 6'2 | 165 | So. | Fountain Inn, SC | 73.35 |
| William Nottingham | 6'3 | 185 | Jr. | Kingsport, TN | 72.94 |
Alternate
| | | | | | |
| --- | --- | --- | --- | --- | --- |
| Player | Height | Weight | Class | Hometown | Stroke Avg. |
| Zack Gordon | 6'3 | 180 | Fr. | Gaffney, SC | 72.91 |
Tournament: 2019 NCAA National Championship
Dates: May 24 to May 29, 2019
The Course: The Blessings, University of Arkansas (Par 72, 7,501 yards)
Course Address: The Blessings Golf Course, 5826 Clear Creek Blvd. Fayetteville, Ark 72704
Tournament Format:
The field for the NCAA Tournament includes 30 teams and six individuals for 156 players. All 156 will play three rounds of stroke play. Following 54 holes of stroke play competition, the top 15 teams and top nine individuals not on those teams will advance to a fourth day of stroke play. An individual champion will be crowned after the fourth round. The top eight teams will advance to Match play.
Starting Tuesday, May 28, the No. 1 team will play No. 8, No. 2 will play No. 7, No. 3 will play No. 6 and No. 4 will play No. 5. The quarterfinals and semifinals of match play will be played on Tuesday and the National Championship match will be played on Wednesday, May 29.
Clemson Tee Times:
Clemson will be paired with Georgia and Brigham Young for the first two rounds. Clemson will start on Friday, May 24 at 3:00 p.m. Eastern time at the 10th tee. On Saturday, May 25, Clemson, Georgia and BYU will start from the first tee at 9:40 a.m. Eastern.
The Field by Seed:
1. Oklahoma State, 2. Arizona State, 3. Wake Forest, 4. Vanderbilt, 5. Texas, 6. Oklahoma, 7. Georgia Tech, 8. Duke, 9. Southern California, 10. Stanford, 11. Auburn, 12. California, 13. Clemson, 14. Georgia, 15. BYU, 16. South Carolina, 17. LSU, 18. Texas A&M, 19. North Florida, 20. Pepperdine, 21. Louisville, 22. Liberty, 23. Baylor, 24. Illinois, 25. North Carolina, 26. TCU, 27. UNLV, 28. Ohio State, 29. Georgia Southern, 30. SMU
Golf Channel Coverage: May 27-29, 2019 (Times TBA)
Live Scoring: golfstat.com
Never miss the latest news from Clemson Sports Talk!
Join our free email list