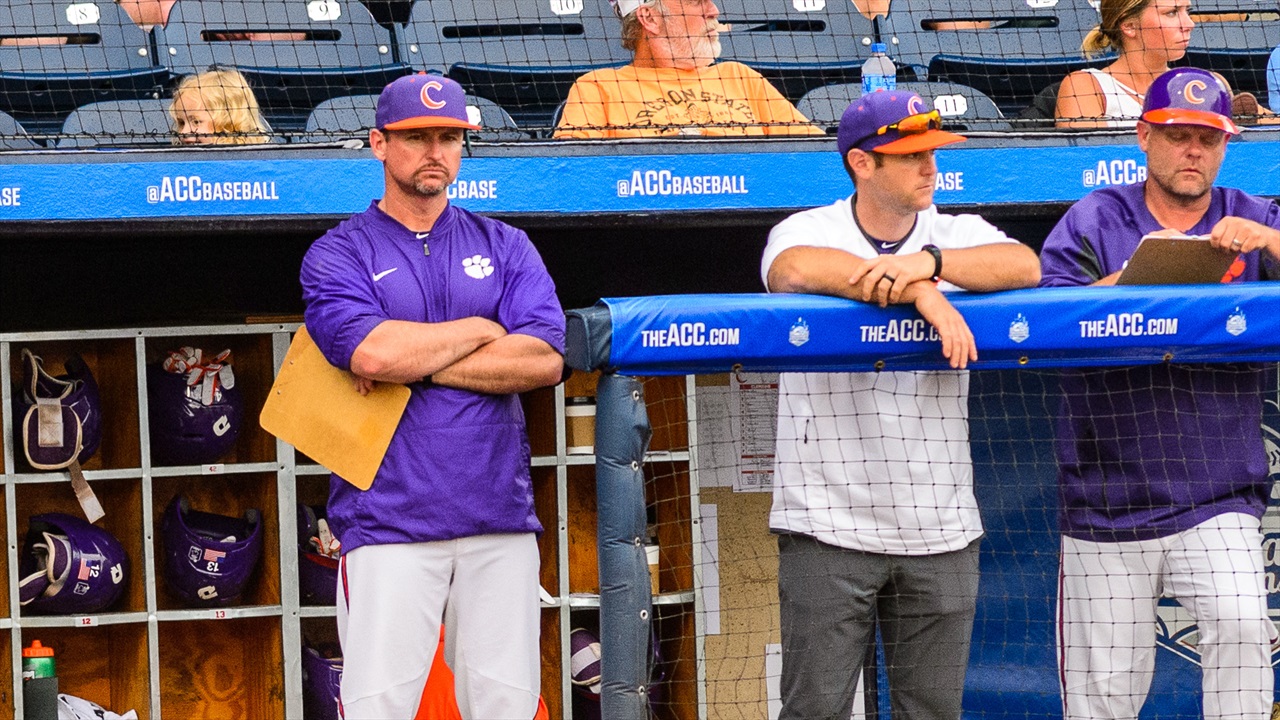 Photo by © David Grooms/Clemson Sports Talk
Clemson Baseball
Monte Lee discusses regional rotation, stresses importance of game one
---
CLEMSON – Monte Lee knew one of the first questions he was going to get asked when he met with the media on Tuesday afternoon.
What's the pitching rotation going to be this weekend?
There was no hesitation in his answer as Lee revealed his plan for the first two games.
Junior left-hander Jacob Hennessy is going to get the Friday start against Illinois in the pivotal game one, the head coach announced. If all things were to go according to plan and Clemson were to win game one, Mat Clark would get the start in game two against either Jacksonville State or Ole Miss.
"We feel very good about our starting pitching," Lee said. "Said yesterday that our three starters - we feel very confident in all three, and we feel like Jacob is the right call to go in game one. We had lengthy discussions about it yesterday, a lengthy meeting this morning, and felt like we feel very good as a staff going with Jacob."
Hennessy has been through plenty of ups and downs during his three-year career so far at Clemson. His freshman year, he was one of the best left-handers out of the bullpen, which elevated him into a position to start on Fridays his sophomore year.
After some rocky starts in 2018, Hennessy's position as a Friday starter was given up, and he returned to the bullpen. After some consistent, strong outings out of the bullpen to end the 2019 season, Lee and his staff are perfectly comfortable with giving Hennessy the ball to set the tone of the postseason.
"We're trying to win this regional," Lee said. "We feel like to set our pitching up the way we want to set our pitching up that going with Jacob in game one was the right move for us and our team.
"We all know how important game one is, how critical game one is. But we also understand how critical winning game two is. They are both very, very important and again, we made the decision of going with Hennessy with the mindset that we're trying to win this regional."
In 19 appearances this season, Hennessy is looking more like he did his freshman season sporting a 3.72 ERA and having 35 strikeouts in 48 innings of work. He has a 4-1 record and opponents are batting .249 against him, a career-best.
Baseball is situational, and there are a multitude of scenarios for how Clemson's time in the Oxford Regional could play out. But Monte Lee has his mind focused on game one first, then game two.
The other pitcher who was in the conversation to start was freshman Davis Sharpe, who will be an x-factor on the mound this weekend. When he is used, most likely out of the bullpen, will be interesting to keep an eye on.
The Tigers are going to throw the kitchen sink at Illinois to win that first game, so we could see a situation where Sharpe comes in to relieve Hennessy unless Lee feels he has the game in control and wants to save Sharpe for game two.
"We are going to do everything we can to win game one even if that means compromising future starting plans over the weekend to use certain guys out of the bullpen," Lee said. "We are going to run everybody we can out at Illinois in game one to try and win game one.
"Our plan would be to start Jacob and we would have Sharpe available out of the bullpen in game one if needed," Lee added. "We would have Sharpe potentially, if we win game one and we start Clark in game two, we are going to use whatever weapons we have at our disposal out of the bullpen to win game two and we'll see where we are at after that. That's our plan at this point."
Clark is coming off the best start of his career against the No. 7 national seeded Louisville Cardinals in the ACC Tournament. Sharpe has started 14 games this season and has thrown 80 strikeouts in 77.2 innings of work and has a 3.48 ERA.
Clemson has not made it out of a regional since 2010, but the first step to advancing out of this year's regional is getting off to the right foot in game one on Friday at 4 pm. Lee and the Tigers are going to take things one game at a time, one pitch at a time.
"We all know how critical that game is," Lee said of Friday's game against Illinois. "We will cross the bridge of game two once we get there."
Never miss the latest news from Clemson Sports Talk!
Join our free email list