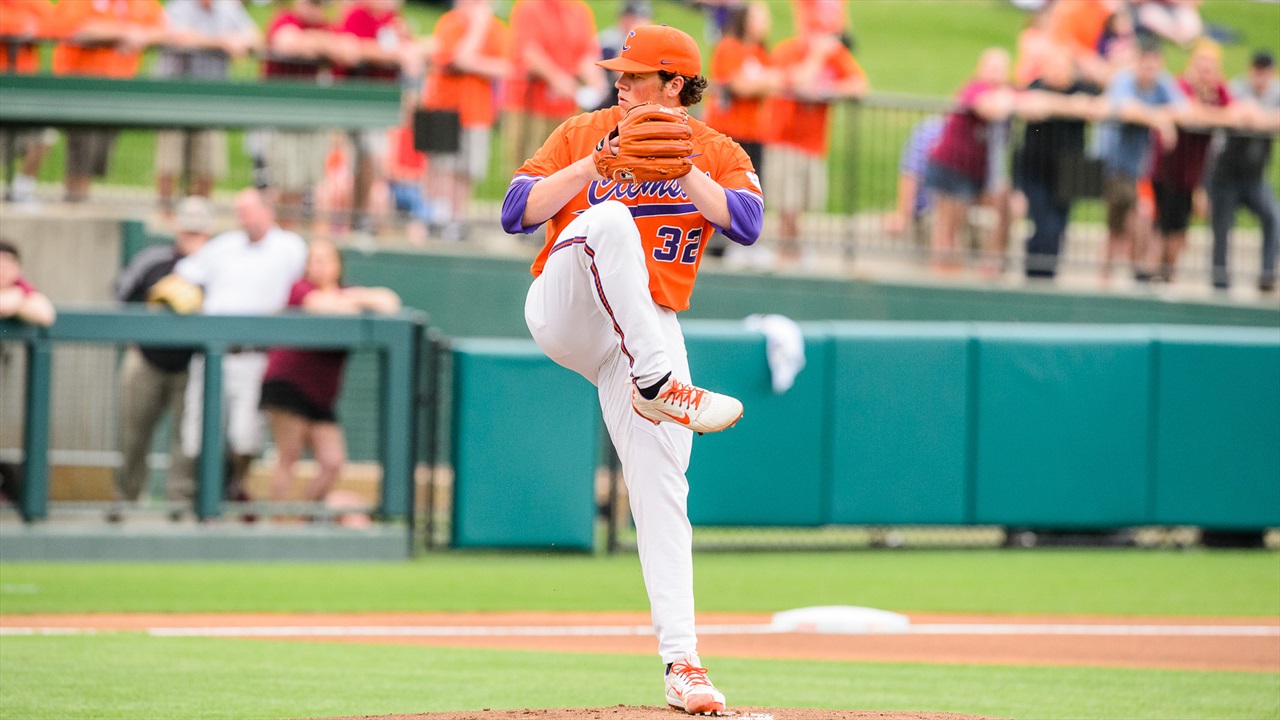 Photo by © David Grooms/Clemson Sports Talk
Clemson Baseball
The highs and lows of Jacob Hennessy have prepared him for biggest start of his career
---
CLEMSON – On a cool, early evening in late February, Clemson baseball was humming merrily along against the East Tennessee State Buccaneers in a midweek matchup. Most of the home fans in attendance at Doug Kingsmore Stadium were heading towards the exits after a seven-run sixth inning gave the Tigers a 14-0 lead.
With the game by the throat, head coach Monte Lee decided to make a pitching change, his third of the game. In came junior left-hander Jacob Hennessy, his second appearance of the season.
It was an appearance he would want back.
The life of a pitcher - at any level - is never easy. It's one full of ups and plenty of downs. Hennessy is no exception. When he stepped to the rubber against the Bucs, it was another chance to prove his coaches wrong. To prove that he still belonged in the weekend rotation after his Friday starting role from a year before was given to someone else.
His one inning against East Tennessee State proved to be one of those "down" moments. Hennessy walked two consecutive batters, his first walks of the season, to give the Buccaneers some life. Then, a three-run home run was absolutely crushed over the left-field wall to put East Tennessee State on the board and end the shutout.
Hennessy looked dejected.
Lee let Hennessy finish his inning. He struck out two batters to end the top half of the seventh. As soon as he stepped off the mound and walked towards Clemson's home dugout, he rose his glove towards his face and put his face in it.
For about the next eight seconds, all anyone within earshot could hear was the muffled sounds of Hennessy yelling into the glove. Frustration was on full display. He did not return to the game.
That scene all the way back at the beginning of the season still sticks out in this writer's mind today. It was one of those oh-how-the-mighty-have-fallen moments. This was the same player who was one of Clemson's best relief pitchers out of the bullpen his freshman year.
He earned that starting role his sophomore year.
And to not have his best outings at times and have his spot taken (by a freshman nonetheless) was a tough pill to swallow. When an athlete faces adversity, they can either rise above and persevere, or they can falter.
As a pitcher, you must mentally put the past - the good times and the bad - in the rearview mirror. And as a competitor, you want the ball in your hand.
Luckily for Clemson, Hennessy is both in a great position mentally heading into the most significant start of his career in the Oxford Regional, and he's one hell of a competitor, according to his head coach.
"Like most competitors, he wants the baseball," Lee said on Monday after he announced Hennessy as game one starter of the regional against Illinois. "I don't think he was very happy about the fact that he wasn't a weekend starter early in the year. I actually liked that about him. I didn't want him to be happy about it. If a guy is happy about not being a starter, then you probably got the wrong makeup kind of guys, quite honestly.
"Jacob wasn't happy that he wasn't starting, but it's not like he pouted or complained or anything like that. He kept working. He took the ball when we gave him the ball out of the bullpen. When we started him, he made his starts and did what he was supposed to do."
Although Hennessy has had some rough outings in 2019 - one against Duke where he gave up seven hits and five runs in three innings, another against Gardner Webb where he gave up six runs on five hits in 2.2 innings - he's made up for them in some strong appearances in the second half of the season.
It began with a start against Furman where he threw 6.1 innings, struck out three batters, and only gave up two hits in a win. Sure it was Furman, but that was the type of game that could give Hennessy all the confidence in the world.
Hennessy then went on the road and started against No. 4 Georgia. His five innings pitched were overshadowed by the 6-and-a-half hour game that took place, but he was steady. Hennessy allowed no runs, two hits, and struck out four batters that evening.
Suddenly, the imagery of yelling into his glove against East Tennessee State was replaced with a fist pump after a strikeout to end an inning as Hennessy was greeted by teammates. He was beginning to look like he did his freshman season when he was the sure-fire lefty out of the bullpen.
"His freshman year out of the pen was insane. The guy was electric coming in throwing that slider, fastball mix," shortstop Logan Davidson said. "To see him bounce back in this second half and what he's done, he threw really good against Georgia and the past several weeks really. Whenever we've needed him, he comes in and gets outs."
So, what's been the key to Hennessy getting his groove back?
Well, it starts with the number of innings he's pitched so far this year. As a starter in 2018, he threw over 71 innings in his 14 starts, which averages out to just over five innings pitched per appearance. That's a lot of work, and high-stress pitches on his arm.
His fastballs began to look like meatballs to the batter's eyes when his arm began to wore down as the year wore on.
This season, Hennessy has appeared in 19 games. He's gotten his mix of starting in, and he's been out of the bullpen to pitch 48.1 total innings. Hennessy's two-and-a-half innings pitched per outing in 2019 is half of what it was when he was a starter.
He has noticed the difference as he heads into the postseason this time around.
"This is the best my arm has felt - maybe ever," Hennessy said.
Monte Lee explained to us more in-depth.
"Jacob has been very consistent," Lee said. "You see his velocity. His velocity is up. He's pitching more in that 86 to 88 mph range, especially for his first 50 pitches or so. A big key for him, too, is being able to mix the slider and his changeup. When he's got command of his slider, it's really good. When you zero in on his fastball, and he doesn't have his offspeed, that's when he gets hit a little bit.
"It's really important for Jacob to be able to throw three pitches in the strike zone. His first two years in the program, he wore down as the season went on. His arm is pretty fresh right now, so that looks good for us."
And there is no reason for Lee not to have all the confidence in the world in his junior lefty.
Hennessy is 4-1 this season, is holding opponents to a career-low .249 batting average and is coming off two appearances out of the bullpen, against Boston College and Louisville, in the ACC Tournament. He pitched an inning each in those games, combining to throw three strikeouts and not allowing a hit.
Not to mention Hennessy is also coming off the best start of his career against Wake Forest, which ended the season hitting .289, fourth-best in the ACC.
In 7.1 innings pitched, which tied a career-long, Hennessy was locked in after a shaky first inning. He did give up six hits and two runs, but struck out seven Demon Deacons in the process and only walked one.
That game in itself was a microcosm of who Hennessy is as a player. There were some down moments - like that shaky first inning - where he easily could have folded. But he never wavered and dialed back in the very next inning, the very next pitch, and went on to throw some of his best stuff.
"Jacob is a guy who has been up and down, but he's also stuck with his process throughout his career here at Clemson," reliever Carson Spiers said. "He does everything, whether he is starting or in the bullpen, and he's a guy that is selfless. He wants to do whatever is best for the team. He wants to win more than anybody in this clubhouse."
There was a significant irony at the moment Lee decided it was time for Hennessy to hand the ball over to a reliever in that game against Wake Forest. Months before, with not many in attendance during "garbage time," Hennessy walked off the field at Doug Kingsmore Stadium with his face in his glove.
This time, when he stepped off the rubber in one of the final home games of the season, every fan in attendance rose to their feet for an ovation. The muffled sound of yelling from February was replaced with thunderous applause and whistles that rang out through the warm Clemson evening.
There was not so much as a glimpse of a smile from Hennessy, but his head was held high as his teammates greeted him outside the home dugout. His mind could have already been fixed to getting ready for his next appearance. He could also have been soaking it in.
Nonetheless, this was one of the "ups" as far as life as a pitcher is concerned.
Hennessy is looking to continue to ride that wave of confidence from late in the season into the postseason, where Lee is putting the baseball in his hands one more time. His process won't change as he gets his next shot.
"I continue to believe in myself and work hard, and I knew my hard work would pay off," Hennessy said. "Just stayed determined… I put myself in a good position, and I am ready to go out there this week and do whatever I can do to help the team win."
There are moments in life where we as humans can feel like a Hennessy. We can struggle, have bad days, and can sometimes express that frustration. But that doesn't define us.
What does define us is how we respond to those instances, how we move forward.
How we throw our next pitch.
Never miss the latest news from Clemson Sports Talk!
Join our free email list