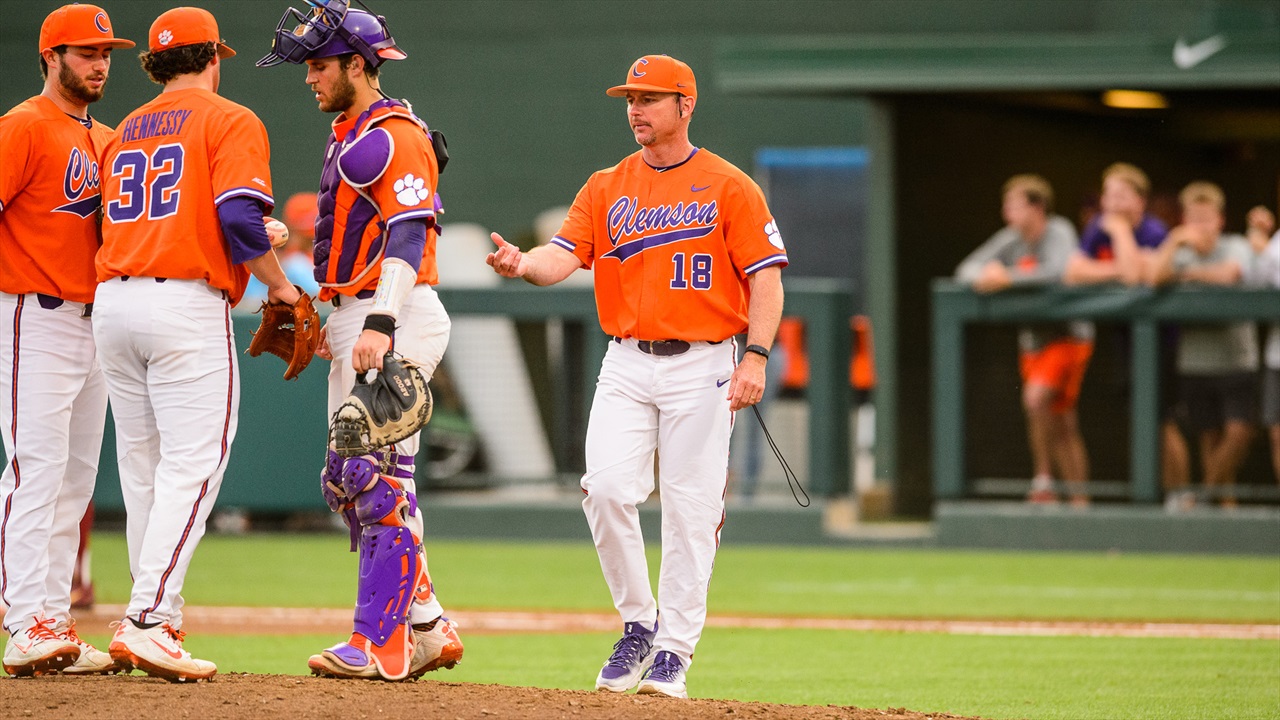 Photo by © David Grooms/Clemson Sports Talk
Clemson Baseball
Monte Lee's season wrap-up takeaways
---
Monte Lee had his annual end-of-the-season wrap up this morning at Doug Kingsmore Stadium. Here were a few of the more important takeaways from the 30-plus minute session:
-- Lee said he and his staff are "certainly not satisfied with how the season went." The Tigers finished 35-26 and were .500 in the ACC. At one point, Clemson was 25-8. Lee said it is on him to figure out how to make his team a better one over the course of the second half of the season.
"I'm not satisfied. I am certainly disappointed and frustrated with how our season went. There's a lot of things that we need to improve upon, but you are going to say that after every year. Bear in mind that if you don't go to the College World Series, there are things you have to improve upon.
Noted the positives about Clemson getting back to the postseason again, but losing in a regional round again was "certainly not up to my standards," Lee said.
"Our players understand the expectations of the program and where we want to get to. We didn't reach that. I think we are all disappointed with how the season ended. We were unable to right the ship."
– Lee has had conversations with AD Dan Radakovich about the team. Lee said they were "positive" conversations, but would not go into further detail on what the two talked about.
"We all know the expectations."
– Lee also said he is not planning on making any changes to his staff.
– There needs to be more vocal, emotional, leadership from his players. Said there are times when there's no fire or energy in the dugout. Those personalities, especially from his veterans, were something he did not have last year. Not to say those players weren't great leaders, but their approach was more "business" as opposed to being outspoken.
Players mentioned as guys who could bring that fire: Michael Green, Bryce Teodosio, Sam Hall, and a healthy Kier Meredith.
– There are big shoes to fill in the infield as Logan Davidson, Kyle Wilkie, Grayson Byrd, and Jordan Greene are all moving on. Lee said the MLB Draft went about as he expected. Two incoming freshmen are players who were drafted, but turned that opporunitiy down.
Mack Anglin, a RHP/first baseman from Marengo, OH is one of those players. He throws a 93 MPH fastball and has good command on his breaking ball, accoridng to Perfect Game. Lee thinks that Anglin is a player who will be "special."
– Spencer Strider, Kier Meredith, and freshman pitcher Carter Raffield are staying in Clemson this summer to work on rehabbing season-ending injuries and should be back healthy by the fall.
– Said Bryar Hawkins will be moving to third, James parker will take Davidson's spot at shortstop, Sam Hall will move to the infield, Adam Hackenburg will be at catcher, and Lee is also looking at Chad Fairey as someone who could play in the infleid.
– Lee feels confident about his pitching depth coming back next season. Mat Clark and Davis Sharpe pitched the most innings this year on the team. Said Sharpe will be hitting next year.
– Every pitcher on the roster is going to start this fall so that he can figure out who can go into the 6th or 7th inning. "If that means we need to have intrasquad scrimmages every day, then we'll have intrasquad every day." During an end-of-year meeting, Holt Jones told Lee he wants to start. Lee said he would have to develop three consistent pitches this summer, not just a high-velocity fastball.
– The goal Lee has for the offense is to score seven runs per game. Said folks pay way too much attention to batting averages. The elite offenses are scoring runs, and this year's team scored 6.49 runs per game. If they can get to seven runs a game, then they will be the best offense in the ACC. The problem this year was striking out too much and not following through in situational at-bats (sacrifice bunts).

That's about it for now. Hope everyone is having a great week.
Never miss the latest news from Clemson Sports Talk!
Join our free email list