Photo by © Glenn Beil-USA TODAY Sports
Clemson Football
Amari Rodgers ahead of schedule with ACL rehab, eyeing a return 'sooner than later'
---

---
The average recovery time for a torn ACL is six to nine months of rehabilitation.
Four months ago, Clemson wide receiver Amari Rodgers went down with a torn ACL during spring practice, but the coaching staff is expecting the injury not to linger too long. Rodgers is ahead of where they assumed he would be, which means he could be back on the field sooner rather than later.
And by soon, we mean Rodgers could potentially be back on the field as early as September. The coaching staff said there is no timetable for the receiver's return to action, but Rodgers has excelled during his recovery process due to his mental toughness.
"There is probably not anybody in that (wide receiver) room more prepared for that obstacle. The way that he has attacked it has not surprised me one bit," co-offensive coordinator Jeff Scott said. "He's ahead, really, of every benchmark that they have for him. Very similar to when Deshaun Watson was kind of going through that."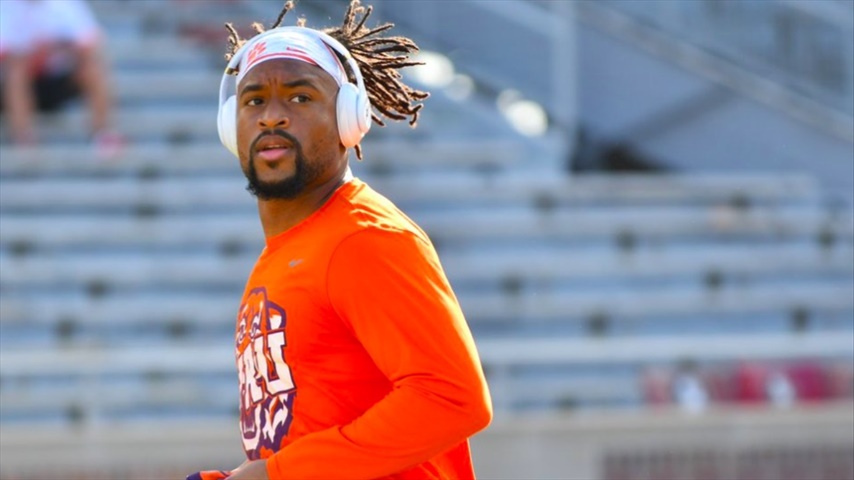 Twitter: @ClemsonFB
The next step in the recovery process is for Rodgers to start cutting soon. He's already started straight-line running a little bit and has been checking all the boxes to get back to 100 percent.
Because of his value and how tough these injuries are to overcome, the medical staff is trying their best not to let Rodgers get too carried away.
| | | | | |
| --- | --- | --- | --- | --- |
| Season | Receptions | Yards | Avg. | Touchdowns |
| 2018 | 55 | 575 | 10.5 | 4 |
| 2017 | 19 | 123 | 6.5 | 0 |
"I think for Amari it is going to be one of those things where we are saying 'woah' not 'sic' em,'" Scott said. "Just kind of slow him down a little bit. He will go out and probably do a little bit more than the trainers want him to do right now…I expected him back sooner than later and exactly when that is in the season is yet to be determined."
Rodgers was a projected starter at the slot position and punt return for the 2019 season before the injury. In the meantime, Derion Kendrick will overtake those duties at punt return, while Diondre Overton, TJ Chase, and Cornell Powell have been filling the void left by Rodgers.
Rodgers started all 15 games for the Tigers on their way to a second national championship in three years. The rising junior was second on the team in receptions with 55, and scored four touchdowns with one punt return touchdown.
The former Under Armour All-American had a team-high-tying six receptions for 26 yards vs. No. 3 Notre Dame in the Cotton Bowl and tallied 30 yards on two receptions in National Championship Game vs. No. 1 Alabama.
Rodgers' strong finish to the season had many people optimistic about his junior campaign, but perhaps the injury won't slow him down. After being asked if there was a thought about using a medical redshirt on Rodgers, Scott said the hope is that won't be necessary, and the shifty slot man will be ready to go.
"He really thinks he has a chance to have a really good season for us this year and we just want to be sure he is back to 100 percent before we put him back on the field," Scott said.
Never miss the latest news from Clemson Sports Talk!
Join our free email list