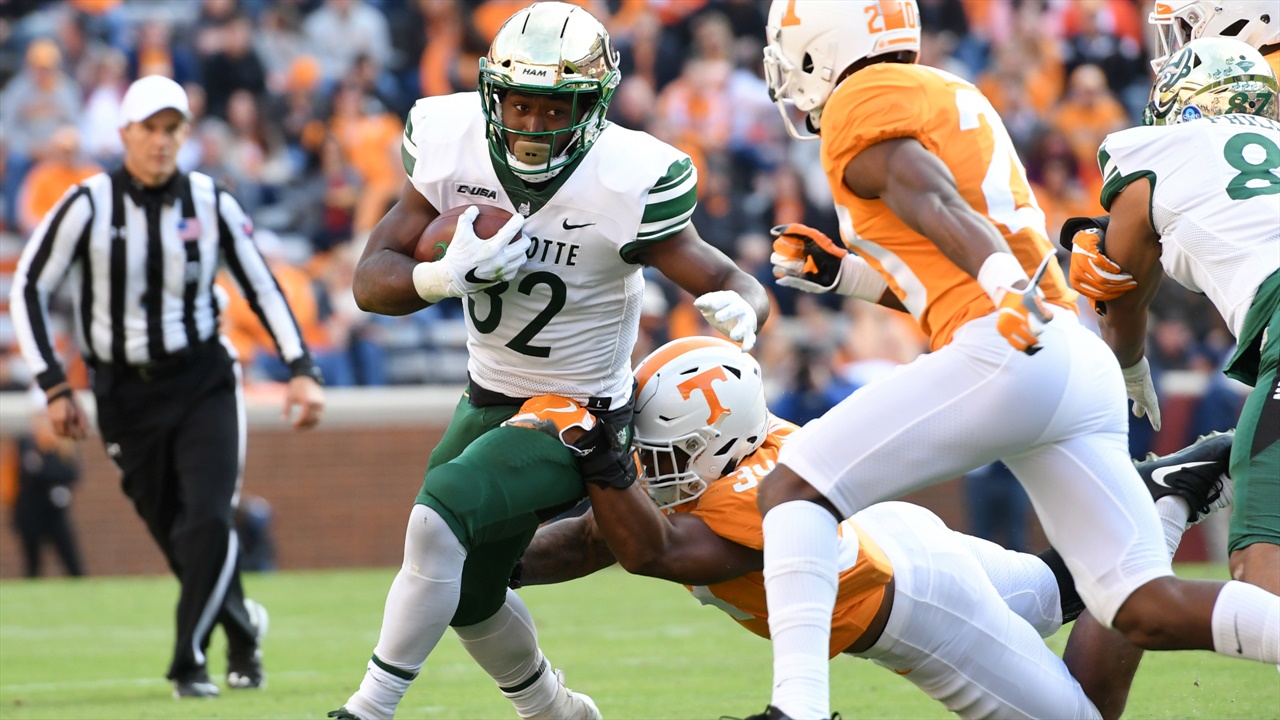 Photo by © Randy Sartin-USA TODAY Sports
Clemson Football
2019 Opponent Series: Charlotte
---
Feel the difference - The best user experience on mobile devices or personal computers. Avoid clickbait and sites bloated with advertising! Join us today for just $1 or get a full year for $63.17.
---
2019 Opponent Series
The Charlotte 49ers have only played FBS football in Conference USA since 2015. In fact, the school has only been playing football since 2013, so the program is still fairly new. Brad Lambert was the program's first head coach as the 49ers played their first two years as an independent before making the switch to the C-USA. The 49ers picked up their first conference win in 2017, beating UAB 25-24 in overtime, after stifling a potential game-winning two-point conversion.
At the end of the 2018 season, athletic director Mike Hill and Chancellor Dr. Philip Dubois decided to make a change at head coach bringing in Will Healy. Healy spent the last three years at Austin Peay, helping snap that program's 29-game losing streak in 2017. The Governors finished that season with an 8-4 record, but after taking a step back last year, falling to 5-6, Healy hopes to energize the Charlotte program in year one.
"The foundation is built. Not only do you have a great program, you have great facilities, you have a great city, but you also have a program that's won some football games and is very close to taking the next step," Healy said during his introductory press conference.
Healy is known for developing quarterbacks at his previous stops, so it will be interesting to see how he's able to nurture returning quarterback Chris Reynolds, who started the first six games before a season-ending injury and there's no doubt that Reynolds will have help around him, most notably senior running back Benny LeMay.
"I felt as I was progressing every practice. I got back out there, the first time since surgery, and felt a little slow. (I) Felt my timing wasn't where it needed to be and every day. I just felt myself progressing in the new offense and learning more and trying my best to put myself in this offense and it's been an unbelievable experience so far and the guys around me, bringing energy every day and every time anything good happens. We're there for each other so it's been an amazing experience so far," Reynolds said after the spring game.
The 49ers defense ranked 11th against the run in 2018, allowing only 105.7 yards per game and it all starts upfront with the defensive line, led by senior Alex Highsmith who anchors things down in the new scheme. Co-defensive coordinators Marcus West and Brandon Cooper want to keep things status quo in that department.
"I think the guys are doing a really good job of adjusting, there's a lot of carryover. I mean football is football. We run quarters, we run one high, it's football. I think guys are definitely doing a good job of buying into everything that Coach West and Coach Cooper are bringing to the defense," linebacker Jeff Gemmel said.
Charlotte 49ers
Head coach: Will Healy, first year
Last season: Finished 5-7, defeated Florida Atlantic 27-24 in the season finale
Returning starters: 6 offense, 7 defense
Players to Watch
Benny LeMay (Running back, Sr.) - LeMay ranked 20th in the country and second in the C-USA in rushing yards in 2018 with 1,243 yards and looks to have a strong senior season in a new offense that will continue to keep him at the forefront as one of the leaders.
Alex Highsmith (Defensive end, RSr.) - Pro Football Focus ranked Highsmith as the 10th highest edge rusher in the country with a grade of 89.7. Look for him to have a big impact in the C-USA this year.
Jonathan Cruz (Kicker, Soph.) - Cruz was named to the Groza Award watch list as he set school records for field goals made from more than 40 yards or more in 2018.
Last Meeting vs. Clemson: This will be the first meeting between Charlotte and Clemson.
2019 Schedule
Aug. 29 (Thurs.) - vs. Gardner-Webb
Sept. 7 - at App State
Sept. 14 - vs. UMass
Sept. 21 - at Clemson
Sept. 28 - vs. Florida Atlantic
Oct. 12 - at FIU
Oct. 19 - at Western Kentucky
Oct. 26 - vs. North Texas
Nov. 2 - vs. Middle Tennessee
Nov. 9 - at UTEP
Nov. 23 - vs. Marshall
Nov. 30 - at Old Dominion
**Home games in BOLD
Never miss the latest news from Clemson Sports Talk!
Join our free email list