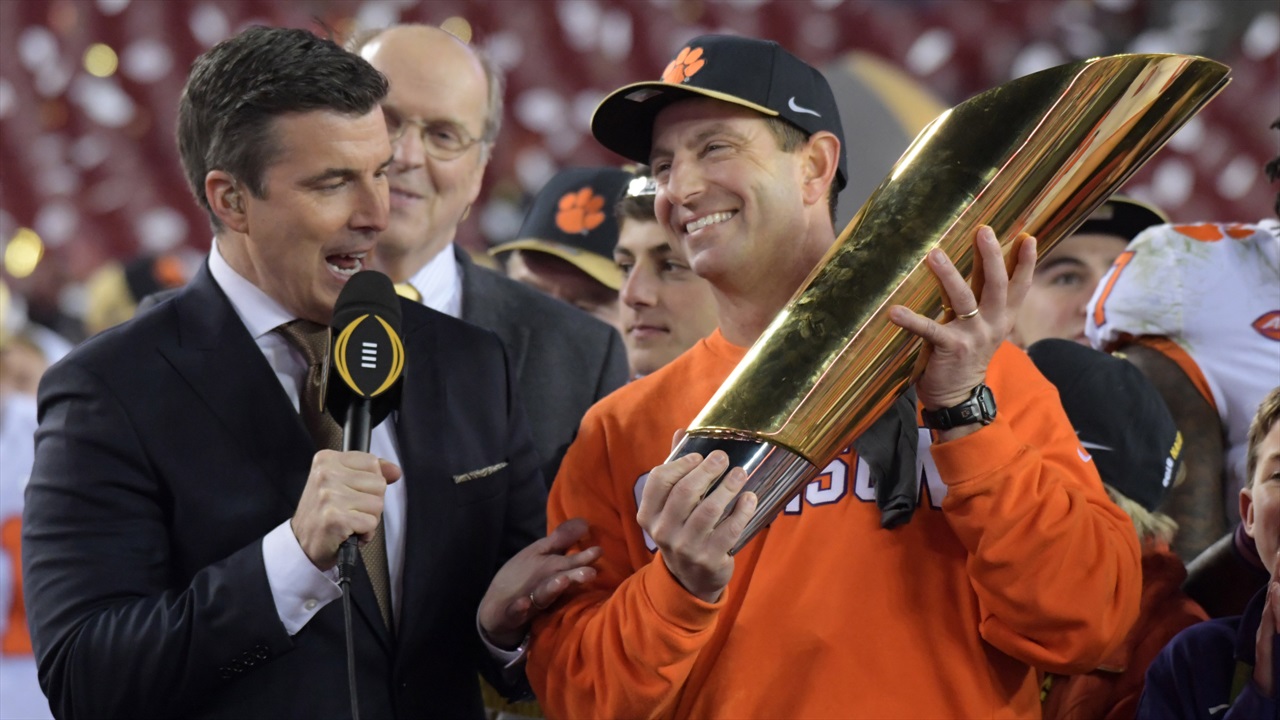 Photo by © Kirby Lee-USA TODAY Sports
Clemson Football
Changing of the Tide: "A shift in power was inevitable"
---

---
Like most things in life, situations and circumstances can't last forever. The top dog won't always be standing above the pack, and someday, a new leader has to arise. According to Mike Farrell, the national recruiting director for Rivals.com, the changing of the tide (literally) seemed to have been "inevitable" when asked about a possible power shift moving from Alabama to Clemson.
"We are seeing a transition here and Alabama is being replaced as the superpower in college football by Clemson. I see a shift in recruiting, where Clemson is becoming a stronger force while Alabama is maintaining its elite status, so that bridge has been gapped."
However, being a consistent threat to dethroning Alabama as the top college football program has not been an easy task. To become "invincible", like many people thought Alabama once was, you have to be a strong competitor in recruiting. To keep up, programs must be able to reload instead of rebuild, and winning at a high level is a must.
For the Clemson Tigers, they have continued to maintain, grow, and leave their mark in each of those areas.
The 2020 recruiting class for Clemson is on its way to being the best ever, not only in Clemson football history but in the history of all college football. With top recruits, Bryan Bresee‍, D.J. Uiagalelei‍, Myles Murphy‍, and many others committing to the Tigers this past year. Clemson's 2020 recruiting class currently ranks No. 1 with a .9408 rating. And yes, that rating is expected to grow.
Twitter: @BigMurphy_25
In recent years, the Tigers have shaped, developed, and sent great talent to the NFL and the conversation surrounding it continues to include the question, "Can they continue replacing such high-caliber athletes with more high-profiled athletes?". With the 2020 recruiting class sitting on top and the possibility of what could be in 2021, Clemson should have no problem reloading instead of rebuilding.
The final aspect of being a top college football program is winning. Whether it's on the field or in the weight room, you have to win & continue to push yourself to win. In Mike Farrell's eyes, he doesn't see Clemson not winning anytime soon.
"Clemson is also in the ACC which is a much weaker conference than the SEC, paving its way to the playoffs each year. Does this mean Clemson will win four national titles in a short span? Yes. It has won two, and I can see two more coming in the next three or four years. A shift in power was inevitable, and it's happening now."
Nobody can stay on top forever, & that shift is happening now. For Alabama fans, it's a tough pill to swallow, but for Tiger fans, it's been a long time coming and the throne is waiting.
---
**Note: We discussed this topic last week on our daily radio show.
Never miss the latest news from Clemson Sports Talk!
Join our free email list