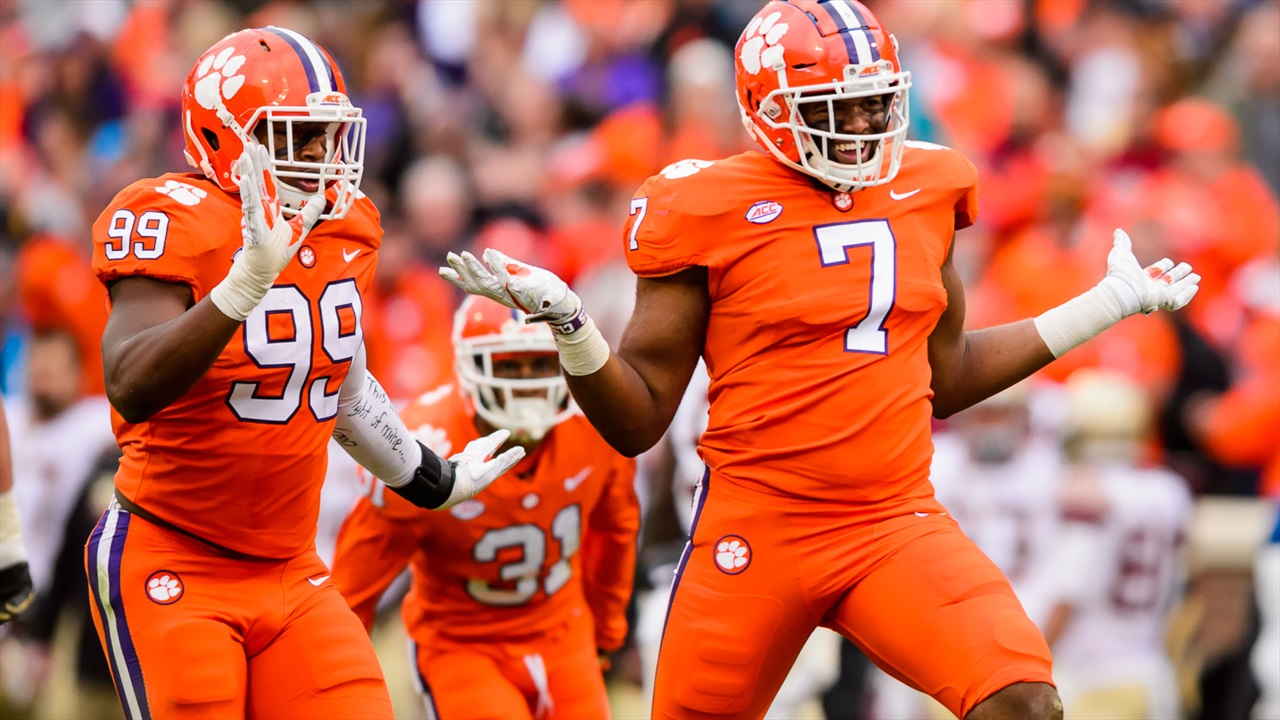 Clemson Football
Dabo Swinney, "We have not played our best game."
---
Each Sunday evening Coach Swinney addresses the media at his weekly teleconference. You can listen to the full audio or read some highlights from the call in our transcription below.
Opening Statements:
"Heck of a ball game. Proud of our guys, especially this team. It's been awesome the last eight years. This has been a unique team. I don't think many people picked us to win the division this year. We're 9-1 and we are excited to represent the Atlantic in Charlotte."
"Hard fought game yesterday for sure. They averaged less than a yard per carry. The turnovers were critical, we scored two touchdowns off of those turnovers. The interception by Van is a sudden change. They missed a few plays, we missed some plays. Defensively, heck of a ballgame."
"Offensively, just a little frustrating in some areas. Then you look at it and we had 82 plays, 24 first downs, averaged 4.5 per carry, rushed the ball for 227 yards, 8 of 15 on third down, man, you just feel like you are going to get more for that production. At the end of the day, we just have to clean up our execution. We are second and goal at the one- twice and we get three points. Just some basic things, but we will keep grinding. We had some mental errors where we missed some signals. Even though we didn't execute like we would like, there is still something to be said for finding a way to win."
"I thought Florida State competed extremely hard, but our guys got it done. Three divisions in a row and that goes hand in hand with beating Florida State because that's the way it usually goes.
Dexter Lawrence and Kendall Joseph's practice schedule this week:
"It's up to the trainers and the doctors. I don't have anything to do with it. That's all based on what our doctors think. Jabril was gimpy, we got to hold him. We thought Kendall would play, but he didn't feel good after warmups."
On injuries:
"Tre Lamar is getting an MRI on his shoulder for a stinger. Ryan Carter was out of the game, he was good in the locker room last night, but he will be in the protocol this week."
On FSU's Emmett Rice's antics after knocking Ryan Carter out:
"I think Jimbo will handle that. He knows how to run his shop. Those are things that I know he will handle on his team, much like I would with my team."
On Miami and if he watched their game against Notre Dame:
"I got to watch it. They are playing good ball. They are playing championship ball. They are well coached and look like they are having fun doing it. I can't say enough about the job that Mark is doing down there. I'm sure it's going to be an exciting day in Charlotte when it gets here."
On keeping the team rested:
I think at this point, less is more. I think the focus needs to be on execution and getting the guys rested and ready to go. Cut the periods down a little bit, shorten practices some. Just make sure you have them as healthy as you can on game day.
Never miss the latest news from Clemson Sports Talk!
Join our free email list