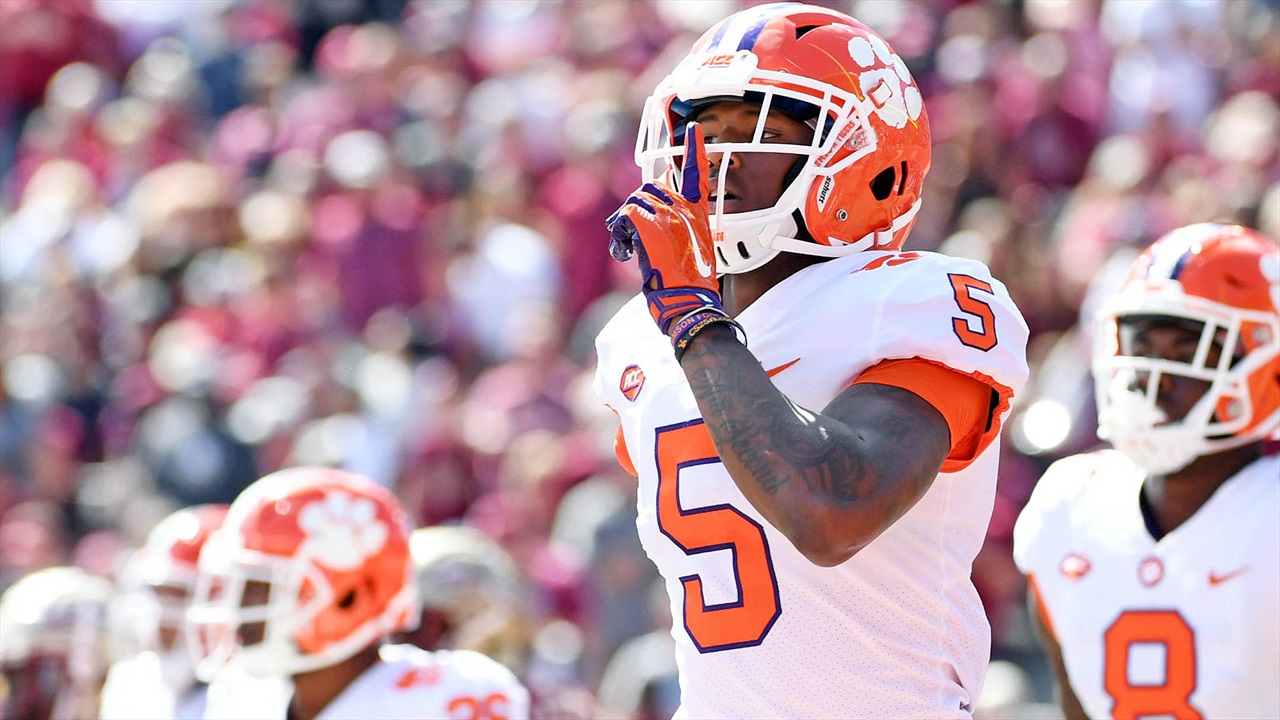 Photo by © Melina Myers-USA TODAY Sports
Clemson Football
Nobody is talking about Tee Higgins... and that's OK with him
---
Feel the difference - The best user experience on mobile devices or personal computers. Avoid clickbait and sites bloated with advertising! Join us today for just $1 or get a full year for $63.17.
---
There's a small, unassuming look on Tee Higgins' face when he's asked the simplest of questions during his seven minutes with the media on Monday afternoon.
From a health standpoint, are you back 100 percent?
Higgins gives a bright smile, leans back in his Clemson cap and answers, "I'm 100 (percent). Trust me."
Higgins is a hell of a football player in the midst of a never-ending stockpile of receivers on Clemson's roster. And he had an incredible sophomore campaign in 2018 - one of the best sophomore seasons in school history.
Yet nobody seems to be talking about the rising junior as we approach 48 hours until the start of Clemson's 2019 title defense.
All eyes have been on Justyn Ross after a postseason that most true freshmen receivers merely dream about. And rightfully so.
After setting the college football world ablaze with 12 combined catches (some of which left your jaw on the floor) for 301 yards and three touchdowns in the College Football Playoff, the assessment was the Alabama native was one of the best receivers in all of college football.
Those assumptions aren't necessarily wrong.
The ascension of Diondre Overton overtaking the slot position after Hunter Renfrow's departure and with the torn ACL to Amari Rogers that will leave him sidelined during the early part of the season has also dominated conversations. The praise for Overton has been a weekly routine as he continues to adjust to that role.
Clemson Sports Talk
Coaches like Dabo Swinney have commentated on Overton's work ethic and intelligence by learning all three receiving positions on the field. By doing so and being flexible, Overton will be rewarded in 2019 after he decided not to transfer from the team.
Also, Higgins has dealt with an injury, the one that we mentioned above that he says is now completely fine. It was an ankle injury that had been nagging him since the summer and left him hobbling noticeably during or after a few August practices.
But the loudest of noise has been for incoming receiver Joseph Ngata.
There is so much hype around the freshman, partially because of us and partly because of his head coach. The stuff people are saying about the California kid makes us believe that Ngata could not only be one of the best receivers on the roster, but one of the best in school history.
Ngata hasn't even played a snap yet, but we are still typing out sentences like the ones above because the coaching staff hasn't given us a reason not to.
So with Ngata, Ross, and Overton dominating the headlines day in and day out this offseason, you get the feeling that most of the outside world has forgotten about Higgins.
We wrote earlier this summer that the coaching staff does not buy into that narrative at all. Higgins isn't going to sneak up on any poor defensive back who has to take him in single coverage, especially if that corner is the second-best on the team. Co-offensive coordinator and wide receiver's coach Jeff Scott said he believes Higgins will be one of the best players in the country this season.
But that's about all we have heard about No. 5. Higgins has been lurking in the shadows while his teammates have gotten their public praise.
That doesn't bother the All-ACC receiver at all. In fact, that's just the way he likes it.
"We are a family. None of that matters - who's being talked about or who's not being talked about. None of that matters. I'm going to be me, regardless. I'm going to play my game and I encourage them to keep playing their game."
"I encourage those guys to keep doing good," Higgins said Monday. "We are a family. None of that
matters - who's being talked about or who's not being talked about. None of that matters. I'm going to be me, regardless. I'm going to play my game and I encourage them to keep playing their game."
This is a contract year for Higgins, who will be eligible for the NFL Draft once the season concludes. If he can mirror what he did in 2018 (lead the team in receptions and touchdowns), he'll only add to what is sure to be a big payday. With the rise of his teammates, he may not have the same numbers he was able to put up in 2018.
But Higgins doesn't care.
When you play at Clemson, especially at receiver, that selfless attitude is what you have to have to excel. There hasn't been any evidence of prima donna me-over-team characteristics that exist in what many to believe is the best wide receiver rooms in the country.
Come to think of it, those characteristics don't exist on Clemson's roster. That starts with recruiting and looking for the players who share that same selflessness.
"Honestly, they go out there and recruit all positions like that," Higgins added.
Now don't get us wrong, these receivers want the ball in their hands. We imagine Trevor Lawrence having to spend two, maybe three, hours after each practice throwing and working on routes because everyone wants to work on their craft. The old saying that there are too many mouths to feed could be fitting, and with the abundance of talent at receiver on the depth chart, it may feel at times like feeding the 5,000.
Except happiness for these receivers, like Higgins, comes from seeing others eat. Not from having a full stomach.
So while the headlines about his teammates may continue to flow rapidly, Higgins will remain unbothered, waiting to make his noise on the field.
And that's the mindset that makes for a successful receiver on this football team. That's the mindset that will make this season a success.
"It's been a long summer, man," Higgins said with that same bright smile. "We can't wait. We just gotta go out there and play and just be Clemson."
A long summer indeed.
Never miss the latest news from Clemson Sports Talk!
Join our free email list