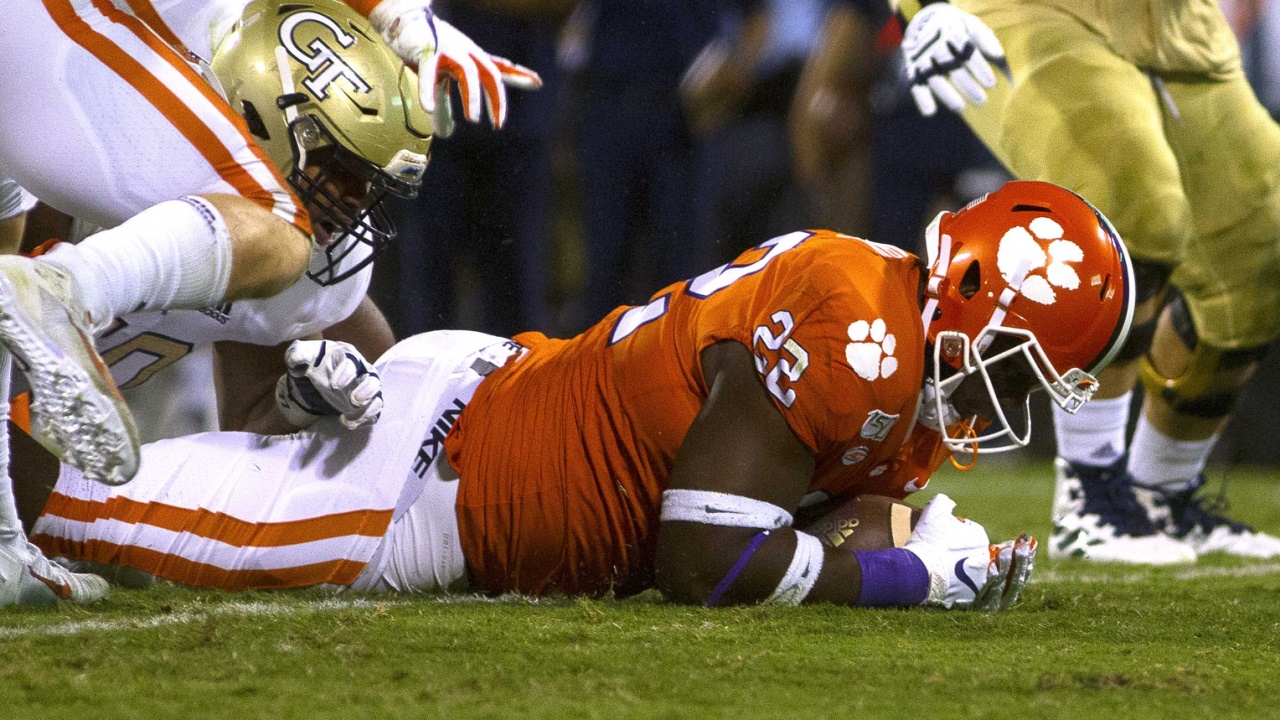 Photo by © Joshua S. Kelly-USA TODAY Sports
Clemson Football
Gameday 101: Clemson Defense vs. Georgia Tech
---
Feel the difference - The best user experience on mobile devices or personal computers. Avoid clickbait and sites bloated with advertising! Join us today for just $1 or get a full year for $63.17.
---
Clemson was looking for answers this offseason after losing so much talent on the defensive side of the ball to the NFL. They found some answers, but some questions remain unanswered.
-The Tigers lost four players off the defensive front to the NFL, plus one backup in Albert Huggins. You wouldn't know it just by watching. This group is as talented as any that's come through Tiger Town, they just lack the experience last year's group had.
Early in the first quarter, Xavier Thomas showed how scary he can be. Georgia Tech ran an option from a two back set. Thomas read the play and totally destroyed the mesh point. He grabbed Oliver and tried to swing him down, was unsuccessful, got back up and grabbed him again. There was no getting away a second time.
In the second quarter, the front seven stood tall again. On third and one and then fourth and one, the Tigers pushed the Yellow Jackets backwards on both attempts. This was a team effort, and it felt like the Tigers had 20 defenders on the field all flowing towards the ball.
– Trevor Lawrence even got in on the defensive action. After throwing an interception, Lawrence chased down Georgia Tech defensive back Swilling and knocked him out of bounds at the two-yard line. This set up a critical sequence.
On first and goal, Tech tried to get tricky. They flanked six players out to the left and tried to run a quarterback power to the right. Denzel Johnson would have none of it, tracking Oliver down and tackling him for no gain. This isn't the last time Johnson would make a big play on this series.
On second and goal, Tech tried to be a little more traditional and run a sneak. The play got absolutely obliterated from the start. Third and goal wasn't much better, as they tried a simple inside zone from the shotgun and got turned away by a team effort, with Johnson finishing the play.
On fourth and goal, the Jackets rolled Oliver out to the right and tried to throw for the score or let him run if he had an open lane. Oliver appeared to have a man in the back of the endzone, but Jamie Skalski got up high to tip the pass, which was subsequently picked by Johnson. This was essentially the end of the game, as the Tigers would put another touchdown on the board a few minutes later. That defensive stand at the two-yard line was pretty impressive given it is essentially a whole new group of guys up front.
– Isaiah Simmons is an absolute freak. Watching him so easily transition from coverage to hunt mode is one of the most fun things about this defense. And once he locks in on you, there is no escape. There were multiple occasions where Oliver typically could have shaken the defender and picked up a substantial gain, but he could not escape the grasp of Simmons.
– Now for the bad. The linebackers had their fair share of splash plays but also had their share of plays in which it looks like they really missed Tre Lamar and Kendall Joseph.
Missed tackles were the biggest issue. This is something that is emphasized by Venables and the coaching staff, and there was plenty of film to work with after the opener. The good news? This is week one, and missed tackles can be fixed. You better believe Venables will be doing some fixing ahead of Texas A&M.
– Overall, it was a pretty solid week one performance from a brand new group of guys. Tech didn't have the most inspiring offense in the world, and this group will certainly get a much better test from Texas A&M, but there weren't any glaring defensive problems. That's all you can ask for this early in the season.
Never miss the latest news from Clemson Sports Talk!
Join our free email list