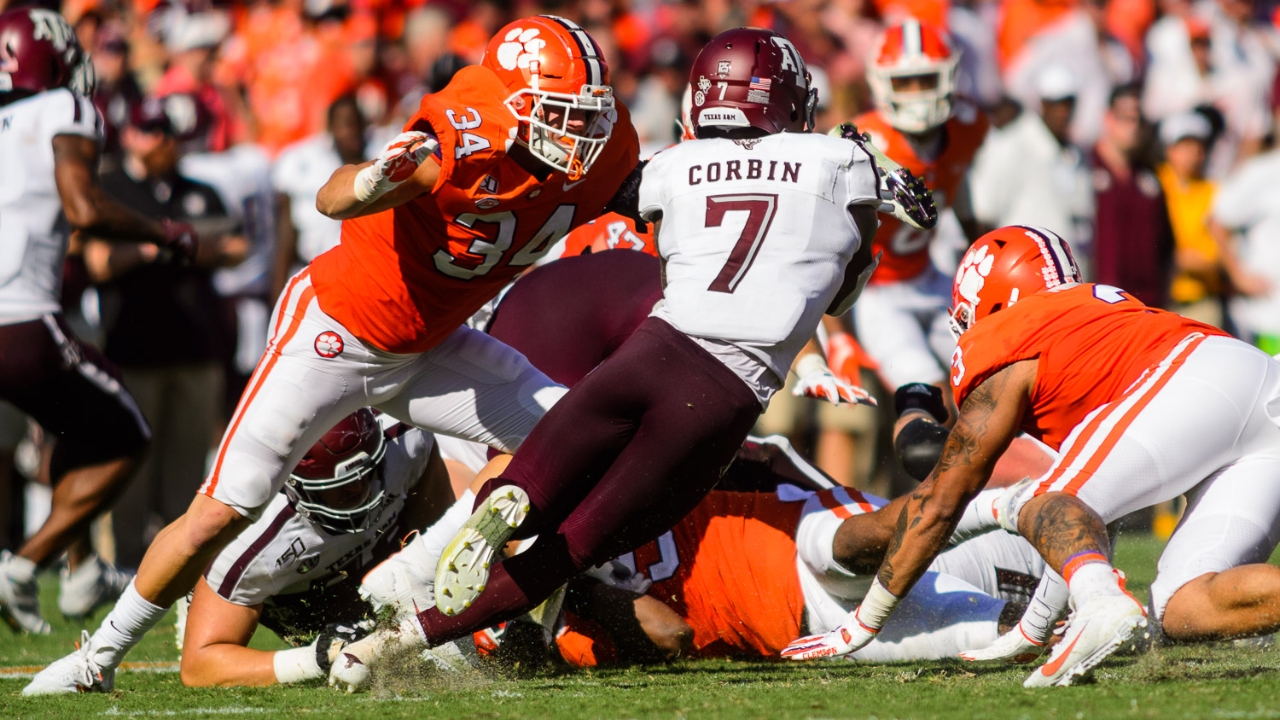 Clemson Football
With the win: No. 1 Clemson 24, No. 12 Texas A&M 10
---
Feel the difference - The best user experience on mobile devices or personal computers. Avoid clickbait and sites bloated with advertising! Join us today for just a buck!
---
Clemson won its 17th consecutive game, dating to the start of the 2018 season, tying Clemson's all-time longest winning streak by matching a 17-game streak across the final three games of the 2014 season and the first 14 games in 2015.
Clemson won its 17th consecutive game at Memorial Stadium, dating back to a 56-7 win against South Carolina on Nov. 25, 2016. The 17-game streak is the second-longest home winning streak in Clemson history, trailing only a 21-game Memorial Stadium winning streak from 2013-16.
Clemson has now won 38 of its last 39 games at home.
The 2018-19 Tigers' 17 consecutive wins are tied with the 2014-15 Tigers and the 1999-2000 Florida State Seminoles for the second-longest streak in ACC history. The longest winning streak in ACC history is 29, set by Florida State from 2012-14.
Clemson attempting to win a sixth straight home game against SEC competition (def. Georgia in 2014, South Carolina in 2014 and 2016, Auburn in 2017, and South Carolina again in 2018). The current five-game home winning streak against SEC foes is already the longest in school history.
Clemson improved to 9-1 against SEC competition since 2016.
Clemson won its ninth straight regular season game against SEC competition. Clemson's last regular season loss to an SEC team came against Georgia in 2014.
Clemson won its 20th consecutive regular season non-conference game. Clemson's 20-game streak against non-conference opponents in the regular season dates to a 73-7 win against South Carolina State on Sept. 6, 2014. No member of Clemson's current roster has lost a non-conference game in regular season play.
Clemson improved to 10-2 all-time in games as the AP No. 1-ranked team. Eleven of Clemson's 12 games played at No. 1 all-time have come during the Dabo Swinney era.
Swinney improved to 17-9 all-time against SEC opponents.
Swinney improved to 6-4 all-time against Texas A&M Head Coach Jimbo Fisher. The coaches were 4-4 against one another during Fisher's tenure at Florida State and Swinney is now 2-0 against Fisher with Texas A&M. Clemson has won five straight over Fisher-coached teams.
Swinney pushed his all-time record in non-conference play as a head coach to 43-13, which extended his non-conference record in regular season play to 34-8.
Clemson pushed its winning streak in Saturday games to 31 to extend the longest Saturday winning streak in school history. Clemson's 31-game run of consecutive Saturday victories is the longest active streak in the country.
Clemson won its 19th consecutive game in the month of September, dating back to 2014. The streak is already the longest in school history.
Clemson evened its all-time series record against Texas A&M at 3-3. Texas A&M won the first three games in the all-time series (1973, 1974 and 2004), while Clemson earned victories in 2005, 2018 and 2019.
Clemson earned its second all-time home win against Texas A&M (2005).
Clemson led 17-3 at halftime and has now won 68 of its last 70 games when leading at halftime. Per ESPN Stats & Info, it marked the 18th time that Clemson had outscored its opponent by 14-plus points in a half since 2016, most in the FBS.
Clemson improved to 89-2 since 2011 when leading after three quarters. Clemson is also 89-2 when totaling more first downs than its opponent in that same span.
Clemson has now won 70 straight games when holding teams under 23 points, a streak that dates to 2010.
Never miss the latest news from Clemson Sports Talk!
Join our free email list