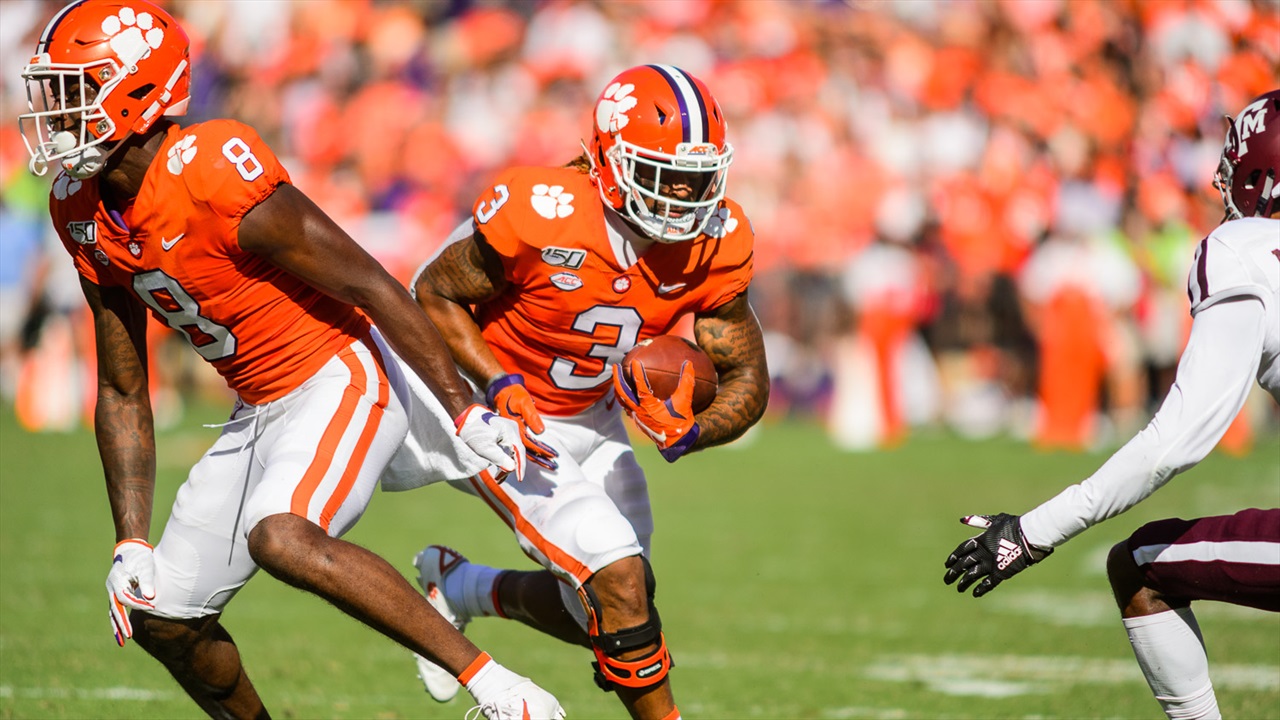 Clemson Football
A 'different' mindset allowed Amari Rodgers to come back quickly from ACL injury
---
Register for a FREE account today and you are entered to win a LIMITED EDITION Clemson football. Click here to register or click here to learn more about the football and display case that we are giving away. You can also start your PREMIUM TRIAL for just $1.
---
Whenever we are at the Clemson indoor practice facility following a practice session, Amari Rodgers can always be found in the same spot.
Last season, we'd be talking to head coach Dabo Swinney inside Clemson's weight room, but sometimes get distracted by what was happening through the window behind him on the practice field.
It'd be Rodgers, drenched in sweat from a lengthy Wednesday practice, catching footballs from a juggs machine. He'd catch 10 balls targeted at one side of his body, drop them in a bucket, then 10 balls targeted at the other. Then, he would change it up again to continue working on his technique.
This would go on for some time. Like, a long time. And he wouldn't drop a single football.
Sometimes, the junior wide receiver would be joined by his teammates to continue working on their catching skills. Other times he was by himself. But almost every time, he'd be one of the last players to leave the practice field.
It's that type of work ethic that has been instilled into the DNA of Rodgers that has allowed him to shock most people affiliated with the Clemson program. Late March, during spring practice, Rodgers went down with a torn ACL. You know, the kind of injury that is supposed to take 8-10 months to recover from?
Well, Rodgers was back in just over five months. To put it bluntly, that's almost unheard of.
And every time we would ask about Rodgers to Swinney or other members of his staff, their expectations for an early return from their starting slot receiver seemed more and more hopeful. That's because Rodgers has put the work in.
"I don't think a lot of people understand my mindset. I feel like I have a different mindset than a lot of people out there in that I won't let anybody outwork me."
"I don't think a lot of people understand my mindset. I feel like I have a different mindset than a lot of people out there in that I won't let anybody outwork me," Rodgers told the media on Monday. It was one of the few times he had spoken publicly since his surgery.
"I put in the extra work every single day to get back and that's what I did all through the summer. I did treatment and rehab twice a day. That's not normal, but I pushed through. I just wanted to get back earlier than people said I would be back. I just wanted to do anything that I could in order to do that. It paid off."
Immediately after Rodgers had his surgery on his knee, he had one goal in mind that he shared with his family: be back in time for the game against No. 11 Texas A&M.
"I knew that was one of the biggest games of the season so I wanted to be back and help my team out in that game," Rodgers added. "That's really what was in the back of my mind throughout the whole process is that I want to be back as early as possible."
So Rodgers went to work for the rest of spring and all through summer. The mental aspects of recovering from an injury like that can take its toll. It was an absolute grind to go to rehab twice a day and there were many days that he didn't want to do it anymore.
"A lot of people, they'll get injured and that'll bring them down and how bad it is now. But the good ones, they think about the future and how it is going to impact the future and how it's going to better them," Rodgers added. "That's what I did. I just thought about how it was going to help me in the future."
Rodgers got the support not only from his teammates and coaching staff, but some friends that he made through the recruiting process outside of Clemson. And even a former Tiger who knows a thing or two about coming back stronger from ACL tears: Deshaun Watson.
The former Clemson quarterback has torn his ACL twice, but made it a mission to return stronger than before. Watson sent Rodgers a text telling him that everything was going to be alright.
"It showed how many people cared about me," Rodgers said.
Rodgers was a steady receiver for the Tigers as a starter in 2018, his second year in the program. He caught 55 passes for 575 yards and four touchdowns.
Rodgers was a steady receiver for the Tigers as a starter in 2018, his second year in the program. He caught 55 passes for 575 yards and four touchdowns. So the injury, at the time it occurred, seemed like a brutal blow to an offense that was poised have an explosive year.
The work ethic and mindset that Rodgers has is not normal. His ability to come back this quickly feels almost impossible. But Rodgers has a head coach who is a master motivator. And even he didn't let No. 3 have the wrong approach to rehab.
"When it happened, it sucked," Rodgers said. "It was in the spring and coach Swinney did a good job of keeping me motivated saying Chad Kelly came back in four months. He told me that right after it happened and it immediately brought me up because I thought it was going to be 8 months or something like that. But then I thought, 'if they can do it, I can definitely do it with the work ethic that I have.'"
So the formula: motivation plus mindset equals a quicker recovery. Rodgers was so thrilled to be back practicing with the team last week, but it took him a full Tuesday practice for him to get back into shape. He said he laid on the floor for five minutes once the practice concluded.
Tuesday and Wednesday of game prep for Texas A&M served as an audition to head athletic trainer Danny Poole to show that Rodgers was ready to be back in the lineup. Rodgers wanted it. Bad.
So much so that he texted his head coach on the Thursday night of game week. Rodgers told Swinney, "coach, I promise I am ready. You can trust me. I'm going to go out there and give it my all for the team."
We imagined Rodgers having to send Swinney a barrage of texts to convince him that he was OK to play. But the one text was all it took and Rodgers fulfilled his goal of being back to face the Aggies.
"Amari is the type of young man that inspires you as a coach just because of his demeanor," Co-offensive coordinator Tony Elliott said. "When he had his injury, he still had a smile on his face and he just goes to work every single day.
"I've said it many times, my description of him is he's like a pro. He prepares like a pro. He's very, very focused. That just brings a confidence to you as a coach and it encouragement, too. It challenges me just like Deshaun and Trevor (Lawrence), those guys challenge you every single day to bring your best. That's what I see out of Amari."
Rodgers played 34 plays against Texas A&M and caught two passes for six yards. Nothing crazy, but it was something. The first time he got tackled, it looked like a tough hit and his teammates wanted to make sure he wasn't hurt again.
But Rodgers laughed, told them he was good, and moved onto the next play. Like everything was normal again.
Because that's the mindset he's embroidered into himself. Time to move onto to the next play.
Time to get back to work, and not let another outwork him.
Never miss the latest news from Clemson Sports Talk!
Join our free email list