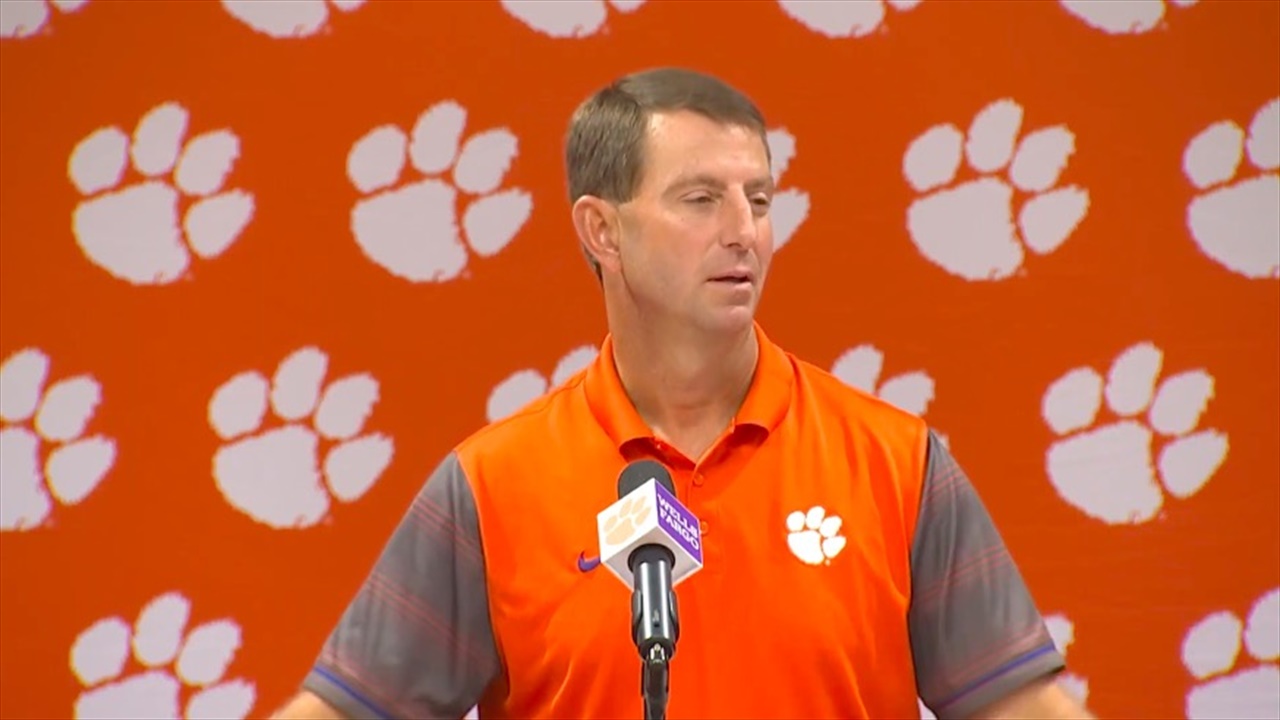 Clemson Football
Dabo Swinney: Charlotte Press Conference notes
---
Sign up for a FREE ACCOUNT before THURSDAY to be entered to win a LIMITED EDITION Clemson football or try PREMIUM for one month for just $1.
---
Here are a few notes and quotes from Dabo Swinney's Tuesday press conference previewing Charlotte:
– Proud of our team and the start that we've had. This is the first time since 2005 that we've opened up with three power five opponents. We think we are progressing.
– Charlotte is going to challenge us. This is a team, offensively, that is going to challenge us. The most explosive team that we will have played up to this point. Schematically, this is probably the biggest challenge for our defense. Charlotte really knows what they are doing.
– This is the best rushing team that we have seen in three games. This is a team that could embarrass us if we don't have a great week of preparation. Their running back is a tough, thick, physical runner. We gotta do a nice job and win some matchups outside. It's always an equalizer when the quarterback is a runner and they put him in some unique situations. This is a really well-coached, well-coordinated offense that has pieces to cause a lot of problems.
– They probably have the best player that we've seen to this point, that No. 5. You watch him and you say, 'holy cow he looks like Xavier Thomas.' He could play for anybody in the country. They won't be overwhelmed. They've been in big stadiums. Excited to see how our guys prepare this week. We've got to get better and become more consistent.
– Offensive line has been outstanding. Super proud of them. They've been physical. Bodies are all over the ground. They've been up to the task every single week. No sacks last week and have only had two to this point.
– Bryton Constantin tore his ACL again during rehab. They are going to fix it again on Friday. The good news is he has Amari Rodgers to look up to, who just got player of the week for us. Bryton has a good attitude. Better it happened now than in December or January. His whole career is in front of him
– There's no question that this team is further along than last year's team. They've been challenged more. Offensively they didn't have that killer instinct yet. Just weren't where we are right now as an offense. Through three games we are scoring more points and gaining more yards than any team in the history of Clemson football. And we got a long way to go. Will this team improve like that team did? We'll see.
– I like the energy, focus, and discipline. Will they make those same strides? I like where we are. If we stay the course and stay hungry, we have a chance to be the special group.
– Charlotte head coach Will Healy is a super nice guy. He reached out two years ago and they talked about coaching candidacy. The two have communicated along the way. Talked to him about the transition into the Charlotte job. He even hired one of Clemson's guys. You can tell he has a good spirit with their team. Impressive guy and looking forward to meeting him.
– One of the great things about the coaching profession is that it's a brotherhood. It's a very unique profession that way. I got into coaching in 1993 and I just remember going, 'oh my God I don't know anybody and I have a lot to learn.' Even though I've only been around two places, I've been around a lot of people. I'm honored that someone would even ask me for my advice on something or my opinion on something.
Said one of the best things he's learned since being a head coach is time management. When you first get a job there is just so much to do. It takes a little while to figure out and get things in order the way you want and can be efficient. Keeps some looseleaf paper and writes down random things he has learned along the way since being a head coach. Always learning and have a long way to go.
Never miss the latest news from Clemson Sports Talk!
Join our free email list