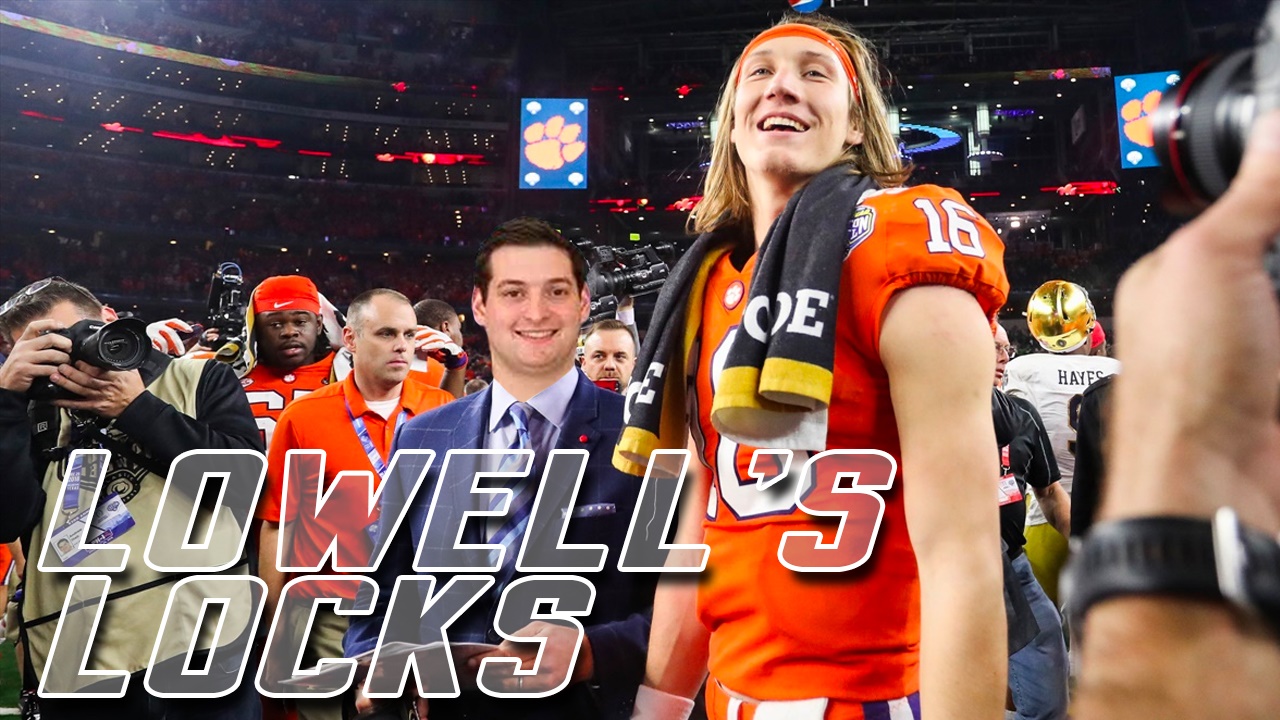 Clemson Football
Lowell's Locks: College Football Week Four
---
Feel the difference - The best user experience on mobile devices or personal computers. Avoid clickbait and sites bloated with advertising! Get your first month for just $1 or GO PREMIUM for $63.17.
---
College football is weird. One week after USC rolled over Stanford, they went out and lost to a very meh BYU team. Washington State, who had looked unstoppable to start the year, got caught by the backdoor against Houston. Florida? Couldn't cover against a Kentucky team without its starting quarterback. Iowa State had the upset within its grasp and lost after a punt hit one of their return blockers. Then there's Alabama, who allowed South Carolina to cover the spread by 1.5 points with a freshman quarterback. The only team that saved me from an 0-fer week was Clemson, who covered on a late touchdown run.
But once again, it's a new week. Shooters shoot, and we're going to shoot again this week. It's time to put together a winning streak! As always, in the immortal words of Deshaun Watson, let's go be great in week four.
Saturday, September 21st
#11 Michigan at #13 Wisconsin (-3.5):
Michigan has been completely and totally underwhelming so far this season, and almost got upset at home by Army two weekends ago. The offense doesn't seem to have progressed at all under Harbaugh, and that's bad news for this weekend because Wisconsin has yet to allow a point this season, shutting out both USF and Central Michigan. The good news for Michigan? They break Wisconsin's streak of shutouts. The bad news? Heisman candidate Jonathan Taylor will lead the Badgers to a big win.
Lowell's Lock: Wisconsin covers -3.5
#8 Auburn at #17 Texas A&M (-3.5):
If I had to pick something else about this game in addition to the line, I'd pick the under. These are two teams who want to pound the rock, and I believe both offenses will struggle to do so. The difference in this one is the home crowd for the Aggies, and Kellen Mond making more plays than the freshman Bo Nix. A&M gets the Auburn monkey off its back in an ugly one.
Lowell's Lock: Texas A&M covers 3.5
South Carolina at Missouri (-9.5):
Missouri is feeling good about themselves after winning their last two games by a combined 81 points, while South Carolina comes into town licking their wounds. The Gamecocks believe they have something special in freshman Ryan Hilinski, however, and the freshman has looked pretty good in his first two starts. I'm envisioning a shootout type of a game, in which Missouri quarterback Kelly Bryant trades blow after blow with Hilinski. The Tigers ice it on a late field goal in the fourth quarter and come up with one big defensive stand.
Lowell's Lock: Missouri covers -9.5
#7 Notre Dame at #3 Georgia (-14.5)
Georgia has quickly established itself as one of the premier teams in college football, and Notre Dame is trying to enter that realm as well after making the college football playoffs a season ago. Notre Dame and Ian Book will have to play the game of their lives in order to leave Athens with the upset, but that's not out of the realm of possibility. However, if Georgia comes out with their A-game, I don't see a way the Irish can win. The Bulldogs are too big, too fast and too powerful. But could the Irish cover if both teams play their A-game? Absolutely.
Lowell's Lock: Notre Dame covers +14.5
Oklahoma State at #12 Texas (-6.5):
Whatever the over is in this one, take it. This is going to be a barn burner of a game, with neither defense able to get much in the way of stops. However, the Texas defense is the better of the two, and I'll ride that, the home crowd and Sam Ehlinger to the cover.
Lowell's Lock: Texas covers -6.5
Charlotte at #1 Clemson (-41.5):
A week after getting a dominant win on the road against Syracuse, Clemson returns home to take on Charlotte, who just started playing football in 2013. The Tigers showed the potential of the offense against the Orange, rolling up over 600 yards and 41 points. The defense continued to dominate as well, allowing just six points to Syracuse. Both trends continue this week as Clemson rolls.
Lowell's Lock: Clemson covers -41.5
Lowell's Locks

Weekly Results
Season Results
Week 1
3-3
3-3
Week 2
2-4
5-6
Week 3
1-5
6-11
Week 4
Week 5
Week 6
Week 7
Week 8
Week 9
Week 10
Week 11
Week 12
Never miss the latest news from Clemson Sports Talk!
Join our free email list