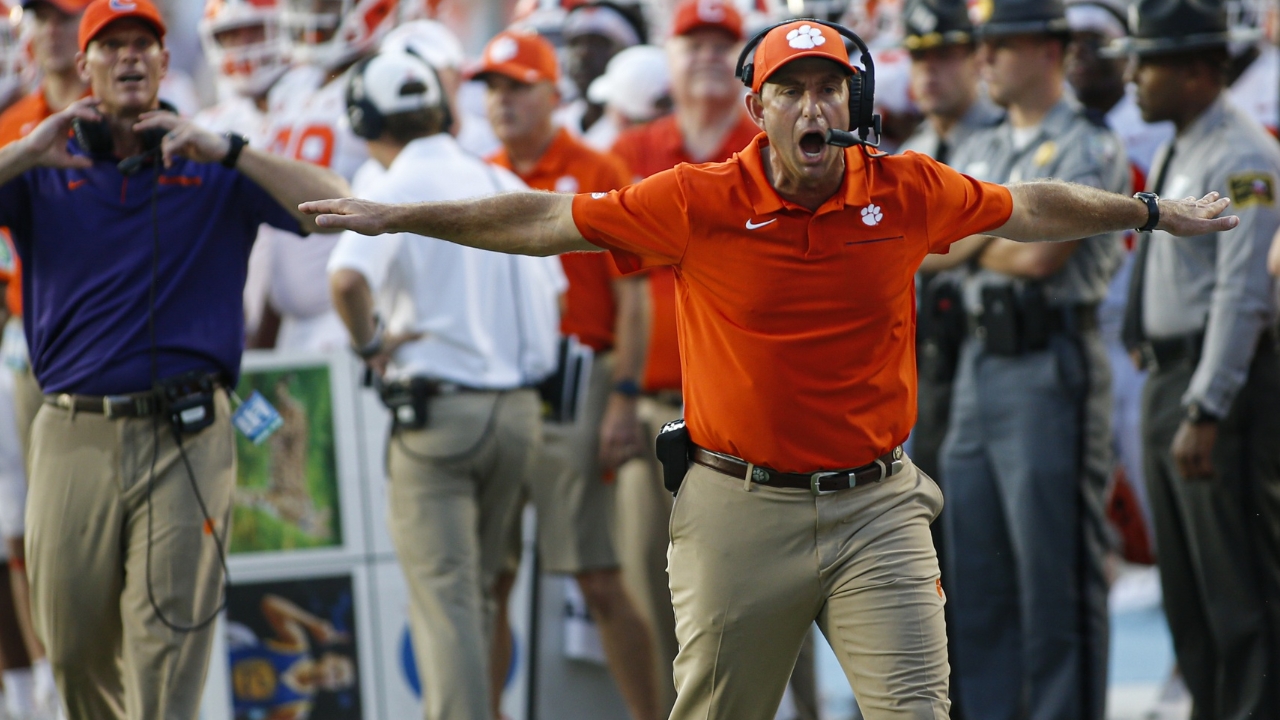 Clemson Football
Wake-up call
---
Feel the difference - The best user experience on mobile devices or personal computers. Avoid clickbait and sites bloated with advertising! Get your first month for just $1 or GO PREMIUM for $63.17.
---
Sometimes, you need something to grab everyone's attention.
Clemson gained all of the attention the college football world had to offer after what it did to Alabama in January and going 15-0. With that came the blessing and the curse.
The blessing was Clemson's second national title in three years, something that Clemson fans could only dream of in 2010 when Dabo Swinney's Tigers finished 6-7 and Swinney caught a ton of heat.
The curse, however, is the expectation. Once you take down one of the most powerful sports dynasties of this era by that margin, 44-16, you're expected to dismantle every one else in your path in the same fashion. Especially given the weapons returning on Clemson's offense. Especially given the lack of programs at Clemson's level across the ACC.
That's why it seems so easy to hit the panic button when a solid Clemson defense gives up a four-play touchdown drive less than two minutes into a game. Or when a Clemson offense that is known for its explosiveness only gains 57 yards on four possessions in a quarter.
The ride for Clemson fans over the last 365 days has been one of the smoothest cruises ever. One could argue that the only bump after September in 2018 was when the Tigers only beat in-state rival South Carolina by 21 points. Before Saturday's escape from a monumental upset, the Tigers had won 14 consecutive games by 14 points or more.
And it would've been by 20 points or more if Texas A&M had not punched in a score with six seconds left in garbage time. That's insane.
That's why games like the one that occurred on Saturday against North Carolina can be so cruel. There was discomfort. It was the first time in a long while that the Tigers were tested in the fourth quarter, with the game on the line.
But this was not the first time in recent memory we've seen Clemson struggle with an inferior opponent.
Who knows where Clemson would have finished in 2018 if it weren't for the last close call? Almost a year to the day, the Tigers escaped Death Valley with a 27-23 win over Syracuse after Travis Etienne's career day, and Chase Brice's heroics saved the day.
"Of course, you'd rather win every game by 30, but I think this game will make us a lot better."
The similarity between those two games was that Clemson did not deserve to win the game. And yet, the players sang the alma mater, danced in the locker room, and remained unbeaten.
A lesson was learned that afternoon in 2018: you can be beaten if you let it happen, if you don't show up with a killer instinct.
"Of course, you'd rather win every game by 30, but I think this game will make us a lot better," Trevor Lawrence said. "You see last year against Syracuse, similar type game, fifth game of the season. From there, we just got better and that will be up to this team now.
"Are we going to get better or just stay where we are right now? Last year, that team got better every week and really just came together so we'll see if we'll do that."
Swinney said on Saturday that he'd rather learn a lesson after a win than after a loss. Fortunately, this new, young team didn't have to learn a lesson the hard way. A loss could've potentially killed Clemson's hopes for another national championship. Instead, they move forward.
Flashback to 2016, after the Tigers almost fell on a couple of close occasions, Deshaun Watson and co. let a 6-4 Pittsburgh team walk out of Death Valley with a 43-42 win. That loss caught Clemson's attention and ignited the team on a run that would lead them to a national title.
We're not saying that there is nothing to be concerned about when it comes to Clemson and its "Best is the Standard" expectations. But there is no need to hit the panic button after a sleepwalk of a win in September.
And a bit of history shows that eventual national champions can get caught sleeping early in the season. In 2015, Alabama fell to Ole Miss at home on September 19th. In 2014, Ohio State lost to Virginia Tech at home during week two.
As Swinney put it, this is college football's chaos at its finest. And when you are among the top-tier programs in the country, especially the defending champs riding a 20-game winning streak, every team is going to treat you like it's their Super Bowl.
The overreactions and hot takes from Clemson's latest performance are going to keep spewing over the next two weeks. But as we see it, the Tigers are right on schedule heading into their bye week.
Clemson is healthy, has had to overcome adversity, and holds a record that remains unblemished. Heck, now Swinney has all the ammunition in the world for his team as they head into October No. 2 in the latest AP and Coaches polls.
Come Monday, butts will be chewed in the film room and a fire will be lit. Swinney now has his team's full, undivided attention. Clemson's title hopes aren't rattled. We've seen this before and we've seen how it ends.
A year from now, Clemson fans may look back at North Carolina as the much-needed wake-up call of 2019.
Never miss the latest news from Clemson Sports Talk!
Join our free email list