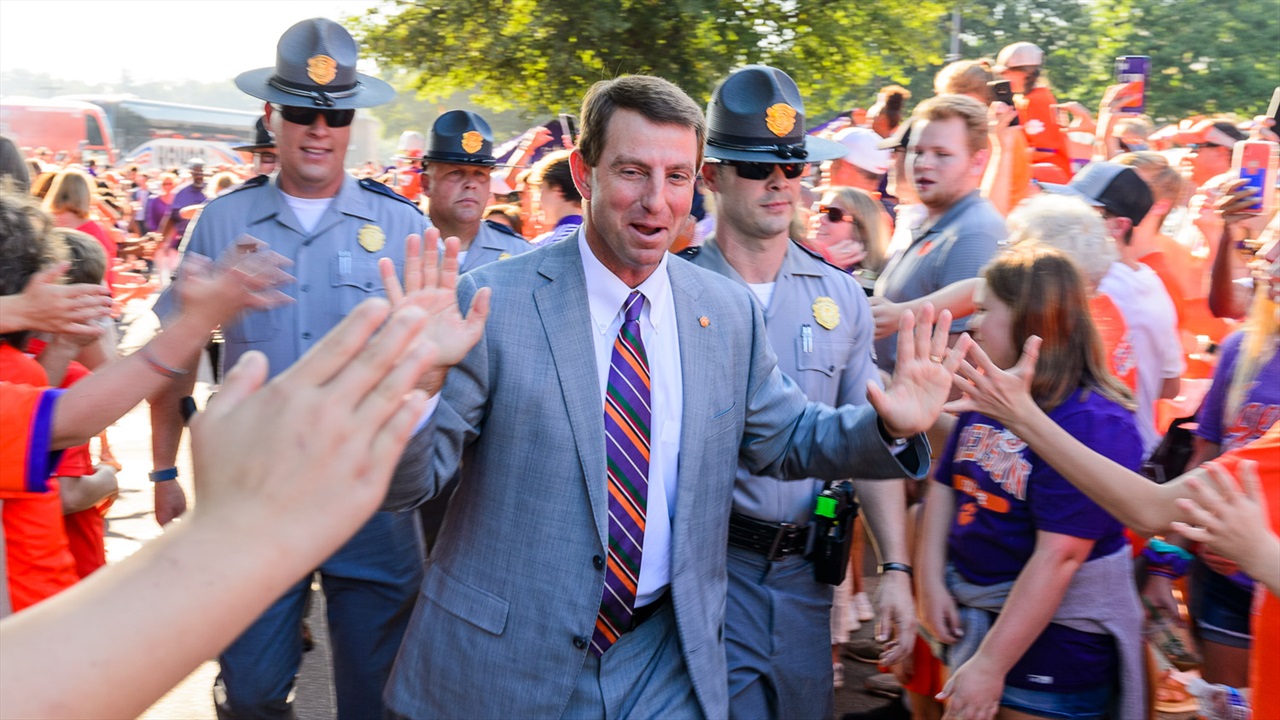 Clemson Football
Bye week thoughts: No panic, just tie up some loose ends
---
Last weekend, Clemson and North Carolina came down to the wire, leaving many to question if the 2019 Tigers have what it takes to make another run towards the College Football Playoff.
The same questions were being asked this time one year ago as Clemson was in a similar situation after sneaking past Syracuse. But if history says anything, what happened in Chapel Hill was inevitable based on recent results.
| | | | |
| --- | --- | --- | --- |
| Year | Opponent | Result | Finished |
| 2015 | @ Louisville | W 20-17 | Lost National Championship |
| 2016 | vs. NC State | W 24-17 | Won National Championship |
| 2017 | @ Syracuse | L 27-24 | Lost in CFP Semifinal |
| 2018 | vs. Syracuse | W 27-23 | Won National Championship |
| 2019 | @ North Carolina | W 21-20 | ??? |
If you're going to compete for a national championship, there's going to be a game where you don't play your best. Dabo Swinney echoed that sentiment after the game Saturday.
"I know that we're supposed to just destroy everybody like nobody else has scholarships, nobody else has coaches, (and) we're just these perfect people. It doesn't work that way. We're just normal people. There's nothing special about us. We just go week to week, try to battle, find a way to win and we're not perfect. We don't coach perfect," Swinney said.
Brent Venables' defense passed another huge test Saturday. None were bigger shutting down North Carolina's two-point conversion attempt that would have put them in position to upset the No. 1 team in the country.
"I know that we're supposed to just destroy everybody like nobody else has scholarships, nobody else has coaches, (and) we're just these perfect people. It doesn't work that way."
You can't blame Mack Brown for going for two. No one, including this writer, expected the game to be close, and the opportunity was there, and you have to take advantage. UNC wasn't going to be three yards away from a victory again, plus Clemson's offense had plenty of time to get in field goal range.
Outside of the opening drive, it was another solid day for the Clemson defense. Despite the offense's up and down day, they embrace the adversity according to Venables.
"We've really perpetuated that idea that adversity is coming, it's going to define who you are as a competitor, as a teammate, as a Clemson Tiger. Just couldn't be more proud of them to put the display on that they did. That second half to be able to (force punts), turnover on downs, gave up a touchdown there in the last couple of minutes of the game and that was a 16-play drive we're just barely off and how fitting for how the day went, just finding a way to win."
All offseason we heard about the talent coming back on offense. Trevor Lawrence, Travis Etienne, Justyn Ross, and Tee Higgins. Mix in Amari Rodgers, Joseph Ngata, and Frank Ladson, and it was all the more reason to believe Clemson would score 40 to 50 points on everybody as we saw in Santa Clara, right?
The preseason talk on offense emanated from that early January night in Santa Clara. Building chemistry from year to year takes time. That has not come together for this Clemson offense. Yet.
Uncharacteristic penalties from an experienced offensive line. A lack of a consistent run game. Pass protection issues. Essentially, all fixable things. Is it only a matter of time before the offense gets going? Yes.
Rich Barnes-USA TODAY Sports
Isaiah Simmons said after the game Saturday that the bye week comes at a perfect time for the team.
"We get to heal up and get a little bit of rest under our belt, just because we've been going hard since August 1st. I'd say this week is huge, as big as any week. It's just going to help benefit us as well," Simmons said.
It's a week where this team can continue to improve and focus on playing their best football moving forward. The schedule is favorable for the Tigers with Florida State coming to Death Valley this weekend. That is a game they should win considering the ups and downs in Tallahassee.
You've got Louisville, Boston College, Wofford, NC State, Wake Forest, and South Carolina after that, all of which the Tigers will be favored in. There are two games to watch out for, though: NC State and Wake Forest. NC State on the road in Raleigh is a game that has come down to the wire the last two trips.
Wake Forest is quietly 5-0 and could very well be 9-0 heading into Death Valley on November 16. File that under things I didn't anticipate writing in August.
The first CFP rankings will be released on Tuesday, Nov. 5. The overreaction will ensue regardless, but right now, it's simple: Keep winning, win the ACC Title, you're in the playoff. But there are loose ends to tie up between now and then.
Never miss the latest news from Clemson Sports Talk!
Join our free email list