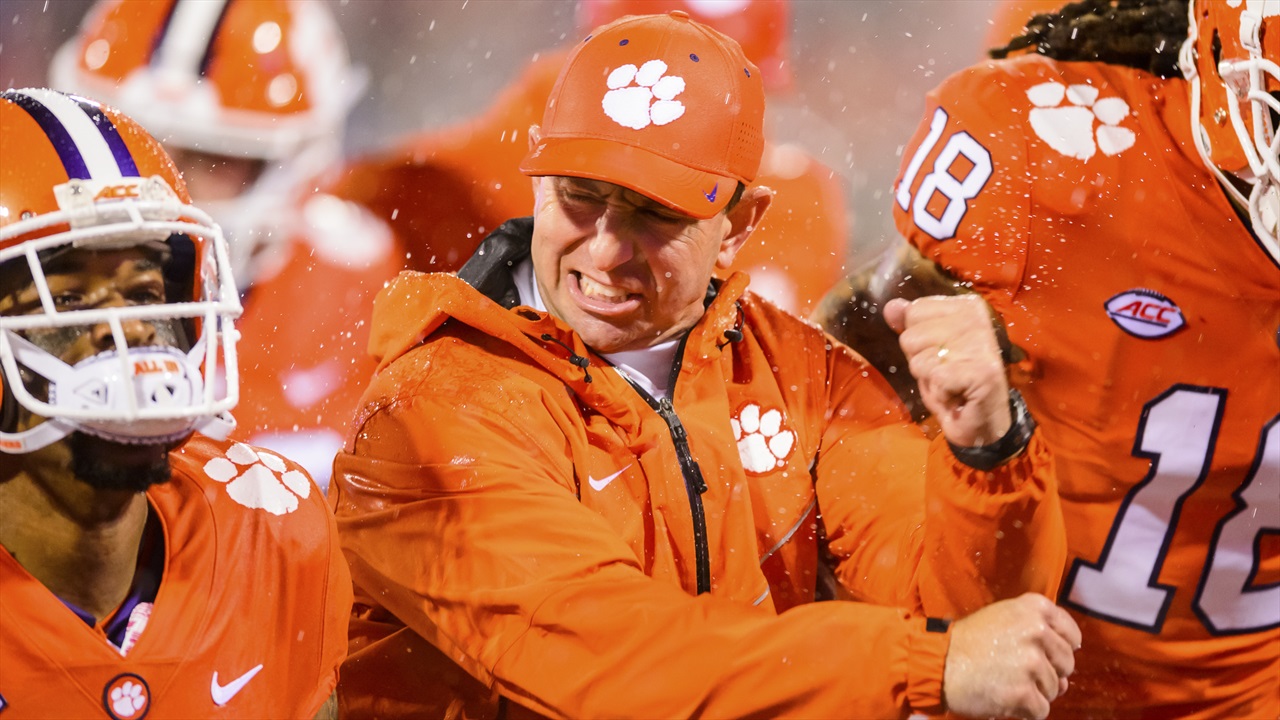 Clemson Football
Gas up the R.O.Y. Bus: Clemson focused on what's most important ahead of FSU matchup
---
Feel the difference - The best user experience on mobile devices or personal computers. Avoid clickbait and sites bloated with advertising! Join us today for just $1 or get a full year for $63.17.
Register for a FREE ACCOUNT today and you are entered to win a LIMITED EDITION Clemson football. ← Learn More
---
The closing seconds at North Carolina a little over a week ago was the closest Clemson has come to losing a game since the Tigers fell to Alabama in the 2017 Sugar Bowl 24-6.
With that one-point, 21-20 victory over the Tar Heels came plenty of scrutiny to Clemson's 5-0 start, both from outsiders and Dabo Swinney himself.
The head coach admitted that his Tigers were out-coached, out-played, and were very fortunate they were able to hold on. The day after the win, Clemson dropped from No. 1 in the AP Poll to No. 2 behind undefeated Alabama and has remained there since the open week.
For a little over a week now, Swinney has had to answer questions about the game we deemed as a wake-up for the defending national champions. There was a period of self-evaluation that followed, not just from that particular game, but from Clemson's first five games as a whole.
But as the weekend approached, the team got Saturday and Sunday off to take some time away from the game. So what did Swinney do with his free time on Saturday?
Have a little fun.
Swinney said Tuesday he got to sit back and enjoy watching college football from afar as a fan. He also had to take the tarp off the "R.O.Y. Bus" and get it ready for operation once again in 2019.
Last season, Swinney eluded to the "Rest of Y'all" Bus in the context of Alabama being far and way the better team than anyone else in college football.
"Back when I was a player, we kind of had the big-time bus and then the R.O.Y. Bus – the Rest of Y'all. It is kind of Alabama and the rest of Y'all," Swinney said as ESPN announcers laughed. "We are just kind of glad to be on the R.O.Y bus right now and to still have a chance. But it really does not matter. It is exciting to know that we are getting into November and we are still a team that is in the middle of the hunt.
Well, it's October in 2019, almost Swinney sweater season, and Clemson has found itself back on R.O.Y Bus after dropping in the polls.
"I went back out to the shed this week and I took the tarp off the R.O.Y. bus," Swinney said. "I thought we were off the R.O.Y. Bus for a while. I pumped the tires back up, gave it some gas - a little oil change, buffed up the seats a little bit."
The comments came after Swinney was asked if people outside of Clemson hold the program to standards that are impossible to reach. Swinney, who just won his school-record 20th consecutive game has learned that if a team is affected by what is going on outside of its walls, then it won't be great.
The message? Don't focus on what can't be controlled.
"We always say, "don't let anybody walk between your ears with their dirty feet.' You gotta focus on the things you can control," Swinney added. "If you focus on the things that you don't control, those things control you, right? Let's don't focus on the things we have zero control over. I have no control over what (sportswriters) write or say. I ain't worried about. They got a job they got to do and I respect their job. If I worry about what other people say, then I am distracted. I'm not inside out. I think that's very important: to think the right way. Our program blossoms from the inside out, not the outside in."
Swinney continued, "I'm glad that we got people that have an opinion on Clemson. That means we matter. Our program matters. It's good that people are talking about Clemson - good or bad.
"'Ah, they stink.' Ah, they're great.' Whatever. It doesn't really matter. What matters to us is just playing well."
And that's what Clemson has gotten used to doing, especially after dropping in the AP Poll. Under Swinney, Clemson is 21-4 in games which it entered the game lower in the AP Poll than the week before, including 13 straight.
So while many are still looking to dissect the current flaws Clemson has, there's time to right the ship. And Swinney has gotten plenty of ammunition to motivate his players come game day while also having a little bit of fun in the process.
It's time to rev up those engines.
"We're back on the R.O.Y. Bus, man," Swinney said. "Here we go!"
Never miss the latest news from Clemson Sports Talk!
Join our free email list