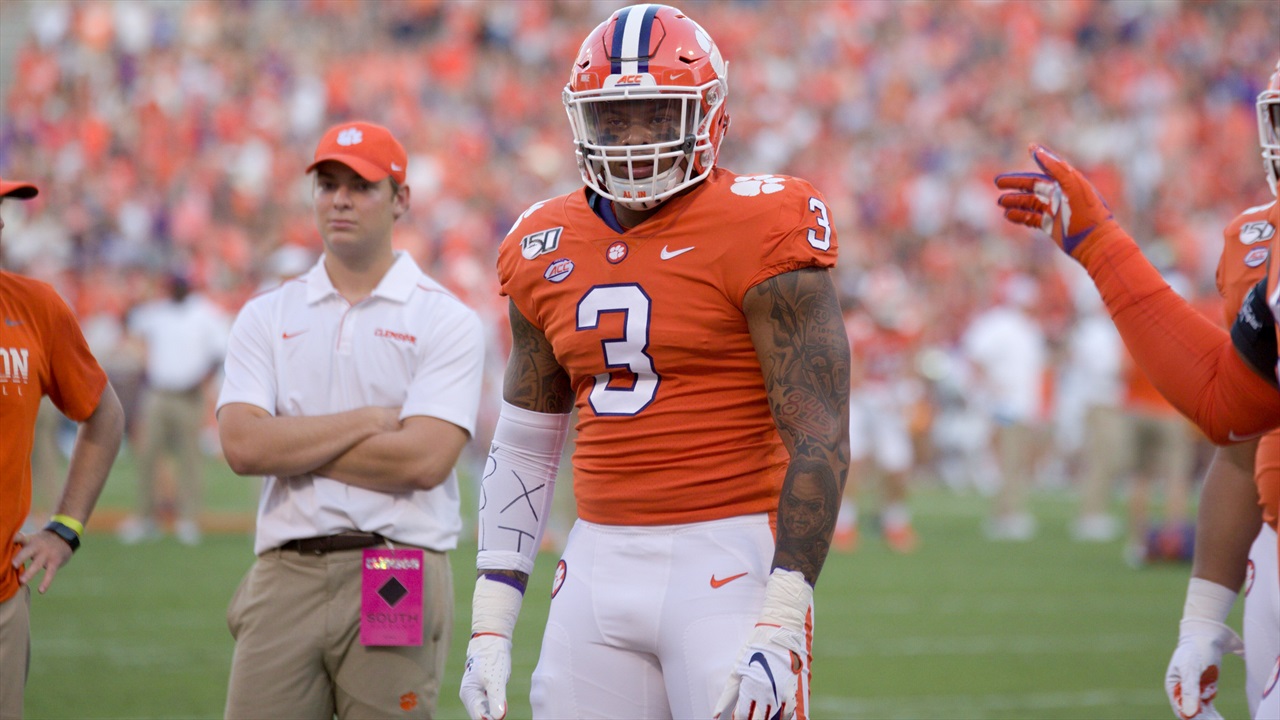 Clemson Football
Dabo Swinney Press Conference notes: Louisville
---
Feel the difference - The best user experience on mobile devices or personal computers. Avoid clickbait and sites bloated with advertising! Join us today for just $1 or get a full year for $63.17.
Register for a FREE ACCOUNT today and you are entered to win a LIMITED EDITION Clemson football. ← Learn More
---
Some quick-hitting notes from Dabo Swinney's Tuesday press conference previewing Louisville:
– Excited about getting ready for Louisville this week. Performance against FSU was great on both sides. We're going to face a team on the road that has won four out of their last five games. It's a team that plays really well and is improving. It's obvious to see the difference in where they are right now than last year. Polar opposite.
– They've rushed for over 200 yards against everyone they've played against except Florida State. Everything they do is built off running the football. Run a lot of pistol formation. Really impressed with both quarterbacks. Both are very accurate passes. No. 3 is Houdini. He just escapes. Next thing you know he makes some really great throws.
– They have the best left tackle that we are ever going to see. The whole offensive line is playing well. Running back has made some big runs and catches the ball really well. Offense has been incredibly explosive and that's due to the run game.
– They are going to put a lot of pressure on our safeties this week. They are playing with physicality and getting to the quarterback.
– We've got a three-phase challenge that we have to accept. This game is to control your own destiny in the ACC. We don't want to be at the mercy of what somebody else does. This is division playoff football and it's the best of one. We've got one good game we've played on the road and one where we didn't play well on the road.
– On changing the culture: coaching matters. They just were a team is disarray and were not playing hard. And it's a different deal now. It's not like they are playing a bunch of freshmen. This group of coaches have come in and these kids believe in what they are trying to do. Doing the things that you need to do as far as developing leadership. They've found ways to win. That is a definite indication of what they are doing from a coaching standpoint. Even being down 21-0 at Florida State - they don't quit. This is a team where you are going to have to go win the game.
– They've done a great job of give their guys a chance to be successful. They are not a drop-back-throw-it type of team. Lots of motion, sometimes tight end in the backfield. They've got a lot of stuff going on… They are not an option team, but it's option football. They create some one-on-one type of tackles. Going to be a challenge for the free safeties to try and read what is going on in the backfield. This little running back is a heck of a football player. Their receivers are confident. It's going to be a real challenge for us. We've got to win the matchup up front.
– Hasn't lost any confidence in BT Potter. He's going to kick in the NFL. He's just got to grow up a little bit. He's got to get the type of mental toughness it takes to be successful at that position.
– Kickoff coverage wants the opposing team to bring the ball out of the end zone. Our unit is one of the best in the country.
– Knows Scott Satterfield from his days at Appalachian State and Florida International. Played them in 2015 and that was a game I was not happy to schedule. Satterfield left the program in a better situation.
– Isaiah Simmons is more focused. He knows what he wants to do and he understands he needs to play well to achieve the goals he's set for himself. He used to not grade a winner with the team but get a lot of production points. Now he's player of the week and grading a winner, but is still leading in production.
– Xavier Thomas has been unbelievably productive but sometimes makes plays in the wrong spot. He graded a minus on the two-point conversion at UNC, but what a play. What he has you can't coach. He's just going to get better. He did not grade well early, but his grades have become more consistent. He's right at the line to grading a winner. Still a work in progress and is not anywhere close to where he is going to be. It just takes time.
– KJ Henry is probably the most improved guy. Super impressed with what he has done. He's very self aware. Logan Rudolph is just a salty dog.
– Braden Galloway has been a really good teammate. Been keeping an eye on him. He's been engaged and happy for the success of the other guys. When things don't happen the way you want them, you have a choice. He's gone to work. He's going to get out of jail somewhere down the road here where he can re-join the group and be ready to help our team.
Never miss the latest news from Clemson Sports Talk!
Join our free email list