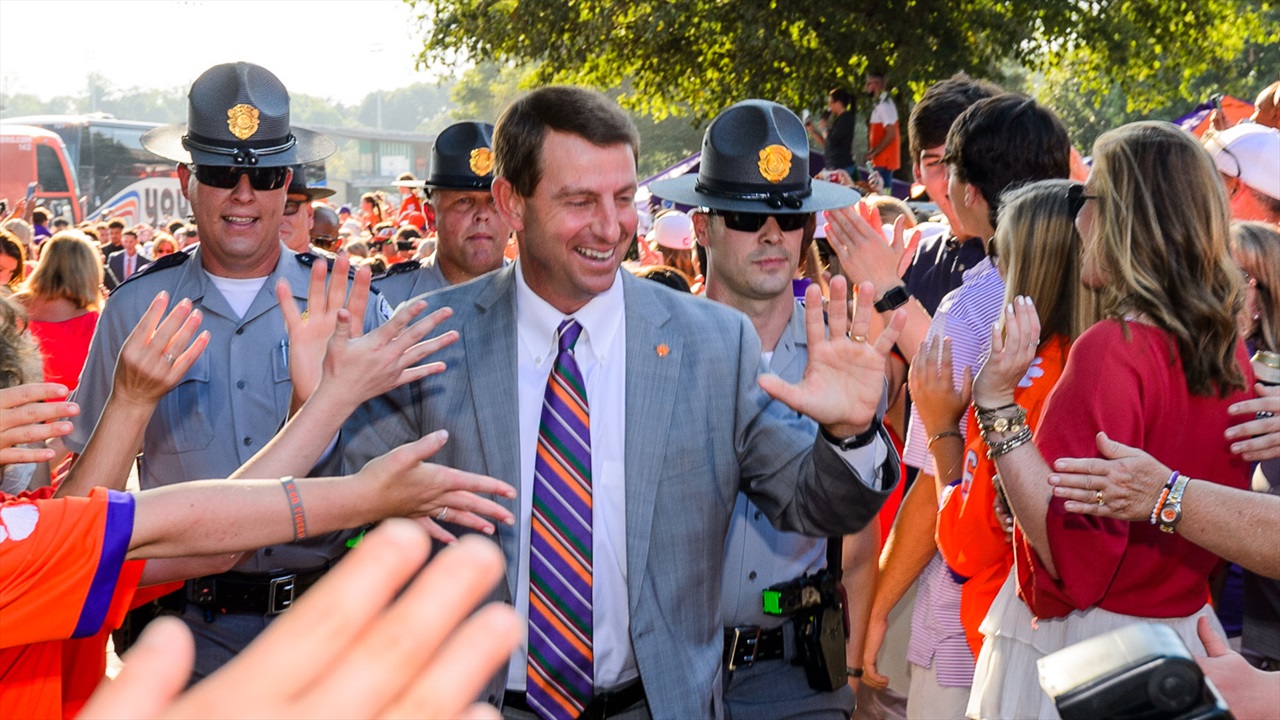 Clemson Football
Dabo Swinney Press Conference notes: North Carolina State
---
Quick, short notes from Dabo Swinney's Tuesday press conference previewing North Carolina State:
– Last year we played really well at home, but the past few times up there has been a grind. NC State is a team this year that is different than the past two years. They are a little banged up, but are young and well-coached. They scheme up as well as anyone and are put in the best position to be successful.
– Offensively, had a transition at quarterback. Went with the freshman last week. The strength of their offense is the offensive line. The create opportunistic plays. Have to do a good job of lining up and use recognition. They run trick plays, they don't just practice them.
– We didn't run the ball well against them last year. That's an area we need to improve on again in this game. They've had to move some guys around, especially at cornerback. Excited to be 9-0. A tenth win would be important for the program. Trying to stay in the hunt for the division before moving on to the bigger trophy.
– On Travis Etienne: It's not like Travis Etienne has played bad, he just had one brutally bad game. He's refocused since that game. School-record of 200+ yard rushing games. So explosive. His best football is in front of him. He just shows up and goes to work every day.
– Coaches get in a comfort zone and I don't think other guys work hard enough to get players ready for a game. Have always cared about playing everyone, whether it's scholarship guys or walk-on guys. Keeps the team engaged. Said at halftime against Wofford, 'we're about to sub some guys here. Some of you are going to get exposed. Some of y'all are going to do well and catch our eye.'
– Funny note on game between NC State: People forget that there's a trophy involved in this game. It's around here somewhere.
– First College Football Playoff rankings don't matter. I know there's only seven undefeated teams left. If it's on, we'll watch it. But it's not worth the brain cells. We've played the same schedule since I've been the head coach here. We play conference teams and then two SEC teams. Beginning of career, it was, 'we'd never be a good postseason team' and now it's 'we're only a good postseason team because we don't play anyone.' Think it's fun and gives everyone fun stuff to talk or write about.
Not surprised the narrative has not changed. We've been really successful without an ACC Network. Now we've got people sitting around talking about the ACC every day in a positive way. Haven't had that much.
– K'Von Wallace will make it at the next level, for sure. He's like having three guys on your roster. He's playing with confidence and physicality. Can bring diversity to an NFL roster. Could play corner, either safety, Nickel, can cover, is a great special teams player, and he's smart. He's durable and stays healthy. And he's a winner. All he has done is win since he's been here.
– Isaiah Simmons is the poster child of why you come back to school. Could've been a second or third-round pick last year, but now is a legitimate first-rounder, potential top-10 pick. Most unique guy I've had defensively. Tanner Muse has helped himself more than anyone. He is very smart and covers up his weaknesses because he is so instinctive.
– On Florida State: Didn't even read my first contract when I became full-time head coach. Would've been a cheap fire if they fired me after 21 games (13-8). It takes time to build something at a program. Sometimes, you just gotta be patient. Having said that, I don't know the situation (at Florida State).
– Travis Etienne has 8 plays of 50+ rushing yards in his career. CJ Spiller had 21 in that same category. Spiller would scorch in today's game. Spiller ran around them and by them and was Houdini. Travis just runs through them.
– Swinney met Michael Jordan during his Bachelor Party. Seriously. Story coming shortly.
Never miss the latest news from Clemson Sports Talk!
Join our free email list