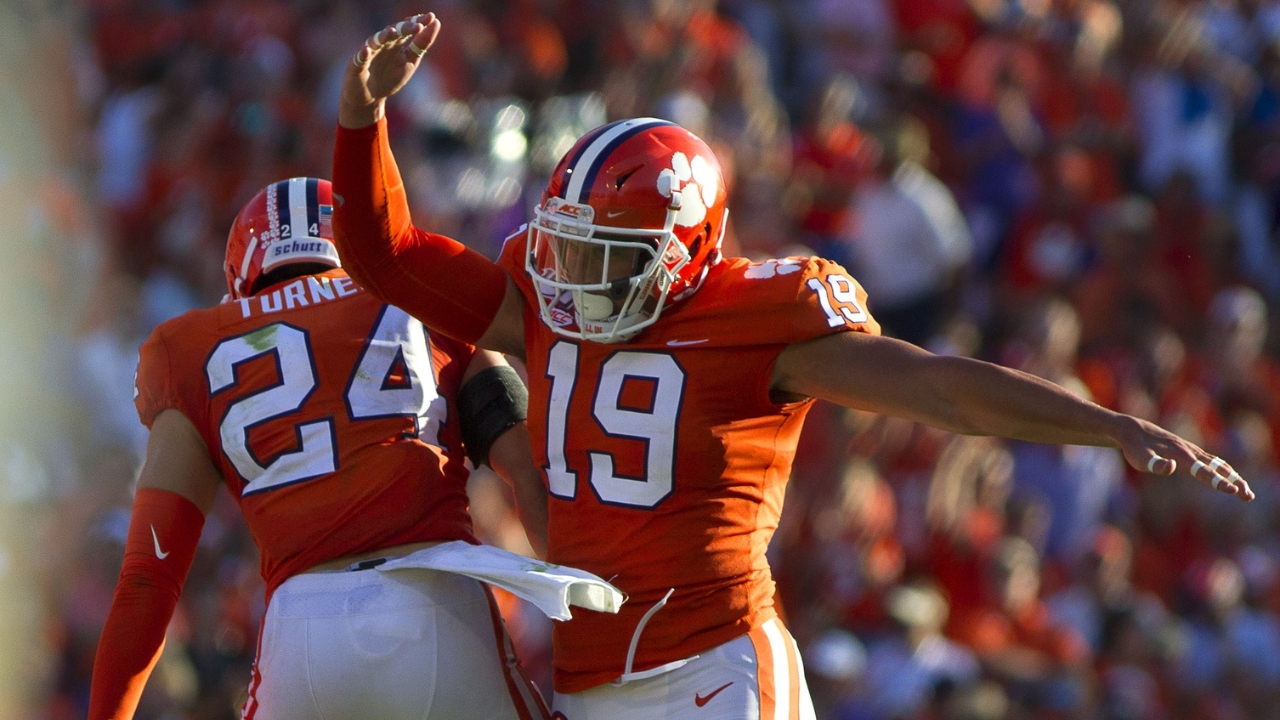 Photo by © Joshua S. Kelly-USA TODAY Sports
Clemson Football
Rankings reaction: A fuming No. 5 Clemson feeling disrespected is dangerous
---
Feel the difference - The best user experience on mobile devices or personal computers. Avoid clickbait and sites bloated with advertising! Join us today for just $1 or get a full year for $63.17.
Register for a FREE ACCOUNT today and you are entered to win a LIMITED EDITION Clemson football. ← Learn More
---
There's nothing like a little fuel to the fire, right?
On Tuesday morning, Dabo Swinney said he had no intention of watching the reveal of the initial College Football Playoff rankings, saying it's "not worth the brain cells."
But he did mention that if the show just so happened to be on the TV after practice in the PAW Bistro, then he and his players would watch while they enjoyed their dinner. Since the rankings weren't revealed until around 9:30 PM, that'd be a late dinner.
But we'd like to think Swinney still took a peek at the show, and his initial reaction to Clemson being put in the No. 5 slot was short.
A laugh, maybe just a chuckle even, with a quick nod while turning off his television immediately.
Now it's important to remember the truth in what Swinney preached to the media on Tuesday: these first rankings don't mean jack as far as the grand scheme of things is concerned. Especially when there are two top-4 matchups within the next three weeks.
College football has a funny way of working itself out. Sure, many Clemson fans probably saw that "No. 5" next to its name and were disgusted with the placement outside of the top four after 24 consecutive weeks inside it. And frankly, we'd guess there was probably more irritation than anything with the fact that No. 3 Alabama continues to get more benefit of the doubt than the reigning national champions.
Here's Swinney from Tuesday, after he was asked if he thinks about 'style points' over the course of Clemson's first nine wins:
"You can go back and find plenty of video footage last year of all the people, 'Well Clemson can't win. They didn't play anybody. They've only played one team, and it was Notre Dame and they're no good.' All this and that. Then we win and then it's, 'OK, well that doesn't work anymore. Well, they were tired, distracted.' It's just laughable. It's fun though. I think it creates a lot of excitement and a lot of fun stuff to write about."
Well, here we are one year later still writing and Swinney, surely, is still laughing - all the way to the next team meeting.
Well, here we are one year later still writing and Swinney, surely, is still laughing - all the way to the next team meeting.
Clemson coming in at No. 5 on Tuesday night was another win to add to its already lengthy streak. Externally, there's laughter from the head coach who has won two of the last three titles.
But internally, we'd like to visualize Swinney personifying the Grinch when he hatches an idea. His face moving slowly from stoic to a wide, wicked grin.
Clemson has been a program built on playing the "disrespect" card over the course of its true success. It thrives on the us-against-the-world mentality.
When the Tigers are given that card and feel like underdogs, it's like handing Thanos another infinity stone to add to his gauntlet.
After 24 straight wins, it gets much more challenging to find ways to keep that card inside Clemson's deck.
But after Tuesday night, Swinney, again, holds all the cards. Last year it was the ROY bus after Clemson sat at No. 2 for much of the year. This time around, it may be a slogan like, "barely alive at number five!"
We've seen already this season what a pissed off Clemson is capable of. Just ask Florida State or Willie Taggart. Add that to a team that feels like it is beginning to peak as we get into the chill of November and - man, Saturday could be tough sledding for the 4-4 Wolfpack.
Swinney will inevitably be asked on Wednesday evening what his reaction was to Clemson falling to No. 5. His response will be along the lines of he does not care and is just focusing on NC State, a team Clemson's been able to handle 14 of the last 15 meetings.
The real response could be displayed inside Carter-Finley Stadium on Saturday night in prime time. Because the Playoff committee just unloaded a couple of gallons of gasoline all over the Tigers. All Swinney has to do is light a match.
A fuming Clemson feeling disrespected is dangerous. And almost inevitable.
– Sanders Sullivan
---
Watching the College Football Playoff rankings came out last night was certainly interesting. I wasn't surprised at all by Ohio State being No. 1, and I also felt like LSU was in the right spot at No. 2. After that, is where I had an issue.
Simply put, with Alabama sitting at No. 3, I was very surprised given how they've looked defensively by comparison to Clemson. At No. 4, Penn State also resided in front of the Tigers, but their wins over Michigan (28-21) and Iowa (17-12) just don't seem that impressive from where I sit.
At No. 4, Penn State also resided in front of the Tigers, but their wins over Michigan (28-21) and Iowa (17-12) just don't seem that impressive from where I sit.
Heads up against Clemson? I'd have the Tigers as an 8-plus point favorite over the Nittany Lions.
Over and over, the conversations steered towards the "eye test" being the difference for why Clemson wasn't in the top four. Offensively, the Tigers are the most balanced teams in America, checking in at 3rd averaging 545.4 (272.4 rushing / 273 passing ) yards per game. Clemson's offense is also 6th in points per game at 44.2.
Brent Venables has been masterful this year, and the justification of "eye test" doesn't have the same punch after hearing about that last year heading into the national title game.
Defensively, the Tigers rank 4th in total defense, giving up just 247.2 yards per game. In scoring defense, the Tigers rang 6th, yielding only 11.7 points per game.
The "eye test" should be the measure. It honestly doesn't matter how you look, what matters to me is, do you believe on their best day that Alabama or Penn State is better than Clemson on their best day?
To me, only Ohio State and LSU have been consistent enough to raise concerns on both sides of the ball for Clemson. That's why I would have no issue with Clemson checking in at No. 3. I believe Alabama should have been No. 4 with Penn State sitting at No. 5.
Two things that took place last night were absolutely crazy.
First, Alabama is given a lot of credit for a win over Texas A&M, a team Clemson manhandled, but the Tigers are seemingly dismissed for beating the same three-loss Aggie team.
Another hilarious moment was Georgia, who lost to South Carolina, is just one spot behind an undefeated Clemson team. It was almost as if Clemson's win over North Carolina, a team that beat South Carolina, was less valuable than the Bulldogs' loss to the Gamecocks.
Consider my mind blown at that point.
I don't disagree that the Dawgs should be behind Clemson, in fact, I would have them at No. 6 or No. 7, but when Clemson checks in at No. 5, I can't justify a No. 6 ranking for the Bulldogs given the connections between their two schedules.
As for Clemson, the ROY Bus is gassed up and ready to go. However, if the team is caught up in the rankings this week, they are focused on the wrong thing. Just win and you're in, that's all that matters right now.
-Swanny
Never miss the latest news from Clemson Sports Talk!
Join our free email list