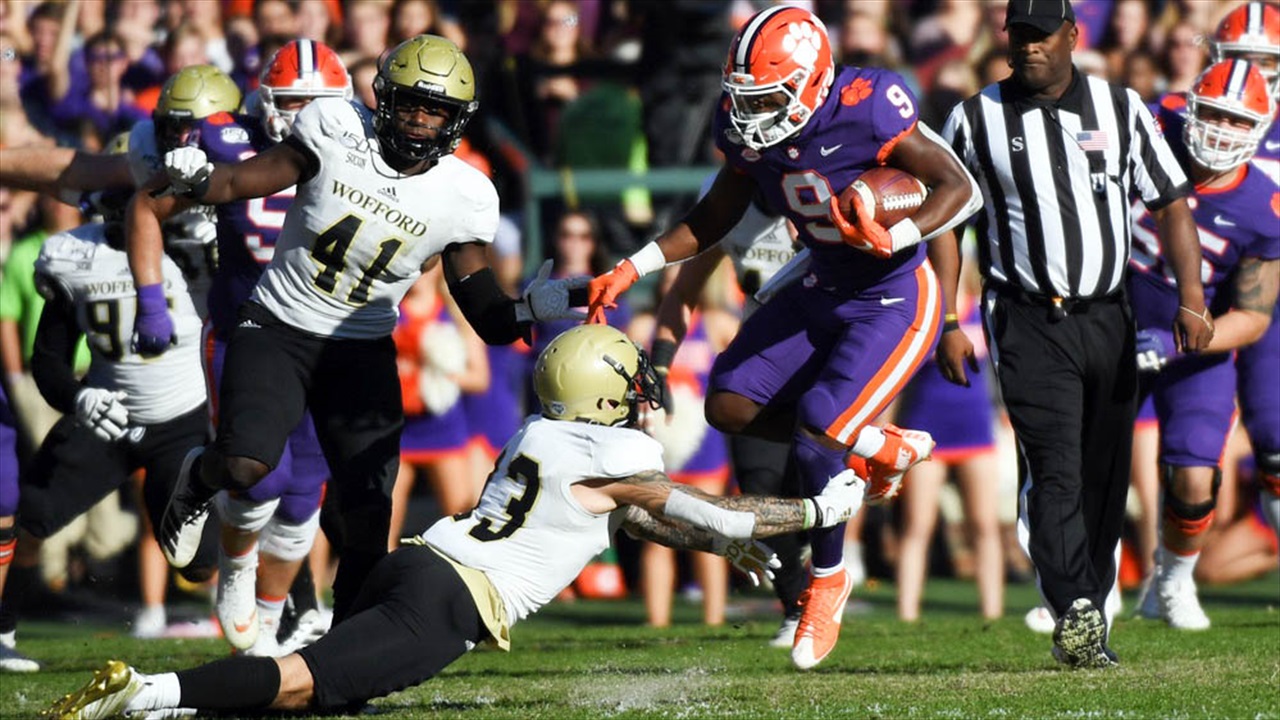 Clemson Football
Gameday 101: Clemson offense vs. Wofford
---
Feel the difference - The best user experience on mobile devices or personal computers. Avoid clickbait and sites bloated with advertising! Start your one month trial today for just $1.00.
---
Well, that was easy. We didn't learn a whole lot from this one, but it was nice to see the Tigers continue the offensive momentum from the Boston College game. Here are a few things I noticed.
-Things started off hot, as Clemson marched right down the field on the opening drive and capped the drive with a dime from Lawrence to Rodgers from 35 yards out. It was all too simple, but it was nice to see the great touch on Lawrence's pass as it dropped it right in the breadbasket.
-Things kept rolling from there, as the Tigers scored on six of their seven drives in the first half and held a 42-0 lead at halftime. Everything was clicking, and this offense is peaking at the right time.
-The star of the game was Travis Etienne, who ran for 212 yards and three touchdowns on just nine carries, the fewest amount of carries to reach 200 yards in school history. Etienne had an 86-yard touchdown to start the second quarter, and that score broke the Clemson career rushing touchdown record held by former star back James Davis.
-As a team, Clemson ran it 37 times for 419 yards and five scores. When the running game is rolling as it has been lately, this offense is near impossible to stop. Clemson also upped their record to 62-1 when rushing for over 200 yards, and 48-0 when passing and rushing for over 200 yards in the same game.
-With Clemson's 59 point effort against Wofford, they've scored at least 45 points in four straight games for the first time in school history.
-Clemson made an effort to get Tee Higgins involved in the offense again. After just three catches combined the first two weeks, Higgins was targeted early and often as he brought in five catches for 74 yards and a touchdown. Hopefully, the Tigers can continue that moving forward.
-No sacks and no tackles for loss allowed in this one either. The offensive line continued to play fantastic and opened up holes all day.
The Tigers did what we all hoped they would and now turn their attention to Raleigh and rival NC State.
---
Note: We will have a defensive look at Gameday 101 coming out later today.
Never miss the latest news from Clemson Sports Talk!
Join our free email list