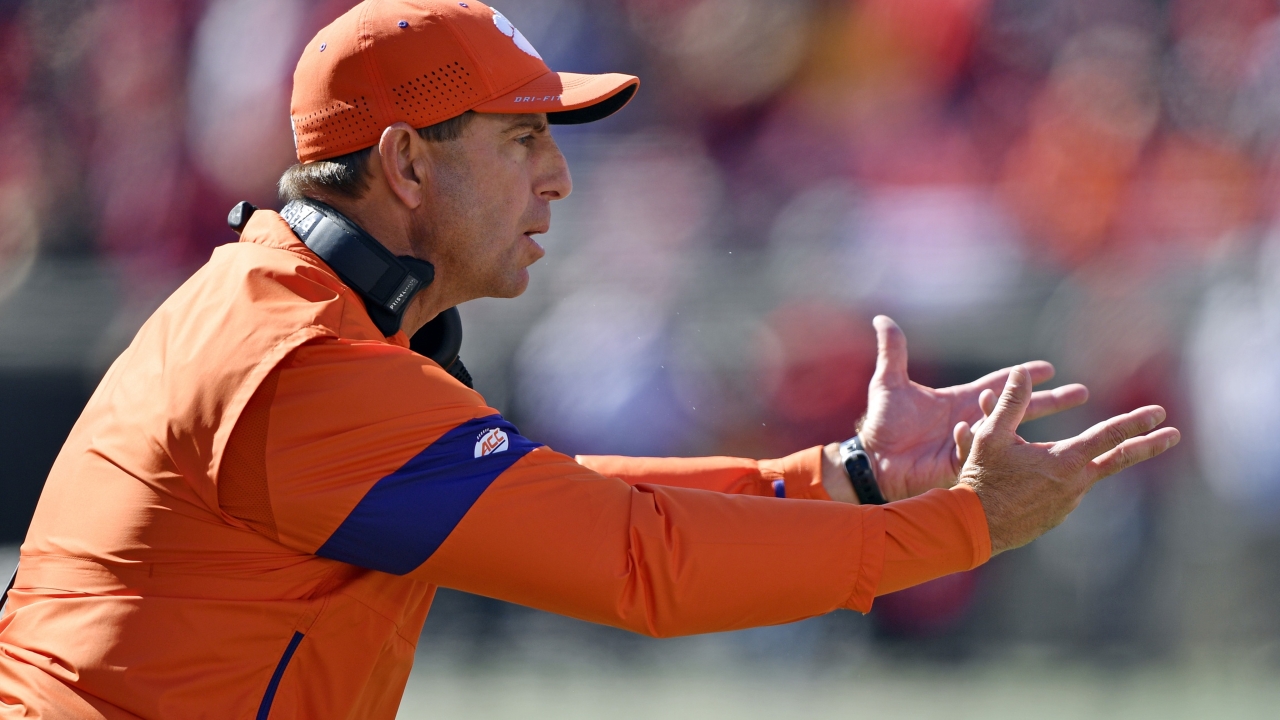 Clemson Football
Dabo Swinney says No. 5 Clemson is "built for the postseason"
---
Feel the difference - The best user experience on mobile devices or personal computers. Avoid clickbait and sites bloated with advertising! Join us today for just $1 or get a full year for $63.17.
Register for a FREE ACCOUNT today and you are entered to win a LIMITED EDITION Clemson football. ← Learn More
---
Dabo Swinney met with the media yesterday evening as the Tigers wrapped up practice as they prepare for North Carolina State. The head coach was in a pretty good mood as he greeted reporters. We think Clemson's No. 5 ranking in the initial Playoff poll may have something to do with that.
Of course, the question on everyone's mind was what was Swinney's reaction to seeing "No. 5" beside his program on Tuesday night. But there was no reaction because he missed the show entirely due to a timing mishap and going to eat cake with his mother for her birthday.
Talk about having your cake and eating it, too.
"They don't give trophies after nine games. It's all good. We're just honored to be one of those teams that has a chance. We are going to keep scrapping and clawing and keep trying to win games."
– On the reaction:
"I actually missed it. I thought it was at 7:30. I didn't know it was at 9 or whatever. So I had it on, and I ended up watching our basketball game while I was working and I went to go have cake with my mom. So I missed it completely because my time was off. So there you go. It wasn't - I found out pretty quick because all of a sudden my phone started blowing up, 'gas up the bus coach!' People are so mad, and I'm just like, 'we're good! We're one of those teams. Hey, we're in the mix. We just gotta keep winning.' We'll keep scratching and clawing. We only got one spot to go to get in there.
"Hopefully, we can play well enough. We got a lot of ball left. Hopefully, we have four more games. You get what you earn. You get 12 and you earn anything after that. Can't win 12 until you win 10. It's the ole barber-shop mentality, right? One at a time. See if we can play well this week against NC State and find a way to win.
"A 10th win would be huge, another unbelievable accomplishment for our program and keeps us on track for the division. We got about eight days left and the division race is over. Then you are kind of on to your next goal. All the rest of that stuff will take care of itself. Rest easy, enjoy the journey, and they don't give those trophies out after nine games."
– Was asked if the rankings were something he even had to tell his players:
"Oh yeah. These guys know. I don't have to say anything. Again, we're a team that's got a chance. There's a lot of ball left to be played. It's not worth getting worked up about. The focus needs to be on beating NC State. If we don't beat NC State, none of it matters. We're in playoff mode. Everybody wants to expand the Playoff. If you expanded the playoff, and there were eight or 12 teams, this game isn't as big of a deal this week. Then you start saying, 'well, they lost that game. They are still one of the better teams. They just had a bad day.' No, we don't have that luxury.
"This is a huge, monstrous game. And guess what? Next week: monstrous. Next week: monstrous. Next week: monstrous. It's like the State playoffs in high school, right? You have to win five games and it's a best-of-one every week. And I love that. That's our mindset. We're built for November. Built for the postseason. Everything builds to this. I love it. A lot on the line every week. There's very few teams that are in position and we are one of those teams. If we are good enough to get across the line first, then it'll work out. If not, we're going to have a great year no matter what and we'll reload to next year. Just want to get to Charlotte right now."
– Do you think from this point forward it is going to be about what you guys do on the field than some narrative some people have out there like earlier in the year?
"I don't know what else we can do on the field. We've got the best offensive production we've ever had. Ever. So I don't know what else we can do. College football hadn't had but two defenses in 20 years to have held opponents to less than 300 yards nine times. If it is about what's on the field, then I don't know what else we can do. But we're playing pretty good. We just gotta keep playing well. We've had four games in a row where I feel like we have played pretty clean. That's a sign of maturity.
"If we are playing our best football in September and October, that ain't the recipe. You want to build depth, you want to build confidence, you want to stay healthy. Certainly, want to dominate your opponents and I think we have done that every game but one. We want to position ourselves for the postseason and we've done all of those things. We're in a good spot. We just gotta finish. I think we are in a very similar position team-wise as we were last year. But that team finished. Is this team going to finish and stay focused on the little things and have that burning desire to finish the right way."
— Everybody is healthy. Xavier Thomas is back and had a great week, as did Denzel Johnson. Swinney said, "we're in good shape."
— Likes the way Clemson's schedule is set up to the end the year. "We just gotta finish."
— Said North Carolina State has a ton of gadget plays in its offensive playbook and always calls them. Swinney added that Clemson practices that kind of stuff on the practice field, but hasn't had to call them yet. Wolfpack ran two flea-flickers in the first half last week against Wake Forest.
-- Was asked if this was one of his most special group of wide receivers in terms of blocking down the field. "No question. That's something we take a lot of pride in: blocking at the second level. That's my expertise, if you will. You aren't going to play if you don't block. A guy that has a had a good year blocking is Tee Higgins. It's amazing how those things go hand-in-hand. He's such a complete player. When you get a back like we got, second-level blocks are massive plays. When you are relentless on the second level, you get massive plays.
— On Clemson's wide receivers: "They should be a handfull and should always be tough, especially with the type of balance we have… These guys are a tough matchup for anybody. It doesn't matter if you've played corner every day of your life."
Never miss the latest news from Clemson Sports Talk!
Join our free email list