Photo by Shannon Muse
Clemson Football
Muse family thankful for both sides of the Palmetto State rivalry
---
Feel the difference - The best user experience on mobile devices or personal computers. Avoid clickbait and sites bloated with advertising! Join us today for just $1 or get a full year for $63.17.
Register for a FREE ACCOUNT today and you are entered to win a LIMITED EDITION Clemson football. ← Learn More
---
Saturday's rivalry game matchup with South Carolina means a lot to many fans across the Palmetto State. For some, it's for bragging rights. For the Muse family from North Carolina, just weeks ago, it was to see their older son Tanner, a senior safety at Clemson, face off against younger brother Nick, a South Carolina junior tight end, in the Palmetto clash.
Now that won't happen because Nick suffered a ACL right knee tear against Vanderbilt and is out for the rest of the season. Shannon Muse, the boys' mother, is disappointed for Nick but the mother in her, is a bit relieved that Tanner won't be tackling his brother on Saturday.
"I had a huge concern. That's Tanner's job most of the time, to defend that tight end, so I was like, 'Oh, my god,'" she said when asked how she felt about them facing each other.
Although she was worried about her boys colliding on the field and dealing with one being dejected after the game, Tanner and Nick welcomed the opportunity to size up the other as adversaries for once.
"Nick was telling Tanner he's going to juke him out and Tanner wanted to knock him out whenever he gets the ball. I'm just in the middle saying, 'oh, my God, I'm so nervous,'" she told us.
"Now, I'm even more sad because as much as I was anxious about it. I wish it had happened for them, because they were really looking forward to it."
The Muse family lives in Belmont, NC a town with a population of approximately over 10,000 people located about two hours and 15 minutes away from Clemson. The Tigers and Gamecocks recruit the Tar Heel state heavily, but the triangle schools do an excellent job of keeping the best guys in-state.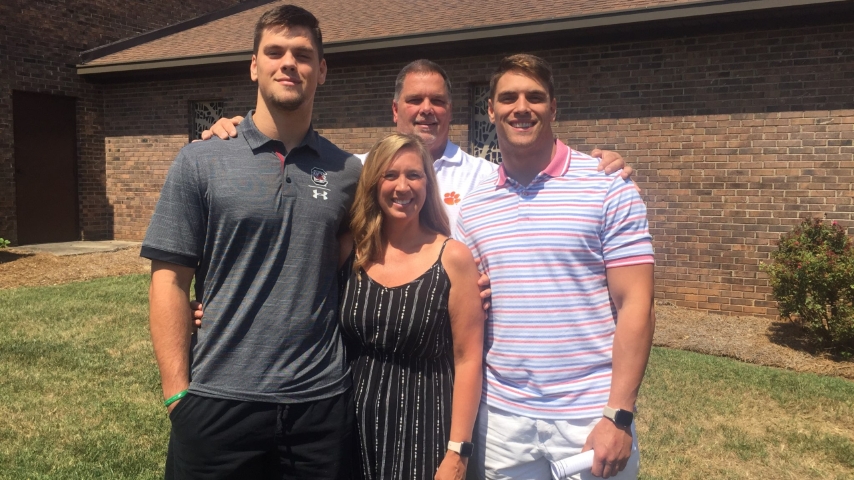 Shannon Muse
So how did this family - who didn't know much about Clemson - get caught up in the neighboring state's biggest game?
"Tanner committed on just a whim one day," Shannon said of the moment Tanner chose Clemson. "We were on our way to my parents' house for lunch and he said to me and my husband, 'I think I'm going to commit today.'"
"He said he had been praying about it and Clemson was the right fit for him, and he was going to call Coach Swinney. "It was fine with me. I felt like that's where he needed to be. We liked it. Tanner also liked the small town because it's similar to Belmont."
Now, the bigger question and one that gets asked more frequently is why did Nick choose the Gamecocks? Shannon understands why it would seem like such a puzzling choice for many people but for her, the boys and her husband Kevin, it wasn't a big deal.
"When we went down there, I could tell Nick was happy and that South Carolina was probably going to be his choice. I was perfectly fine with it," she stated. "I never grew up with the Clemson-South Carolina rivalry. And even though Tanner's been there five years, I don't hate them. But, of course, I knew it would be a big thing for everyone else." She said.
"Each kid needs to go down their own path. Tanner chose Clemson and Nick chose South Carolina and that's just what it is."
"Each kid needs to go down their own path. Tanner chose Clemson and Nick chose South Carolina and that's just what it is."
Nick spent two years at William & Mary before he transferred to South Carolina in June. At first, he wondered if he would be eligible this season let alone be able to square off against Tanner. He had to wait for an NCAA waiver in September to become eligible immediately to avoid having to sit out a year. Once he grasped the offense, he quickly became involved and made 17 receptions for 158 yards.
Now, he will look from the sideline as his teammates finish a non-bowl eligible season against the hated rivals. As was the case, about a year ago, Clemson is 11-0 and expected to hammer the Gamecocks. Also at this time last season, Nick and his parents were fine with the Tigers kicking some chicken tail but it's a no-win situation for the family now.
Last year, Clemson won convincingly 56-35 albeit not without some struggles, particularly on defense. As a few fans became disappointed with the final score and South Carolina quarterback Jake Bentley's 510 passing yards, a number of them directed their anger via Twitter at the defense and specifically, Tanner and K' Von Wallace.
Tanner received direct messages from a few overzealous, disgruntled fans after the 21-point win. He laughed them off. Shannon, however, didn't get the jest and took to Twitter to express her displeasure with what she read.
"....And if you think it is appropriate to reach out to the players with direct messages of hatred and insulting comments then you need serious help! It's uncalled for!" she tweeted on Nov 25, 2018 in response to the messages sent to her son.
"Being a student-athlete you're going to get criticized, add that with the skill of Clemson and that they keep winning. But some of it is so unfair, because they [fans] don't know the defense. Tanner might get criticized for a blown coverage but sometimes it might not be him. But who wants to call another kid out," she said when asked why she took to Twitter to defend her son.
To her, her words were not only in defense of Tanner but for all student athletes.
"Tanner tells me to ignore that stuff. I just don't like when he gets a direct message. I know it's not just him, who gets messages, - there are kickers who miss a kick and get death threats - some of it, is just too much."
The fifth-year senior took that criticism head on and vowed to learn from it and move forward. Prior to that moment, the most difficult time at Clemson occurred in 2017 when he broke his hand against Georgia Tech. That set him back and eventually, on the sideline because the club cast, affixed to his hand, made it difficult to defend the pass properly. He found himself back in a fight for playing time. But he worked through it and his endurance paid off.
© Jeremy Brevard-USA TODAY Sports
The 6-foot-2, 230 pound Jim Thorpe Award semifinalist leads the team in interceptions with four and is an NFL Draft prospect.
"It's not enough words for it. Besides waiting his turn and the injury, he's had the most perfect college experience," said Shannon as she reflects back on his time at Clemson. "To think that he can go win a third national championship in five years there. Who does that? It's just a great thing for him. He's happy, especially this year. We couldn't be more happy for him."
The state of South Carolina has become a home away from home for the Muse family and it started with Tanner. Even after watching Clemson get smashed 51-14 by Florida State at Death Valley in 2013, he stuck to his decision.
"I asked Tanner, how are you feeling after the Florida State game? He said, 'I want to go somewhere where I can make a difference. They don't have to be winning now.' And it ended up working out really, well for him."
Saturday, the Muse family will lock in for one final regular-season game and unlike most fans in the stadium, they will be thankful for both the Tigers and the Gamecocks.
"Our message would be to give thanks, not just today but everyday. Never take for granted all that you have, and now that my kids are older. I want to share this quote. 'Enjoy the little things in life, for one day you will look back and realize they were the big things.'"
As for her little boys, Shannon couldn't be more proud of the young men they've become and the opportunity she's had to watch them both play this season.
Never miss the latest news from Clemson Sports Talk!
Join our free email list