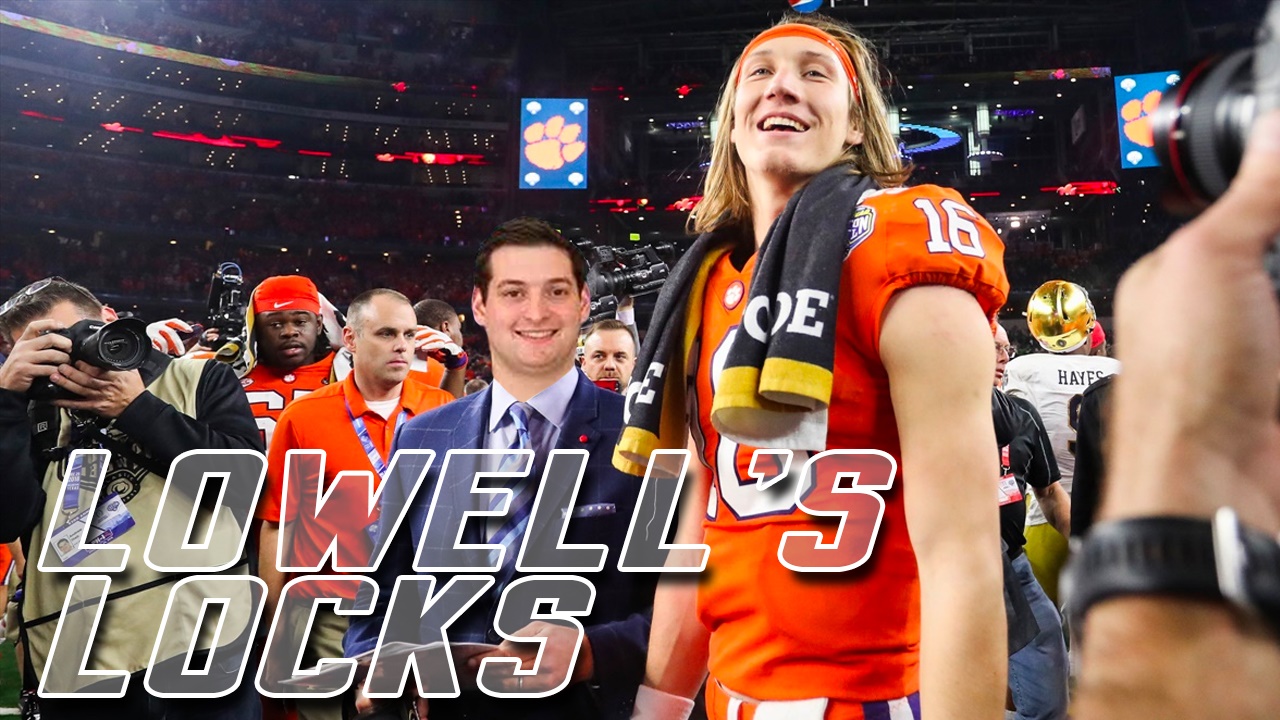 Lowell's Locks: College Football week thirteen
---
Feel the difference - The best user experience on mobile devices or personal computers. Avoid clickbait and sites bloated with advertising! Join us today for just $1 or get a full year for $63.17.
Register for a FREE ACCOUNT today, and you are entered to win a LIMITED EDITION Clemson football. ← Learn More
---
There it is, folks. An over .500 record for the very first time this season. It was a grind, but if you stuck with me you're now a profitable bettor, so congratulations! Now, to keep things rolling. As always, in the immortal words of Deshaun Watson, let's go be great in week thirteen.
Saturday, November 23rd
#8 Penn State at #2 Ohio State (-18):
Penn State started off hot defensively, but they've fallen into a slump on that side of the ball in recent weeks. That's bad news with Justin Fields and red hot Ohio State coming into town. Penn State can put up some points, but they haven't seen a defense like this yet, either. It could get ugly in a hurry in Columbus.
Lowell's Lock: Ohio State covers -18
#10 Minnesota (-14) at Northwestern:
It feels too easy. It feels like Vegas is setting us up for something. What do they know? This has to be a trap, but I'm falling right into it. Northwestern is an absurdly awful 129th in all of college football in scoring offense, averaging around 14 points per game. They do have a top 40 scoring defense, but that's not even close to enough when your offense is this bad. Minnesota has a top 25 scoring offense and pairs it with a top 30 scoring defense. This one isn't even close.
Lowell's Lock: Minnesota covers -14
#21 Oklahoma State (-7) at West Virginia:
West Virginia got a spark last week in upsetting Kansas State. They went with Jarret Doege at quarterback over Austin Kendall, and he put up a statline of 20-30 for 234 and three touchdowns. Not a bad first start. Unfortunately, their defense is still among the worst in the country. The Mountaineers will put up a fight and throw up some yards, but a top ten ranked Oklahoma State rushing attack will take over the game.
Lowell's Lock: Oklahoma State covers -7
Texas A&M at #4 UGA (-13):
Do I dare do it? Do I dare pick against the Bulldogs two weeks in a row? Have I not learned my lesson??
Yes I do. And no I have not. This is the type of game Jimbo Fisher and the Aggies crave. A grind it out, low scoring, old-school affair. Not to mention, the Aggies have gotten to play against Ole Miss, Mississippi State, UTSA and South Carolina over the past four weeks. Georgia is coming off of a couple grinders in Florida and Auburn, with Missouri sandwhiched in between. Then there's that offense, which has failed to break 30 points in each of it's last five games. Had Auburn just had an okay offense, they would have upset Georgia last week. The Bulldogs get another scare.
Lowell's Lock: Texas A&M covers +13
#25 Smu at Navy (-3.5)
SMU is so much fun to watch. I am a big Shane Buechele stan, and I have been since his Texas days. He has helped totally transform this team under the guidance of Cal castoff Sonny Dykes. Navy, meanwhile, let Notre Dame score 52 points on their defense. Definitely take the spread for the Mustangs, but consider the moneyline.
Lowell's Lock: SMU covers +3.5
#13 Michigan (-9.5) at Indiana:
Indiana has been on a roll in recent weeks, most recently putting a scare into Penn State. The Wolverines, meanwhile, have found a formula on offense and their defense continues to stifle opponents as of late. When the Wolverines face teams with lesser talent, they tend to dominate. Expect them to pound the football, hit a few key passes, and continue to be smothering on defense on their way to a comfortable win.
Lowell's Lock: Michigan covers -9.5
Lowell's Locks

Weekly Results
Season Results
Week 1
3-3
3-3
Week 2
2-4
5-6
Week 3
1-5
6-11
Week 4
4-2
10-13
Week 5
1-5
11-18
Week 6
2-4
13-22
Week 7
2-4
15-26
Week 8
5-1
20-27
Week 9
3-3
23-30
Week 10
3-3
26-33
Week 11
6-0
32-33
Week 12
4-2
36-34
Week 13
Week 14
Championship Week
Never miss the latest news from Clemson Sports Talk!
Join our free email list