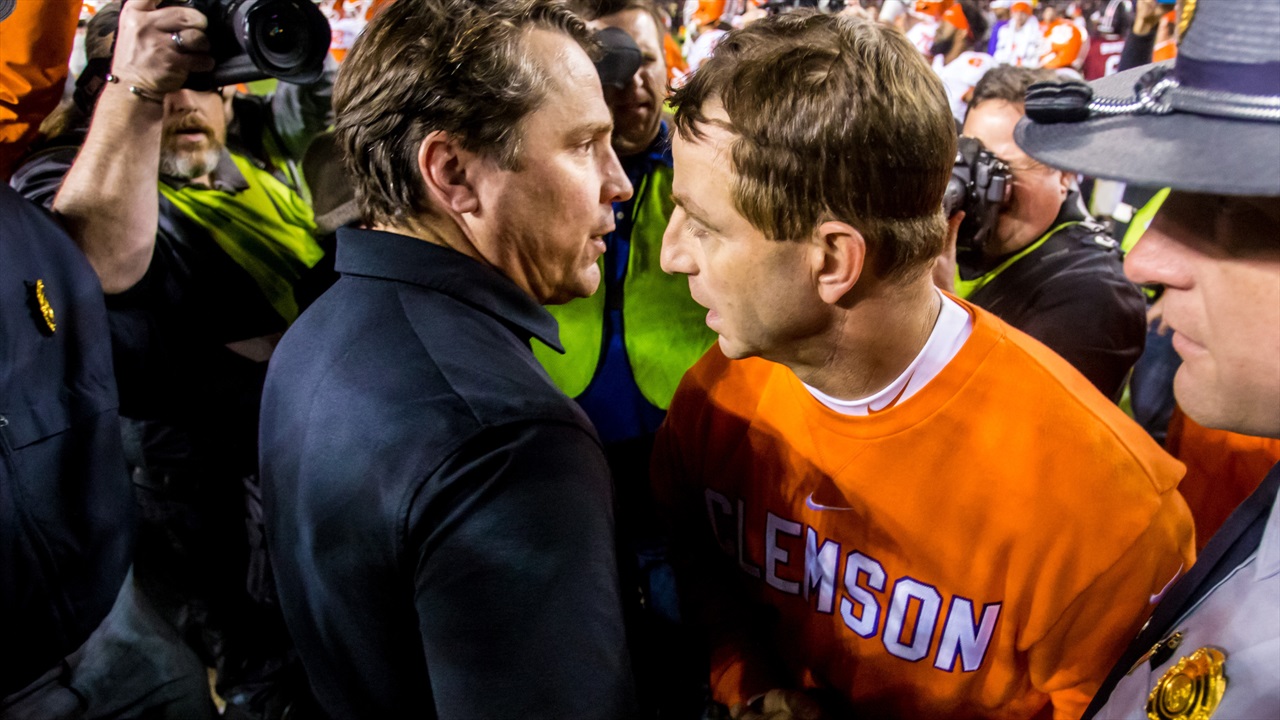 Photo by © Jeff Blake-USA TODAY Sports
Clemson Football
Clemson vs. South Carolina: A passionate rivalry for fans, players, coaches alike
---
Travis Etienne and Matt Bockhorst are both not from the state of South Carolina.
Bockhorst grew up in Ohio, where Michigan and Ohio State go toe to toe every year.
Both players have now been in the Clemson program for a while and they've been a part of championship teams. They also understand what Clemson - South Carolina means to people in the Palmetto State.
"It matters to a lot of people, especially for the guys in the state of South Carolina, there is a different sense of urgency this week and as a guy who's not from South Carolina, I think I kind of owe it to those guys to match that level of intensity but it's a fun week and Coach Swinney has always said it's important to have a good rival and we certainly have that so I think we're excited for the game," Bockhorst said.
Etienne is from Jennings, La., where there is no rival school in the state of Louisiana next to LSU. He said there's nothing he can compare it to.
This rivalry is something of itself, something of its own. It means a lot to the people around me in this organization. Just hearing from their perspective how much it means to them, it's just kind of fascinating that people take the game so seriously and for the fans, they really take pride in it, so, it's just (trying) to go out there and do my best and try to do my best to win the game. I take a lot of pride in that. It means a lot to them, so it means a lot to me so that's how I think about it for my brothers," Etienne said.
Clemson is seeking a sixth straight win over South Carolina on Saturday in Williams-Brice Stadium (Noon, ESPN). South Carolina has struggled to 4-7 in 2019, Clemson is a heavy favorite, but the passion is still there.
Denzel Johnson grew up in Columbia and was a Gamecock fan 'for a while' until committing to play for Clemson. He is preparing for a homecoming in front of family and friends.
"This one stands out a little bit more to me so I'm just really excited," Johnson said.
John Simpson is from Charleston, a city that he said has more South Carolina fans than Clemson fans. He is good friends with South Carolina defensive end Javon Kinlaw.
Speaking of passion, emotions will run high inside Williams-Brice Stadium. South Carolina's 2019 season will end Saturday. Simpson said the team needs to focus on the bigger picture, while Dabo Swinney wants the team to look at it as 'any other game.'
"That's how I want to look at it. I don't want to do too much because when you do too much, then you get out of your element. I'm just going to play my game," Simpson said.
It's unclear how many Gamecock fans will head over to Williams-Brice on Saturday. But the fans that are there will do everything possible to make the environment intimidating for the No. 3 ranked Tigers, something that they are well aware of, like in 2017 with the Walk of Champions incident.
"It's different because the fans at USC threw trash at us and everything. At the other stadiums, they didn't do that so, that should kind of speak for itself with that part. I don't want to say too much," Johnson said.
But it's Clemson and South Carolina, where fans will live with the results of what happens for the next 365 days.
"You can tell the fans hate us. You can tell that they just don't like us so, it's a big difference going there compared to anywhere else."
Never miss the latest news from Clemson Sports Talk!
Join our free email list