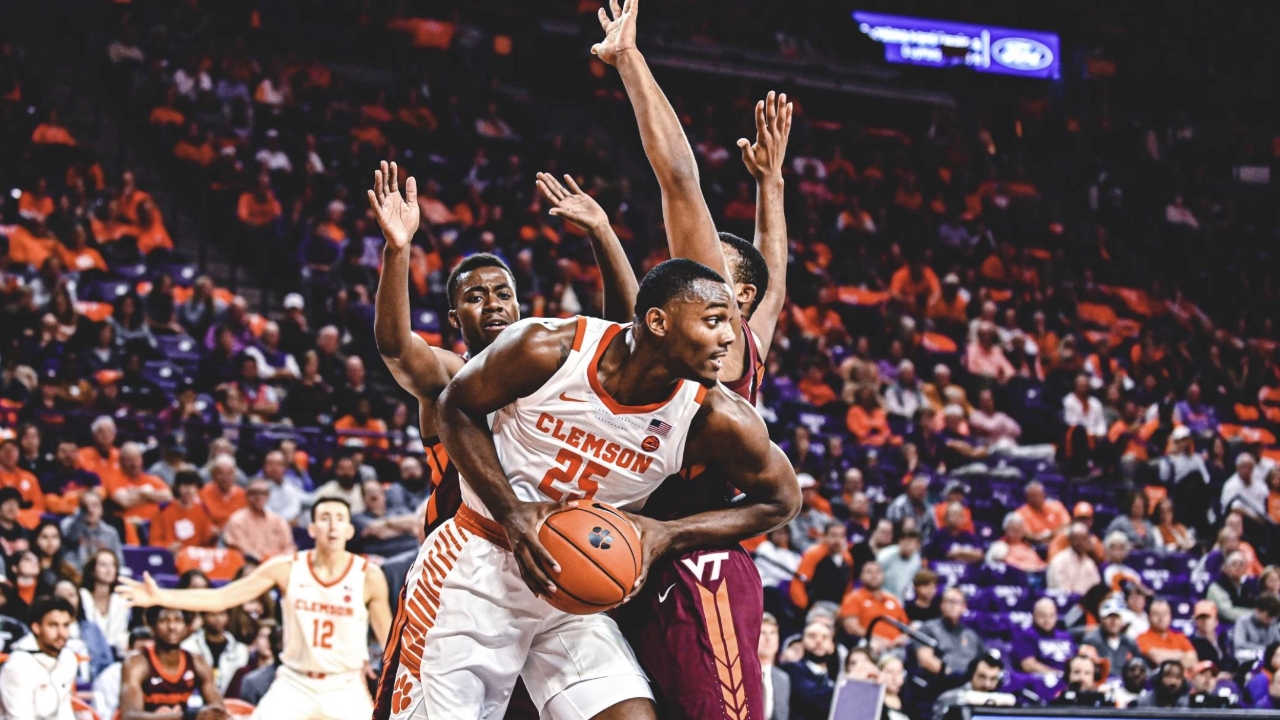 Clemson Basketball
Clemson set to face Minnesota tonight in Big Ten/ACC Challenge
---
CLEMSON/MINNESOTA SERIES HISTORY:
OVERALL: Clemson trails series, 2-5
HOME: Clemson leads series, 1-0
ROAD: Clemson trails series, 1-2
NEUTRAL: Clemson trails series, 0-3
LAST MEETING: Nov. 30, 2015 (L, 83-89)
STREAK: Lost 1
SETTING THE SCENE BETWEEN THE TIGERS AND GOLDEN GOPHERS
The Clemson Tigers (5-2, 0-1) will take on the Minnesota Golden Gophers (3-4, 0-0) on Monday, Dec. 2 in the annual Big Ten/ACC Challenge. Tipoff from Williams Arena in Minneapolis, Minn. is slated for 9:00 p.m. ET.
The contest will be televised on ESPN2 with Mike Couzens and Fran Fraschilla calling the action courtside, while
Don Munson and Tim Bourret will call the action on the radio waves. The radio call will be available on the Clemson Tigers Network and Tunein.com.
CLEMSON BASKETBALL HEADLINES
Clemson trails the all-time series with Minnesota, 5-2. The Tigers' last win against the Golden Gophers was on the road in 2006, a 90-68 victory.
Clemson is making its 20th appearance in the Big Ten/ACC Challenge. The Tigers are fourth overall between both leagues with 11 wins (Duke 18, Virginia 13, Wake Forest 12).
Clemson owns more wins than any program in the Big Ten during the challenge.
Clemson is 11-8 overall, including 6-3 on the road. It's six road wins are tied for the best among all programs in both leagues (Virginia, 6).
The Tigers will be going for win No. 69 all-time against the Big Ten tonight against Minnesota.
Under head coach Brad Brownell, Clemson is 5-5 against members of the Big Ten, including victories in two-of- the-last-three contests.
Tevin Mack notched his seventh double-digit scoring game of the season against Colorado for the Tigers (seven games played). His previous best was six games in a row. He previously scored in double figures in six-straight games from Nov. 29-Dec. 21, 2016 while at Texas. It marked Mack's 39th career double-digit scoring game.
In the Tigers' first game of the MGM Resorts Main Event against TCU, Simms posted 13 points, 12 rebounds and seven assists to notch his second career double-double and nearly manage his first career triple-double.
The Tigers are outscoring opponents off turnovers this season by a decisive margin of 159-88.
According to Ken Pomeroy, the Tigers' boast an experience ranking of 1.42 which stands 263rd in the country (out of 351 programs).
Never miss the latest news from Clemson Sports Talk!
Join our free email list