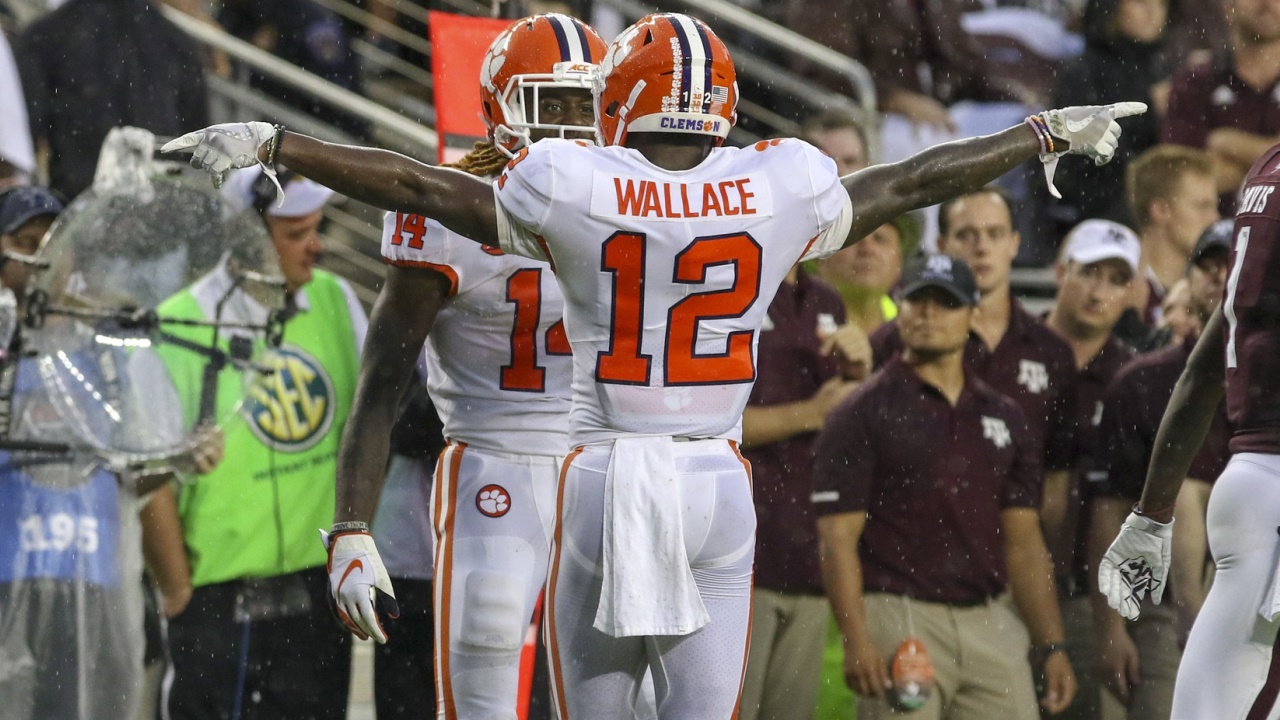 Photo by © John Glaser-USA TODAY Sports
Clemson Football
K'von Wallace: "We've got to do the unthinkable"
---
Feel the difference - The best user experience on mobile devices or personal computers. Avoid clickbait and sites bloated with advertising! Join us today for just $1 or get a full year for $63.17.
Register for a FREE ACCOUNT today and you are entered to win a LIMITED EDITION Clemson football. ← Learn More
---
Some more notes from our time from Clemson's campus on Monday, this time from the players such as Trevor Lawrence, K'Von Wallace, and others.
The following transcripts from Wallace and Lawrence come from staff writer Brandon Stockdale.
K'Von Wallace
– What does playing Virginia mean to you, Clemson hasn't played them in several years, you're a Virginia guy. What does it mean to you? Do you know any guys that played high school ball with?
"Yeah. One is Billy Kemp, played with him in high school. I can't wait. It's a championship game. I feel like I play my best, you know when the lights are shining. This is a fascinating team, great offense, great quarterback, running quarterback. We're going to have to contain him. We're going to have to do everything we can to stop what he does best. They've got a lot of weapons on offense. Their culture is excellent. The way they play for each other, the way they play as a team as well. We're going to have to bring it. I'm super excited because it's a Virginia team. If you know my story, you know how I feel about Virginia teams. I'm definitely excited because I got to play Virginia Tech my sophomore year. I played corner at Virginia Tech. We beat them. It was ESPN, big game. Going into that atmosphere, dominating is very exciting because I had a chip on my shoulder that game, and I feel like I got a chip on my shoulder this game. UVA was a team that didn't recruit me and I feel like being a Virginia native, I felt like I should have that offer, but it is what it is. I'm where I'm supposed to be. My coach tells me all the time, God tells me all the time, my mom tells me all the time, I'm exactly where I'm supposed to be and everything worked out perfectly the way it's supposed to be but, that don't mean I can't have a chip on my shoulder this game. I'm fixing to dominate. I'm fixing to put my best 60 minutes to display. I'm fixing to lead and be that team player that my teammates want me to be."
– On Bryce Perkins:
"He does a very good job of running well and competing. That's the number one thing, he's a competitor. He wants to win. Last year, he was very hurt how he left the field and that last game was a loss and this year, he feels like he got the job done leading his team to the ACC Championship but we've got to do what this program is built off of and that's best. Best is the standard, and we're going to have to play our best four quarters no matter what. They're a great team. He's a great competitor, like I said, great runner. He's consistent with the things that he (does) regardless of who they play and we're going to have to contain him, we're going to have to get after him."
– Did you watch the Virginia – Virginia Tech game?
"Of course. The game was Friday. On our way to South Carolina, the game was on. We had just finished game prepping for South Carolina and the game was on. I thought it was like last year's game. We knew that we had to pay attention because the winner was going to play us no matter what so we were locked in on the game riding the bus to South Carolina seeing tendencies on both teams. It was a great game. My teammate scored, Billy Kemp, he scored for UVA. He's number 80. He scored so, really excited for him and I wanted UVA to win. I wanted them to win. I feel like I've played Virginia Tech so now, it's time for me to play UVA. We got a lot to give him for sure."
– This defense finished the year all 12 games, no one got over 300 yards. Is that something you guys take a lot of pride in? Is it something that you guys notice and pay attention to throughout the year?
"We take pride in putting our best four quarters together regardless of if they have 500 or 200. Obviously, no defense would want an offense to put up numbers, put up touchdowns or even complete one ball. That's just the competitive nature that we have. We don't want them to complete a ball. We don't want them to get a yard averaging per run. That's our mindset every week."
"A lot of times, before the season even started, the media doubted us and they doubted what we could do. They doubted what we can replace. They doubted the back seven because we wasn't as well as we were last year. All the narratives that the media had on who Clemson's defense was and we're fixing to show them that we only getting better. We're fixing to show them that as a team, we only can play more together."
"We only can play (the) best four quarters of the year, of the season and it's a scary sight to see when you know that this type of defense that's been very successful this year can get only better and with a d-coordinator and the corners coach (Mike) Reed and safeties coach (Mickey) Conn and the d-line coaches and everybody just playing as a unit, as a team, they can come in, they work hard. They study their film. They know what to do and they do a great job of displaying their game plan and we just going out there to execute. All of us got a chip on our shoulders because like I said, the media doubted us before the season even started so, each and every week, we've got something to prove."
– How much of that is your complete belief in Brent Venables plan?
"It's football IQ. When you have that high of a football IQ, like I said previously before, he's like a scientist with this football thing. When you have that high of a football IQ, I feel like me and my segment and the defense overall, display that football IQ. It's just two geniuses trying to come together and figure out what to invent or what to display or what to game plan and what he does is (he) does a great job teaching it. He doesn't just talk to just be talking, he just don't know it for himself. He does a great job of displaying it and graining it in our heads that this is what they do and we trust him and that's what comes with this game."
"If you can't trust your defensive coordinator, you're not going to anticipate plays being made, you're not going to know that this play is coming and when you anticipate these plays and you know that this play is coming, you feel out their tendencies and knowing what they like to do here and there. It allows you to play well, it allows to play free, it allows you to play confident and Coach V has done a great job of displaying that confidence in us because the confidence he has in himself."
– Is there a play or two specifically (throughout the season) where you knew the play was coming because you had seen it on film or you had broken it down?
"I know the UNC Charlotte game, they love pot passes with the slants. We were in a coverage to stop that but the way I had to manipulate my alignment was I had to be a little bit more inside and when I did that, we knew the pot pass was coming so then that allowed me to jump the route before it even happened. I barely even had to move, that was the interception I took 66 yards to the house and stuff like that. Little things like that -- that we pick up on that allows us as players to play well."
– Most improved player?
"You could say Nyles Pinckney (or) Isaiah Simmons. Isaiah was a force last year but this year, if you see his numbers compared to last year, it's not even close. He has 7 seven sacks this year. I think he had 2 last year. Everything that he's doing has been remarkable. Nyles, he didn't really have that much time on the field as he would like but he's becoming a dominant force. Tanner, leading the team with four interceptions. I think he only had 2 last year and he got more tackles than he had last year as well. He's killing it. Denzel Johnson, he's doing better than he did last year. Nolan Turner (is) doing better than he did last year. I think he's leading the team in (pass break-ups). It's a bunch of guys that are doing better for the team and doing their part."
– Did you grow up a Virginia fan?
"No. I didn't grow up a UVA fan but I did have a lot of interest in Virginia Tech because my high school head coach, Loren Johnson, he played at Virginia Tech and he actually wore No. 12 so, he's like a father figure to me so I was hoping to wear his jersey and play for the Hokies."
– You mentioned those other players. What was it like watching DK turn around from wide receiver to cornerback in such a short span and what he's done this year?
"I wanted to talk about him when she said improved player but he couldn't really improve because he never really played defense but the crazy thing about it, all the players, before the season started talked about how well of a corner he's going to play for us, how well of a competitor he is and if you go out there and just watch how he plays, he just plays with tenacity and nastiness that he's the best corner out there. Everybody knows what A.J. is capable of, he's like a quiet assassin. He doesn't really do much talking and he just goes out there and balls but DK, he genuinely feels that he's the best player on that field and he plays that way and that allows him to make plays on the ball, it allows him to make plays tackling and he's really showing up for us. We really leaned on him because we know the offense is going to go after number 1. He really hasn't had that much experience but he's done nothing but improve. He's done nothing but dominate his side of the football. That comes with his competitive nature. He's a fierce competitor. He loves to compete and he loves taking coaching, he loves playing with his brothers and that shows you the culture of this team. We just love playing with each other. If you see him catching (the) interception (against) South Carolina, it's different where the fans and everybody on TV that are fans of Clemson to get hype for a guy from Clemson make an interception but you see that whole sideline erupt, you see the players on the field erupt and not because of the big play he made, it's just that the fact that DK made it and knowing all the criticism that he had, we just play as a team and it shows you, like I said, the culture of this program."
– When you guys say the media doubts you, what exactly do you guys mean by that?
"I don't want to give my opinion on it because I don't want my words to misconstrued. I feel like it's ridiculous. Swinney always says we've got to go 30-0 just to be ranked No. 1. We've got to do the unthinkable. I love it though. I wouldn't have it any other way. Being ranked No. 3 after (not) having lost since my sophomore year, it's the craziest thing I've ever been a part of sometimes, just to think about that. I haven't lost one football game since my sophomore year and we're only ranked 3. That's crazy to me. We are playing Power 5 schools. Yes, they're not ranked but we're playing Power 5 schools that can beat you on any given night. We have to prepare hard for each and every week no matter who we play. I do understand LSU being highly ranked because of who they beat, 4 top 10 teams, 3 top 10 teams, something like that and I understand Ohio State, winning a couple good matchups but to sit there and say that we're number 3 best team, like I said, before the season started and I'm going to continue to say, we're the best darn team in the country and y'all will see it every Saturday. Stay tuned."
– Is it an issue with the playoff committee?
"It is what it is. I can't control it. We can't control it. All we can do is control what we have in this building. All we can do is control what goes on as our mindset and as a unit and as this game plan goes on, all we can do is dominate the game plan that our coaches have for us."
– So you're basically saying that you guys did nothing to lose that No. 1 status that you came into the year with?
"I'm saying it is what it is and like I said, we know what we're capable of. We've been doubter before the season started and we're going to definitely put our best four quarters to UVA. That's what we're focused on."
– With Virginia, you were rooting for them just to have a shot to play them?
"Yeah, I was genuinely cheering for UVA to win because I was so eager to beat every Virginia team that I felt like left me hanging so that's just me personally, though. I ain't got nothing against the Hokies really. I ain't got nothing against UVA, really. I feel like what I'm going do and as I said, we're fixing to play our best four quarters.
"Just do what we do best and that's play as a unit and all 11 hats to the ball."
Trevor Lawrence
– Trevor, talk about Saturday's game against Virginia coming up, ACC Championship. You guys going for your 5th in a row as a program, your second in a row since you've been here. What's the talk inside the facility about the Cavaliers? What do you guys know about them?
"This is our first day back. Really we don't know anything mandatory on Sundays so this is the first day back in the facility with all the guys so we haven't had a chance to talk about it too much but we know it's a really good team. We've watched them play a little bit this year when we were driving down to Columbia, we watched them play against Virginia Tech and it's like any other game. They're a really good team and obviously, they made it this far. They've got a lot of talent and they're really well-coached from what I've seen on film and then defensively, they have some really good players and I feel like they're very disciplined so, they know what they're doing schematically and they're usually in the right spot. (That's) just a couple things I've noticed. Haven't got to watch a ton but, we're really excited to have the opportunity to go back to Charlotte."
– I know Justyn and Tee moved around some Saturday, what was it like trying to find some mismatches and take advantage of some of those opportunities?
"Yeah. I think any game, that's important. Just finding your matchups especially a team like South Carolina, played a lot of man coverage. That was something that we kind of worked on all week was finding those matchups that we wanted and also, just recognizing them so, that was really important to them. The cool thing about having Tee and Justyn, Dre (Diondre Overton), Frank (Ladson), Joe (Ngata), Amari (Rodgers), all those guys is that you can move them all everywhere so that's something that's helped us this year and did a really good job of moving around (and) adjusting."
– You led the team in rushing Saturday with 66 yards and a couple of big plays. Late in the season, a lot of folks will say, why run the guy so much but what's your philosophy, though?
"Just taking whatever the defense gives me is how I see it. I think you can't play scared. You hear those things that people say but you can't play scared. It's still a game and if I'm in there, I'm going to play like I play. I'm not going to change anything whether it's the first or third quarter so I think it is smart not to take hits that aren't necessary but, for me, I'm always going to play the same way and I'm not going to hold anything back so that's something that's important to me."
"Yeah I think the one that they called was but they called it so, not much else you can do but other than that, I felt like it was just a physical game. (That's) how it is all the time but I think that was the only one that I noticed that was bad."
– There were a couple of hits that floated around on social media in the game that looked unnecessary. Did you feel the same?
"Yeah I think the one that they called was but they called it so, not much else you can do but other than that, I felt like it was just a physical game. (That's) how it is all the time but I think that was the only one that I noticed that was bad."
– Do you enjoy getting to run the ball or would a perfect game for you be 40 passes with no running attempts?
"No. I enjoy it. I enjoy it until I run a couple in a row and then I'm super tired and I can't breathe but I really enjoy running the ball, actually. I feel like it gets me into the game more when I can run the ball, maybe take a hit and kind of get my blood flowing and all that so, I like doing it."
– You think the running game has improved?
"Definitely. Since last year, it's improved a lot and that's something I wanted to work and just getting bigger and faster has helped a lot but then, just understanding the game and knowing when to scramble, when to try to make a play with my legs and you're going to throw it away or find a guy downfield."
– Is that the area of your game you think has just matured the most is just digesting what the coverage is giving you?
"Yeah. I think for sure, mentally that's been the biggest improvement since last year is just understanding things more."
– When you're running, do you think your speed kind of catches the defenders off guard and they don't realize you're that fast?
"That might be part of it but I think just as a defense, it's hard to (when) you're sitting back in coverage and I'm not really known as like a running quarterback so you're sitting back and seeing me scramble and if I just get a little bit of an edge on them, I can get the corner so I think that's the hardest thing as a defense is to defend a quarterback that can run a little bit. You see Lamar Jackson and those guys, they just kill defenses with that and obviously, I'm not that but that's just hard as a defense to be back in coverage and then have to come up and make a tackle one-on-one with a guy."
– Coach Elliott says he feels you might be faster than Deshaun was. How fast do you think you are? Where do you rank as far as the top tier, middle tier, lower tier as far as fast guys on this team?
"Yeah, I don't know about that but I think maybe straight line, maybe. I think I have decent speed and it's something that I can use but I'm definitely not one of the faster guys on the team. We've got some really fast guys. Travis (Etienne) and Isaiah (Simmons), Tee (Higgins), all those guys can fly but I'm just kind of in the middle there. Maybe a little bit above average."
– Would you ever want to race Deshaun if you ever got the chance to?
"Probably not. He'd probably beat me."
– Those runs in the fourth quarter, were any of those designed or was it you trying to make a play?
"Really I think one of them were designed. I think the other ones were trying to make a play or you know, zone read is a huge part of our offense and do that stuff but I think only one of them was designed."
– Is that part of the adjustment? Early in the year, there were some interceptions, do you feel like maybe just tuck it and run and opposed to forcing it into tight spots? Is that one of the adjustments you made?
"I think not that as much as one thing's been big is finding the back for me, checking it down and thinking it's ok to check it down, even if it's third and 10 or third and long. If we don't get the first down, we can punt it but just not turning the ball over has been something that I've worked on a lot this year and I think too, just being able to throw it away and not turn it over knowing that throwing the ball away is a good play sometimes so that's just something that I've learned but yeah, I think running the ball in those situations when they're playing man and two safeties and they've kind of got everything covered up. It's either find the back or scramble if you can."
– I think you gave (Israel) Mukuamu a high-five on one of the plays (Saturday against SC). What happened on that play and was it a little less intense than you were expecting? What did you think of playing down there?
"I've had a chance to think about the last week or so or two weeks maybe. I think this rivalry is now, it's just so much more of the fans than it is necessarily the players. Obviously, we both care a lot about this game and want to win the game but I think all of the nasty stuff that you see is mostly fans. We respect each other and we respect the guys on the other team and he made a great play on that play. We really had a wide-open guy and I just tried to put it right over him and he's so long, he got a piece of it so he made a good play and I was just letting him know he did."
– You have a pretty good connection with all your receivers, obviously but have you and Tee kind of taken it to another level?
"I think it's just being consistent and having played with him a whole year last year and now this year, just gotten better every week and I can count on him. I can count on all the guys, really but I think just how our offense has been this season, he's gotten the ball a lot and he's had a chance to make some huge plays and he's made them. That's been awesome to see. I can't even think of many drops he's had this season so, he's really taken advantage of his opportunities and as a quarterback, you love throwing to a guy like that."
– Do you share any subtle signs with him?
"Can't say all that stuff but I think we know when we see a play called in and we think he has a chance to get it. We're both thinking it, we don't really have to look at it each other but no, when I see something and I know that based on their defense, it's going to be wide open then obviously, we get excited."
– Do you see some of the catches that he makes and go 'wow, I can't believe he caught that?'
"Yeah. You kind of get used to it because you see it all the time but then you think about it and you're like, there's not many guys that can do stuff like that."
– How much has he improved in doing those types of things?
"I think he's gotten a lot better at setting routes up and when you watch him play, you can't really tell which way he's going because he does a really good job of that and then also, he's using things in our offense that might be tendencies to use it against a defense when we do other things and kind of use those moves to get them to bite. That's what happened there, he bit on the post and we ran a post corner and after the catch too, he made a really good move to get up field too so he's a great player."
– You think your timing on deep balls to Tee and Justyn and whatnot is as good as it's been all year?
"Yeah. That was last year at the end of the year, I kind of think about things I want to work on and get better at and that was a big thing that last year, I missed so many deep throws to whether it was Tee or whoever and that was something I really wanted to work on and this year, I think I've done a lot better job of giving them a chance to catch it. It might be a little bit under thrown but not overthrown where they don't have a chance."
– How much have you seen on tape with what Virginia does with their linebackers?
"Not a ton. I watched one game yesterday just to kind of get a feel for their structure and what they do and that was the North Carolina game so, I watched that but I haven't gone super deep into formational stuff and kind of how they switch things up but obviously, they've got really good players and at linebacker, they have really good size so, they're a good team."
– Have you taken a sense of extra self-satisfaction recently just kind of thinking, yeah, all these people getting on me and now it's been forever since you've thrown an interception, has that kind of meant anything extra to you?
"Nah, not really. I think it's just I take pride in not turning the ball over and I did a really good job of that last year of limiting those turnovers so it was obviously disappointing to have a few early in the season and that's something I wanted to improve on just because we're not being our best if I'm turning it over a lot so that was just something I wanted to work on to make our team better and as an offense to really improve because a lot of those hiccups you saw early in the year might have been because of some turnovers so, that was something I wanted to work on and that was the only thing because I'm happy with how I'm playing because we're playing a lot better when I'm playing better."
A few of the more important themes from other sessions:
Tanner Muse
-- Said from here on out they aren't going to face any bad teams. Said the defense has a good opportunity in front of it to prove itself. As if this defense hasn't proved enough already.
When Muse said the defense needed to prove itself, we asked the Clemson safety if he felt like the defense as a unit hasn't done that yet. Muse said the national media wrote off the defense and no one really takes notice until the College Football Playoff begins.
Said he personally doesn't care what the outside thinks, but other players, like K'Von Wallace, are bothered by it.
"We just roll with the punches."
-- Compared Virginia quarterback Bryce Perkins to Kellen Mond based on Perkins' ability to create plays in a variety of ways.
-- Said not having Brent Venables in your corner just isn't good. Knows as an older guy that Venables is going to always have something cooked up for the defense every week. Has been amazed by the countless amount of times Venables has been able to predict what an opposing offense is going to do.
During the Wake Forest game, Venables made a call and Muse was upset because the quarterback threw the ball right where Muse anticipated and he said it would have been a pick-6 until Tyler Davis batted the ball down.
Said Venables always comes out of left field with different pressures and blitzes, which makes it more enjoyable for the guys in the back seven. Said when he was "young and dumb", he would leave meetings sometimes and think, 'ok, who knows if this will work.' Now has learned to trust Venables' schematics.
-- Said it's been awesome being able to step up as a leader this season in wake of last year's defensive line not returning. He's enjoyed being able to teach.
Jordan Williams:
-- Said he was recruited heavily by Virginia and Bronco Mendenhall. Said it didn't work out, but he's taken notice of what Mendenhall has built and he liked everything he had to say during the recruitment process.
-- We asked Williams what area of his game he felt like he has improved on since the season began. He said the ability to play the run more efficient has been key to his development. Had to get into the right playing shape because he was a little smaller early in the season.
-- Enjoy that Venables has been willing to play more of a base defense than dime as the season continues. The defensive line takes great pride in that.
-- Said people sleep on Perkins' ability to make plays through the air, not just his legs.
Never miss the latest news from Clemson Sports Talk!
Join our free email list