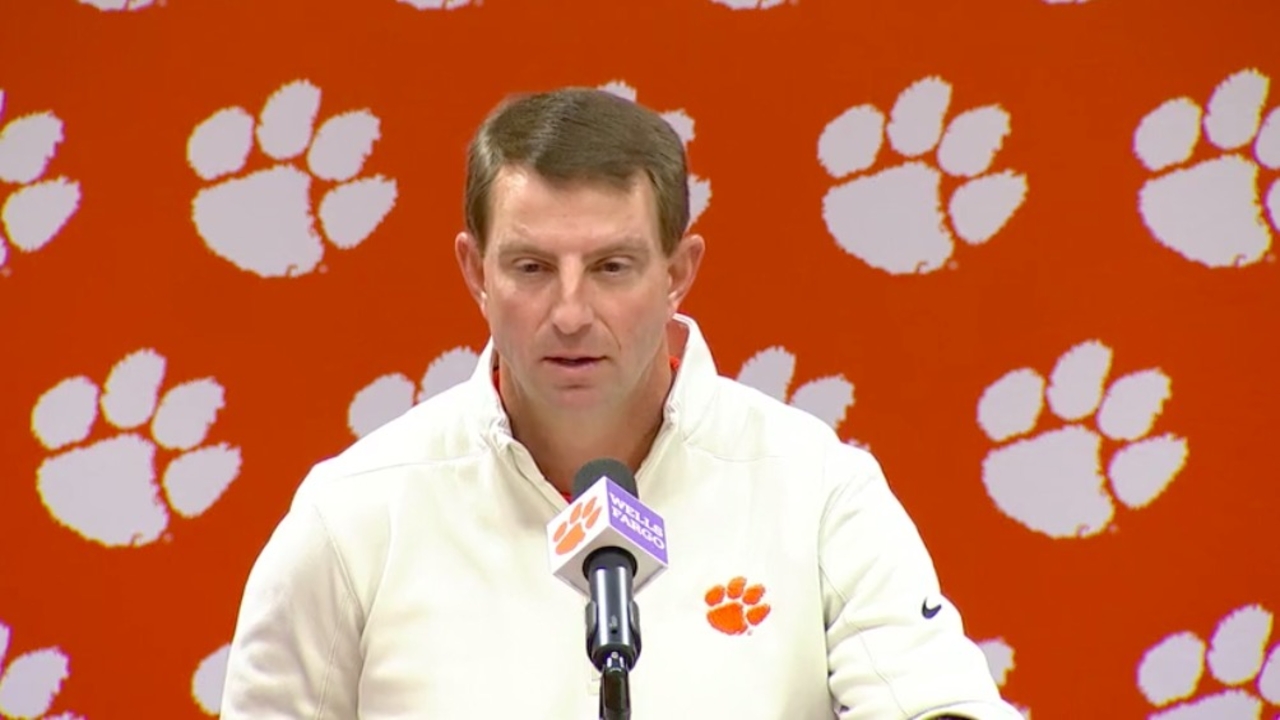 Clemson Football
Dabo Swinney: 'How about a little benefit of the doubt for our program?'
---
Feel the difference - The best user experience on mobile devices or personal computers. Avoid clickbait and sites bloated with advertising! Join us today for just $1 or get a full year for $63.17.
Register for a FREE ACCOUNT today and you are entered to win a LIMITED EDITION Clemson football. ← Learn More
---
Here are some notes from Dabo Swinney's Tuesday press conference previewing the ACC Championship against Virginia.
Swinney picked up right where he left off from the weekend, saying his team doesn't get the benefit of the doubt it deserves, players like Trevor Lawrence aren't up for national awards, and people have missed out on a "beautiful" football team.
– Really proud of our team and staff. This is a team that is coming off a national championship and losing a lot of players. To see the commitment and where they are right now is special. Congratulations to Virginia and Bronco Mendenhall and what he's done with that program. Saw this coming a couple of years ago and not surprised.
Gave a personal shoutout to James Skalski, who was an honorable mention in the ACC awards. Mentioned Isaiah Simmons was honorable mention last year. Said Skalski has been a "war daddy."
UVA is a football team that I have such a great appreciation for who they are you. You can see the heart, passion, togetherness, belief when you watch them on tape. Credit to that staff. Those are some of the hardest things to have. They got that right. This is a team that has a great will to win and plays for each other. Has a ton of passion.
Offensively, UVA is very efficient. One of the best teams in the country on third down. They stay on the field a lot. A very experienced group of receivers, and you cannot sleep on the tight end. At the end of the day, Bryce Perkins is a 'wow' guy. The crazier it gets, the better he plays. He can run as good as any running back we are going to see. Everything goes through him. They are a pass-first offense and have some designed QB run plays. He is a player Clemson has to account for at all times.
On defense, they are sixth in the country in sacks. Does a great job schematically challenging the quarterback. Communication is key. They've only had two teams out of 12 have offense over 400 yards against them. One team has rushed for over 200 yards. They are No. 24 in the country on third-down defense. They are getting off the field at a very high rate. A very efficient football team, a team that does not beat itself.
On Perkins: The best quarterback we face is in practice. As far as not on our team, he's as good as anyone we have played. Everybody has their strength. He's probably the most dynamic guy we've played. Dangerous. He can throw and run like a running back. Perkins is a grown man and is a winner. I just love his heart. He's a winner and just loves to compete. He's a player that you are going to have to beat and play for 60 minutes.
– The hardest thing to do is win again. To win consistently. For us to have nine 10-win seasons, that's our greatest accomplishment. That type of consistency as a program is the best accomplishment we've had.
– Their linebackers, No. 14 and 11, are just two big, long defenders. They always have overhangs, guys on the outside. They have had to use their personnel a little differently due to injury. They only played 13 guys against Virginia Tech, not a ton of depth.
– On relationship with Mendenhall: he's a great coach. He's about the right things. I love being around people like that, who are about the right things and building things the right way. He's tough. He's not afraid to fail. The first meeting I was in, I knew, 'that guy gets it.' They've done a great job. Last year they took a step forward. The first time I met him, it was very easy to see that he was going to be successful.
– On defending Perkins: You better have eyes on him. Virginia Tech played some cover zero. Corners had their backs turned, and he would take off on them. You have to have some man principles but play some zone coverage. Want to keep him in the pocket, but they are going to do some things to get him outside the pocket. He will hurt you vertically. Their quick passing game is what they do. They do a lot of draw RPO, which is what we have done in the past. Pre-snap, Perkins is a guy we are going to have to do a good job with.
– On ACC being on the upswing: Saw UNC and a guy like Sam Howell coming in. Some years you may have top-heavy teams as opposed to other years. Said this year, there are 10 bowl teams. It's a very deep league and there are a lot of teams that can win. Winning seasons speak for themself. Our league never gets credit. I know what reality is, and this is a very good league. I don't think this year's as good as a couple of years ago. It was just a couple years ago, Lamar Jackson was over there at Louisville. A lot of QBs in the NFL right now came from the ACC. Scott Satterfield at Louisville is way better of than the program was last year. It's only a matter of time before Florida State is Florida State again. I don't walk around waving a flag like some of these other people do. I focus on Clemson.
– When you've won 27 in a row, you better have some fuel. The greatest motivation is self-motivation. If you are artificially motivated to be great at something, you are never going to be great. Ain't nothing wrong with a bit of fuel. Virginia didn't offer K'von Wallace. I'm sure that's a motivating factor for him. There's no greater motivation than self-motivation.
– On ACC: Our league doesn't get the benefit of the doubt. People should focus more on who we are, not so much as who we play. I could understand that if we were the new kid on the block, but we've been around here for a while. Sometimes people create storylines in the offseason, and maybe that doesn't add up. If you thought Trevor Lawrence was good last year, he's twice the quarterback that he was when he was crowned the king of college football.
I just don't think our team has been portrayed properly. People have missed out on a beautiful football team. We've been great all year. Texas A&M was the "12th ranked team in the country." All of a sudden, we beat them, and they aren't very good. It's not who you play; it's who we are. People get amnesia this time of year.
How about a little benefit of the doubt for our program? We ain't going nowhere.
A lot of people are doing the Michael Jackson. Moonwalking. A lot of people get amnesia. I don't get amnesia.
– Wasn't trying to take a shot at the committee on Saturday. Does not know who is on the committee and doesn't care. Said Trevor Lawrence should be a Heisman finalist. It's incredible what he's done. "Will they finish? We don't know. But we have a chance to win the league."
– People are trying to diminish what we've accomplished. Sometimes, as a leader, you gotta stand up.
– I'm not going to dislike Paul Finebaum because he's good at his job. People don't like me because I'm good at my job or wear this Clemson logo. One of the best lessons I've learned, is you don't worry about criticism from people you wouldn't take advice from.
– On Finebaum telling him he needs a pacifier: We need adult nap time.
– Braden Galloway is getting some work in and the scout team jersey has come off. Hoping to get him ready to go after the ACC Championship.
Never miss the latest news from Clemson Sports Talk!
Join our free email list