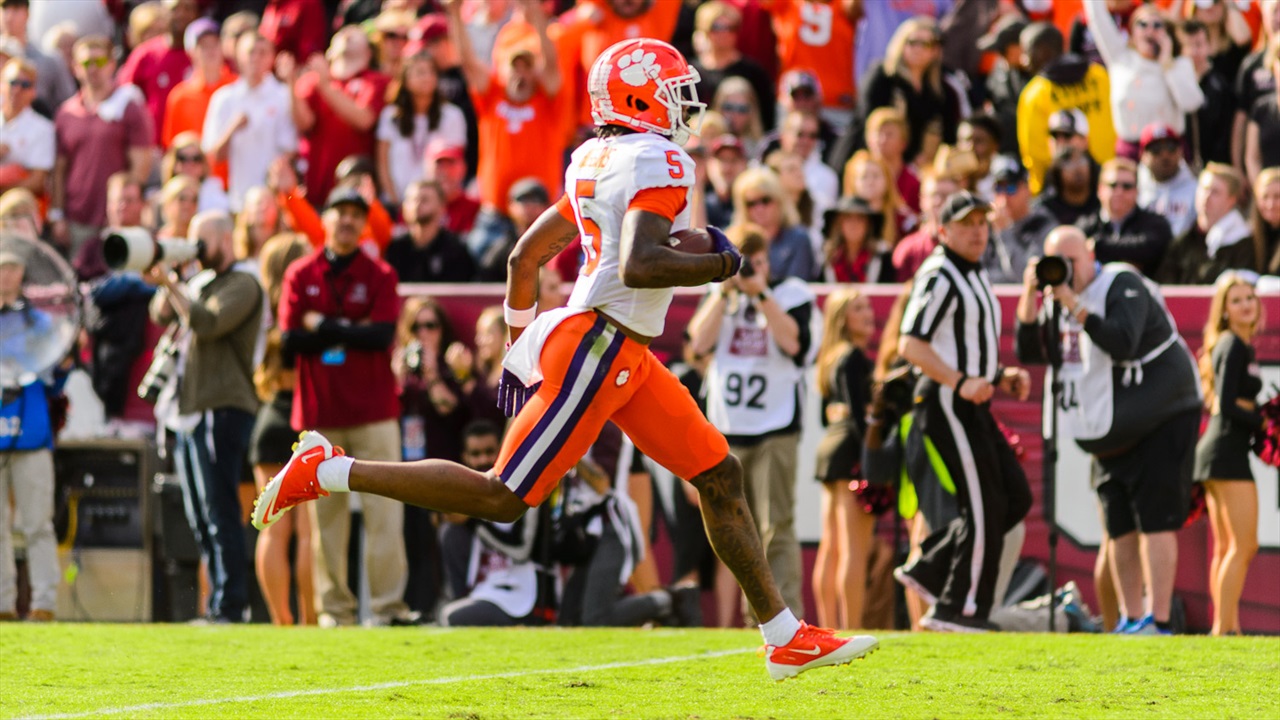 Clemson Football
Keys to Victory: No. 3 Clemson vs. No. 23 Virginia
---
Feel the difference - The best user experience on mobile devices or personal computers. Avoid click bait and sites bloated with advertising! Join us today for just $1 or get a full year for $63.17.
Register for a FREE ACCOUNT today and you are entered to win a LIMITED EDITION Clemson football. ← Learn More
---
Each week we give you a look at the history of the game, three keys to success, plus our staff predictions.
The Match-Up:
#3 Clemson (12-0, 8-0 ACC) vs #23 Virginia (9-3, 6-2 ACC)
Clemson vs. Virginia 2013
https://www.youtube.com/watch?v=6wef41XpuT0
All-Time Series:
Clemson leads: 38-8-1
at Clemson: 20-3-1
at Virginia: 18-5
Neutral: N/A
Last Meeting: Clemson won 59-10 (2013)
Last Virginia win: 30-10 (2004)
Streak: Clemson has won 3 straight in the series
Listen Live: Fox Sports Radio 1400 on iHeart Radio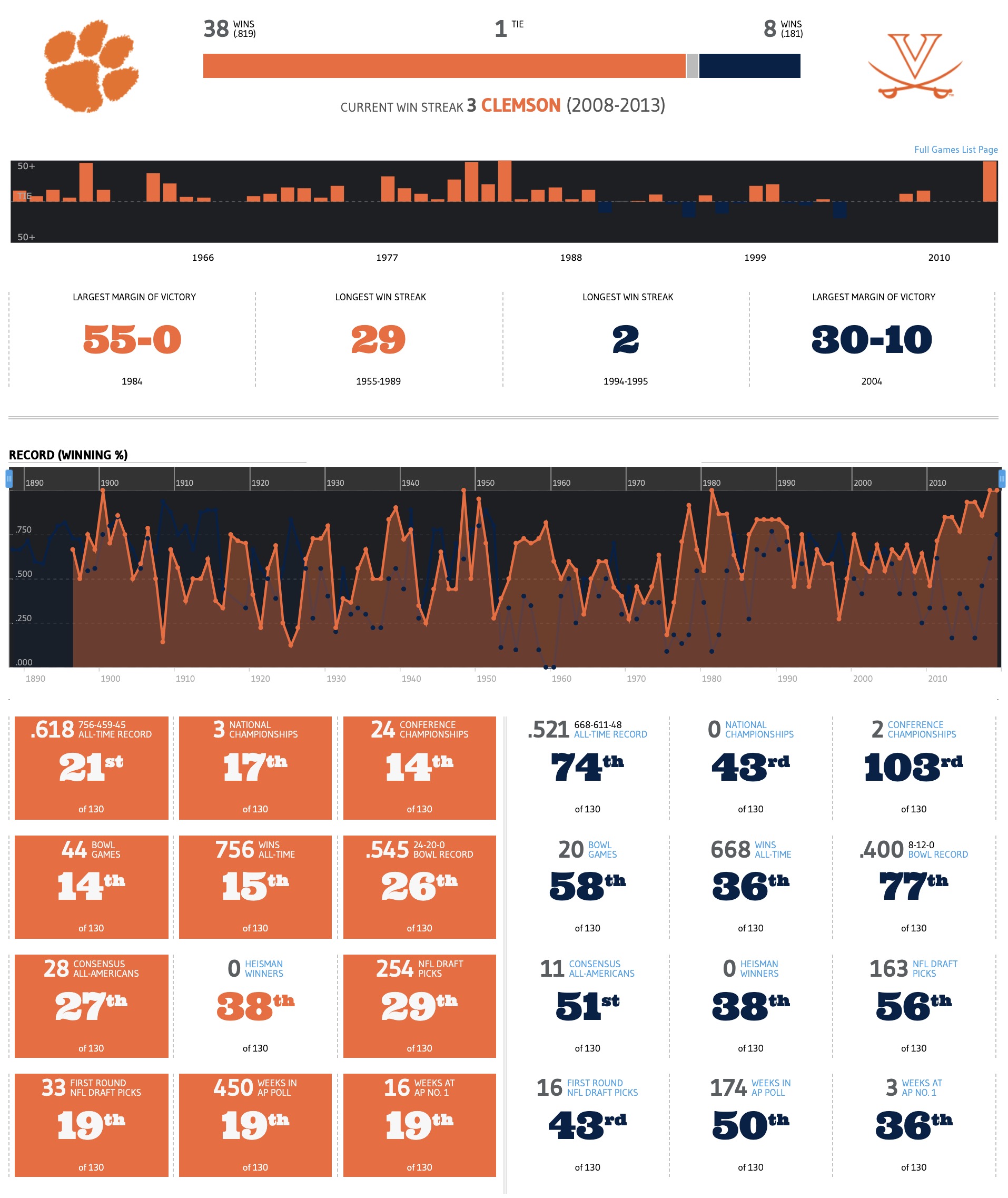 Stat of the Week:
Clemson will attempt to earn its 19th ACC Championship and 25th overall conference championship in school history on Saturday, Dec. 7, when the Atlantic Division champion Tigers face the Coastal Division champion Virginia Cavaliers. Kickoff at Bank of America Stadium in Charlotte is scheduled for 7:30 p.m. ET. Clemson entered 2019 as the only program in ACC history to win four consecutive outright titles.
With wins this week, Clemson and Oklahoma can join the 1971- 75 Alabama Crimson Tide as the only members of any active FBS conference to win five straight outright titles. This week, Clemson will attempt to become the only program since the creation of conference championship games in 1992 to win five consecutive conference championship games.
The ACC title would be Clemson's sixth under Head Coach Dabo Swinney. With the win, Swinney would tie Frank Howard's school record for ACC titles and match Howard and Duke's Bill Murray for the second-most in ACC history. Swinney would pull two shy of Howard's total number of conference championships at Clemson (eight), including Southern Conference titles in 1940 and 1948.
Tracking History:
Travis Etienne presently ranks tenth in the country in rushing yards (1,386) and continues to close on in Clemson's All-Time rushing record. The junior running back needs just 72 yards to surpass James Davis and 157 to become the top back in Clemson history.
Etienne also needs just seven more rushing touchdowns to become only the 12th player in FBS history to record 60 career rushing touchdowns in a career.
| | | | |
| --- | --- | --- | --- |
| Clemson's All-Time Leading Rushers | Years | Yards | Rushing TDs |
| Raymond Priester | 1994-1997 | 3,966 | 21 |
| James Davis | 2005-2008 | 3,881 | 47 |
| Travis Etienne | 2017-2019 | 3,810 | 53 |
| C.J. Spiller | 2006-2009 | 3,547 | 32 |
| Andre Ellington | 2009-2012 | 3,436 | 33 |
Key 1: No Perks
For the first time in several weeks and maybe for the first time this season, the Clemson defense will take on a playmaker in Bryce Perkins, who will have the ball in his hands virtually every single play. This is not to suggest that Perkins is at the game-changing level that may be necessary to beat the Tigers, but he could certainly make this game interesting. If his free-flowing play is able to frustrate, confuse, or keep Clemson's defense playing on its heels, the Tigers could be pressed.
There's no doubt that Brent Venables and his staff have had their hands full this week preparing for this Virginia offense, because of the versatility that Perkins brings to the table.
It's safe to say that Perkins' ability to throw the deep ball downfield is suspect, and Clemson's secondary, much like in our simulation, could take advantage and have a big day.
Key 2: Find Symmetry
Once again, the balancing act that Clemson has on offense and defense is the reason that they've been one of the best teams in the country.
As balanced as they've been on both sides of the ball, they've been equally balanced on offense on the ground and through the air.
The Tigers are like a great boxer who can fight, leading with either hand being dominant. It really doesn't matter what the defense gives Clemson at this point. The Tigers seem to take whatever they want.
If Clemson can showcase the balance we've seen all season in Charlotte this evening, make no mistake about it, the best team will come out on top.
Key 3: Eyes Forward
Following Utah's loss last night to Oregon, the Tigers may have the luxury of losing in the ACC Championship is still being in the College Football Playoff. But why test it?
At this point, ultimately, putting down the throttle and being impressive is as vital as anything because you never know what will happen in the other marquee games, taking place this weekend. The Tigers' ultimate goal, one would assume, would be to play in Atlanta in the opening round of the playoff. That feat isn't necessarily unachievable, but it sure seems like a long shot unless the Tigers end at the top of the polls.
Expect Clemson to play with their "heads down and eyes forward," as we told you earlier in the week, and have a big performance against Virginia.
Prediction:
Now that the Tigers are at this point in the season, health truly becomes a factor. The good news is if they win tonight and maybe if they don't, Clemson could still be in the playoff and have three weeks to rest before the semifinals. Nonetheless, any injury is a significant injury, and avoiding losing anyone this evening against Virginia is as essential as it's been all year.
If Clemson can get out early on the Cavaliers, it's safe to assume that the recipe will be the same as it's been all season: Pull the starters in the early third quarter, and allow as many players as possible to be a part of the ACC championship game.
Swanny's Prediction: 38-10 Clemson
Final Score Predictions:
| | | | |
| --- | --- | --- | --- |
| | vs. Virginia | Winner of the Week | Season Score |
| Lawton | 38-10 | Georgia Tech, Wofford, Wake Forest | 18 |
| Sanders | 41-13 | Charlotte | 14 |
| Lowell | 45-13 | Syracuse, NCST | 18 |
| Brandon | 42-10 | | 12 |
| Cade | 35-10 | FSU, Boston College, South Carolina | 18 |
| Rob | 42-10 | Texas A&M, North Carolina, Louisville | 18 |
| Simulation 👑 | 55-7 | | 12 |
Perfect Prediction = 5 points Best Prediction = 3 Points Correct Prediction = 1 Point
👑= 2018 Prediction Champion
**Pick of the Week: Indicates the best prediction.
Never miss the latest news from Clemson Sports Talk!
Join our free email list