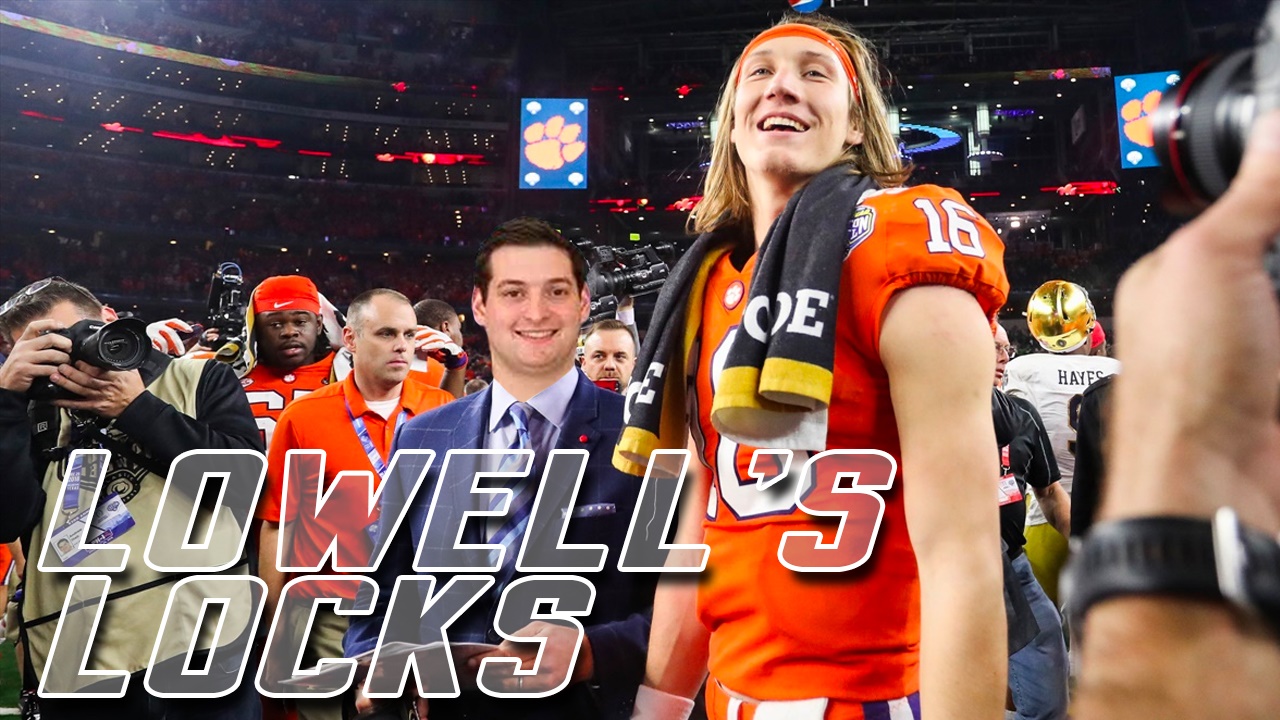 Lowell's Locks: Conference Championship Week
---
Feel the difference - The best user experience on mobile devices or personal computers. Avoid click bait and sites bloated with advertising! Join us today for just $1 or get a full year for $63.17.
Register for a FREE ACCOUNT today, and you are entered to win a LIMITED EDITION Clemson football. ← Learn More
---
This is why you never get excited in the world of picking the spread in games. Just two weeks after an undefeated week, the locks going 2-6 to drop the overall record back under .500. This is the last shot to get over .500 for the season. In the immortal words of Deshaun Watson, let's go be great in Championship Week.
Friday, December 6th
#5 Utah (-6.5) vs #13 Oregon:
Utah has a lot on the line in this one as a team, in addition to having a chance at being only the second Pac-12 team to make the College Football playoff. The Oregon defense has fallen off in recent weeks, and now face an incredibly explosive quarterback that is also backed by a stingy defense. Utah gets the late cover and potentially a playoff spot.
Lowell's Lock: Utah covers -6.5
Saturday, December 7th
#7 Baylor vs. #6 Oklahoma (-9):
The first edition was a barn burner, and with so much on the line, this one shouldn't be different. Baylor feels like they gave one away the first time around, while Oklahoma probably felt lucky to escape and keep their playoff hopes alive. Baylor is going to push the Sooners again, and whoever is lucky enough to get the win will have a real argument about the playoffs.
Lowell's Lock: Baylor covers +9
#20 Cincinnati vs. #17 Memphis (-9.5):
A couple of pretty explosive offenses makes this one maybe the underrated game of the week. Memphis has had a couple of setbacks in a row in the AAC championship, and will start fast looking to right the ship in this game. Cincinnati is no pushover though, and has some ability to grind the ball, which is crucial in keeping this game close. Memphis does feature the better players on offense and may ultimately win, but the Bearcats make it tight.
Lowell's Lock: Cincinnati covers +9.5
#4 Georgia vs #2 LSU (-7):
I've picked against Georgia for much of the year. Why? That offense sputters too much and too often. While the defense is legit, and will probably hold LSU down in the low 20's, I don't have much faith that they'll be able to score enough against even a subpar LSU defense to get the cover.
Lowell's Lock: LSU covers -7
#1 Ohio State (-16.5) vs. #8 Wisconsin:
Second verse, same as the first? It may not get as ugly as the first round where Ohio State crushed the Badgers 38-7, but the Ohio State defensive front will assert themselves yet again against Wisconsin after a couple of early scares. Ohio State will then hit on a few big plays in the second half to get the cover.
Lowell's Lock: Ohio State covers -16.5
#3 Clemson (-28.5) vs. #23 Virginia:
Virginia is a good football team with a solid defense and an explosive quarterback. In most cases, that would make you competitive against anyone you meet. Clemson, though, is simply rolling. Between the offense kicking it into another gear, and the defense shutting down everyone it meets, and adding in the disrespect the defending national champions feel, there's no chance the Tigers aren't locked in for this one. The Tigers get awful close to covering by half and get it in the second half.
Lowell's Lock: Clemson covers -28.5
Lowell's Locks

Weekly Results
Season Results
Week 1
3-3
3-3
Week 2
2-4
5-6
Week 3
1-5
6-11
Week 4
4-2
10-13
Week 5
1-5
11-18
Week 6
2-4
13-22
Week 7
2-4
15-26
Week 8
5-1
20-27
Week 9
3-3
23-30
Week 10
3-3
26-33
Week 11
6-0
32-33
Week 12
4-2
36-36
Week 13
3-2-1
39-38-1
Week 14
2-6
41-44-1
Championship Week
Never miss the latest news from Clemson Sports Talk!
Join our free email list