Clemson Football
The Beauty of 5
---
CHARLOTTE -- As his team prepared to go to the locker room before the ACC Championship, Dabo Swinney addressed his team.
The Clemson head coach, surrounded by his orange-cladded Tigers, told them, "if you're the best in the ACC, you'll prove it tonight… You've earned this. I cannot wait to watch y'all play."
Swinney spent all week raving about how those who have not watched No. 3 Clemson closely have missed out on what has been a "beautiful" season for a team that is possibly more attractive than the one we saw a year ago.
Saturday night, Clemson proved not only its strengthened grip of the ACC, but that it is in beast-mode championship form for all to see.
It was more of the same in Charlotte from what we've seen the past five years for the Tigers as they trounced No. 23 Virginia 62-17 for a fifth consecutive ACC crown. The only thing that changed was the opponents' name and the final score.
Sure, many will say the Tigers have not played anybody en route to their 13-0 record, but they've flattened every bit of opposition that's stood in their way - for 28 straight games now.
"What our team has done is super special," Swinney said after the win. "It's really hard to do what they've done, 13-0 and to stay focused week in and week out and just continue to get ready is special.
"What our team has done is super special," Swinney said after the win. "It's really hard to do what they've done, 13-0 and to stay focused week in and week out and just continue to get ready is special.
"This never gets old."
Give Virginia (9-4) a ton of credit. The Cavaliers are the only team who have been able to put up over 300 yards of offense on Clemson this entire season. Three-hundred and eighty-seven yards, to be precise.
An early Hasise Dubois 20-yard touchdown reception from Bryce Perkins and converting four of their first five third-down conversions made it seem like the Cavaliers were about to give Clemson some fits on Championship Saturday. Instead, Clemson's offense hummed as it put up its highest point total of the season, and shattered an ACC Championship record for points scored.
All while barely breaking a sweat.
If this offense were in a beauty pageant, every one of Clemson's superstars would be competing for the title of Miss America.
The Tigers had five actual drives in the first half. Their sixth was them running out the clock and into the locker room.
The results of those drives:
Touchdown
Touchdown
Field goal
Touchdown
Touchdown
Halftime.
Three of those touchdown drives took five plays or less. Once the defense was able to get a few stops, the game started to get out of hand in the blink of an eye. Stop us if you've heard this before.
The Tigers out-gained Virginia 345-193 in the first half. The Cavaliers came into the game only allowing an average of 336.5 yards per game this season.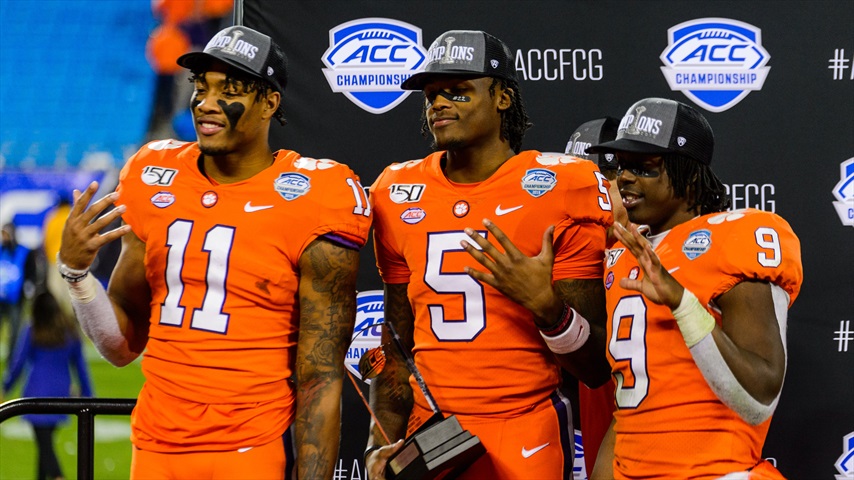 Clemson Sports Talk
Clemson's offense racked up an ACC Championship record 621 yards of total offense and gained over 600 yards for the fifth time this season. Clemson also extended its streak of consecutive wins by at least 30 points to eight, which has not been done in the AP Poll era.
Yet again, the Tigers were led by that long-haired golden boy Trevor Lawrence as he continued his stellar play. Lawrence merely broke an ACC Championship Game record with four touchdown passes on a 16-of-22 clip for 302 yards. Three of those touchdown passes were all thrown in the first half.
During some down time he had this season, Lawrence said he would walk into a room, look at the television and there would be a highlight of him throwing an interception, most likely against Louisville. So he'd walk into a different room trying to escape criticism of his game, even when he thought he had been playing well.
He's heard a ton of outside noise, or "propaganda" as he put it after the win, but has stayed the course.
Since that first quarter at Louisville where he threw two picks, Lawrence has completed 129 of 170 passes for 1,865 yards and 23 touchdowns. Maybe the most important number of all? Zero interceptions.
Clemson is taking care of the ball at an alarmingly high rate. The Tigers picked off three Virginia passes on the night, the first belonging to Nolan Turner as Clemson's defense was backed up against the wall.
The Tigers are plus-14 in the turnover margin this season, which is by far the best margin since Swinney took over as head coach.
Three of Lawrence's touchdown passes went to Tee Higgins, who finished the night with nine catches and championship game records in receiving touchdowns (3) and yards (189). Higgins was named the game's Most Valuable Player after a performance that has him now in the conversation as one of the best receivers to wear a Clemson uniform.
It seemed like everything that was thrown his way, No. 5 was going to beautifully pluck the ball from the air.
Like the 54-yard completion in the third quarter where Lawrence underthrew him, but Higgins was able to come back for the ball while creating separation.
Or the 24-yard catch on the sidelines where Higgins was almost horizontal while snagging the ball and impressively keeping a toe planted on the turf. The catch might've been his most impressive to date.
"The one out of bounds, I was trying to put far out because there was a guy on his back and I was worried he would undercut it," Lawrence said. "The one downfield, I definitely underthrew some. He's just so fast, he got 40 yards and I still hadn't thrown the ball yet so I had to rare back and throw it.
"He's a great player. If you put it anywhere near him, 80-percent of the time he's going to make the catch."
The "80-20" rule is a mentality for Clemson's receiving corps as a whole who also believe, "if you touch it, you catch it." Higgins went beyond that by catching nine of the 10 passes that were thrown his way.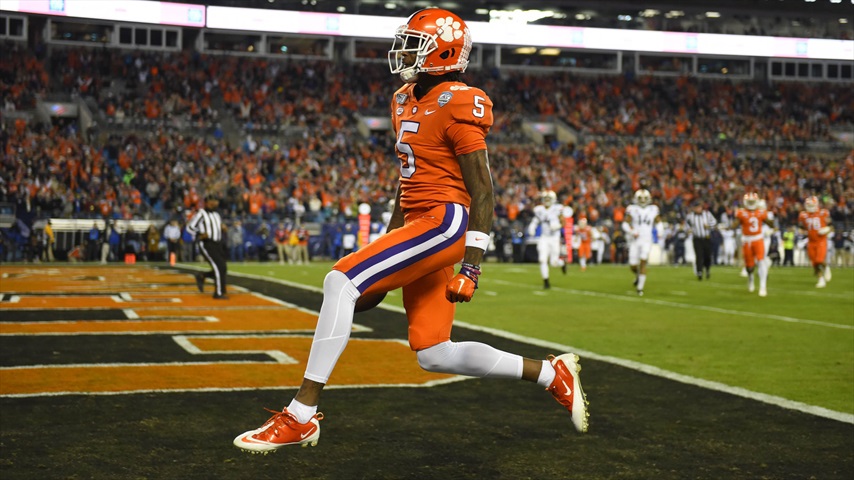 © Bob Donnan-USA TODAY Sports
All offseason, the hype around Clemson's receiving corps surrounded Justyn Ross, who just had a College Football Playoff coming out party, and Joseph Ngata, a highly-touted freshman who has gotten the highest praises from his head coach.
But no one mentioned Higgins, who was not/is not on any award watch list. He kept his head down and continued to elevate his play.
Now, almost quietly, he's tied a Clemson record for career touchdown receptions with 27. The two players he's tied with: Sammy Watkins and Nuk Hopkins. Higgins has 11 touchdown catches in the last five games and looks to be in championship form.
We can't forget about Ross, who scored the second touchdown of the night from 58 yards out. He finished with three grabs for 94 yards and a score. Travis Etienne rushed 14 times for 114 yards and added a touchdown.
Clemson's backups came in and continued to pour it on.
After a four-play drive that turned into a punt to start the second half, Clemson's offense was identical to what it did in the first half.
The results of their final five drives:
Touchdown
Touchdown
Field goal
Touchdown
Touchdown
Confetti.
Lyn-J Dixon, Chez Mellusi, and Chase Brice all scored rushing touchdowns to pile on the points in record fashion and send Clemson fans to their computers to start looking for flights to Phoenix, Arizona.
Back in August, we asked Swinney what his word of the year was. Last year, the word was "joy." This year? "Purpose."
Back in August, we asked Swinney what his word of the year was. Last year, the word was "joy." This year? "Purpose."
When the clock struck zero and confetti began to fall, Clemson players were handed orange t-shirts with a giant "PURPO5E" on the front to signify the Tigers doing something no team has ever done: win five consecutive conference championship games.
We don't quite know yet who the Tigers will face on Dec. 28, but we do know that this squad looks capable of going toe-to-toe with anyone for a chance to defend their "best team ever" crown.
No one can say they are missing out on the beauty of the season Clemson is currently having. Not anymore.
Not after a fifth consecutive ACC title for the beasts of college football.
---
NOTE: Oklahoma also won their 5th consecutive conference title yesterday.
Never miss the latest news from Clemson Sports Talk!
Join our free email list