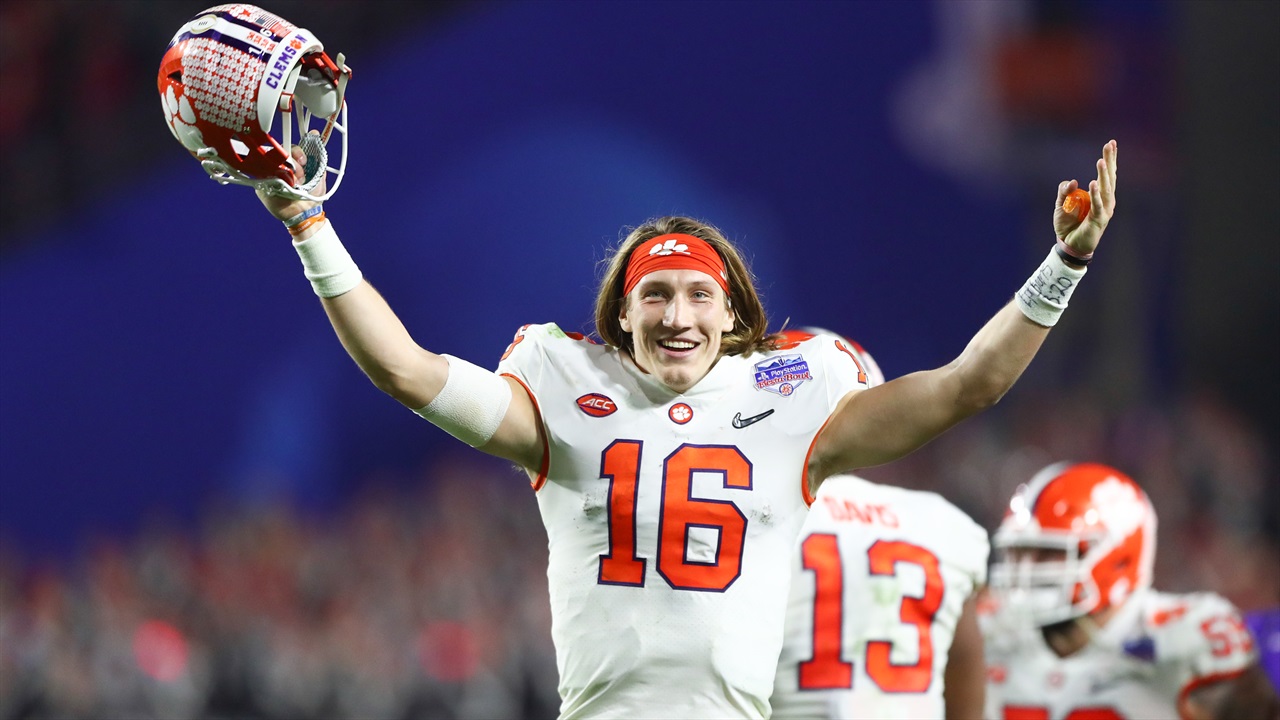 Photo by © Mark J. Rebilas-USA TODAY Sports
Clemson Football
Monday AM: The Hulk
---
We are giving away a LIMITED EDITION Clemson National Championship football to one lucky subscriber in the new year. Sign up today to help us continue to grow!
---
-- You won't like Trevor Lawrence when he's angry.
Off the football field, Clemson's starting quarterback is as cool and calm as any player you are going to see in college football. He's almost too cool; to a point where you're thinking, "does anything bother this 20-year-old?"
Lawrence carries that chill vibe with him when he steps between the white lines on any stage set before him. He's 25-0 as Clemson's starter with already a national championship under his belt and nothing seems to faze him. It's a demeanor very similar to Deshaun Watson when he led the Tigers to their national title in 2016.
But what we must continue to be aware of is the competitive fire that lies within the belly of Clemson's beast. When a spark is lit within the Tigers' sophomore superstar, he turns into The Hulk.
It's almost hard to explain, but we've noticed countless examples of Lawrence seemingly elevating his play when he becomes enraged.
Opponents sure don't like him when he's angry, but Dabo Swinney does.
When Clemson trailed Ohio State 16-0 and couldn't afford to not score points on the ensuing drive, Lawrence took a nasty shot on third-and-long from Shaun Wade while also being dragged down by his neck by Chase Young. Lawrence was laid out on the ground, eyes closed, before being attended to by more than six members of Clemson's medical staff.
Wade was ejected for targeting, and Lawrence was back in the game a play later.
"Yeah, I just got a bad stinger, so it kind of scared me a little bit," Lawrence said after the game. "I hadn't gotten one in a while and couldn't really move my arm for a second. That's why I laid there. Then just got kind of mad and popped up.
"I didn't know it was targeting, either. I thought it was -- I don't know if it was a three and out. We would have had to punt. So, I was kind of pissed off."
"I didn't know it was targeting, either. I thought it was -- I don't know if it was a three and out. We would have had to punt. So, I was kind of pissed off."
A pissed off Lawrence gave Clemson's offense breath in its lungs, which proceeded to turn into fire.
We were a bit taken back that Lawrence wasn't evaluated more for a concussion after the hit to the head. We were even more surprised when he got knocked so hard he turned into Lamar Jackson on a 67-yard touchdown run to pull Clemson within two points before the half.
Lawrence returned to the sideline, pumping up the crowd, with a determined look in his eye. He answered the bell after getting his bell rung.
The aspect that makes Lawrence similar to The Hulk is that the level of Hulk's strength is normally equal to his level of anger. The angrier, the stronger.
For Lawrence, the angrier he gets, the more destructive he can be.
There's plenty of evidence out there dating back to last year's Cotton Bowl, where Lawrence made Notre Dame pay for a late hit on the final drive before halftime. We've seen it again against teams like Syracuse (staring at a defender as Lawrence crosses the goal line), South Carolina (sideline staredown and blowing a kiss to South Carolina's student section), and Florida State (making a bee-line straight for a defender to have a few choice words during a touchdown celebration after taking a hit on the play before).
On Saturday night, Lawrence proved he's an absolute warrior that would not be denied. That competitive spirit starts to flare when he takes a brutal hit or someone starts chirping at him. It's subtle and unpredictable during the course of a game, but you know it when you see it.
Late in the game, with the Tigers' backs against the wall, Lawrence put his head down about eight yards into a run and powered for a first down. His counterpart Justin Fields during OSU's final drive..slid.
Our advice? Don't make Trevor Lawrence angry. You won't like him when he's angry.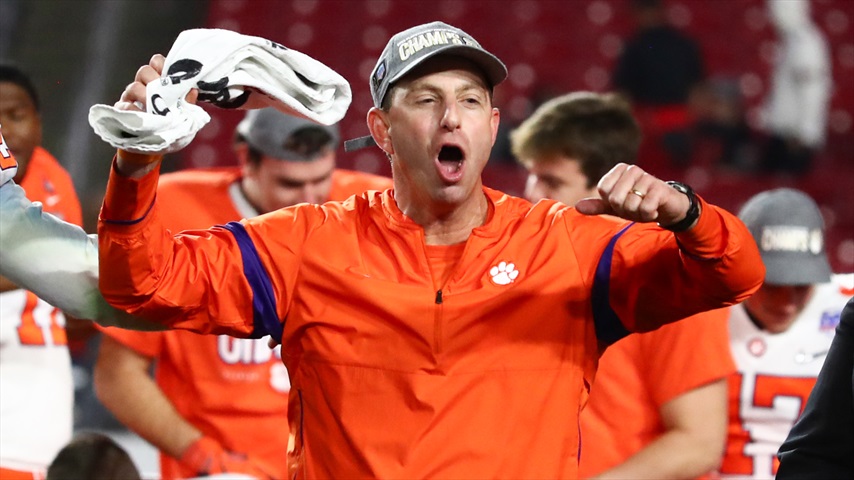 © Matthew Emmons-USA TODAY Sports
-- Speaking of targeting, it's time we re-adjust the punishment for a targeting foul.
You probably woke up this morning with people still arguing in your mentions on Twitter about the targeting call that ultimately changed the course of the Fiesta Bowl.
We're not here to present some argument as to why the call was correct. According to the definition of the rule, Shaun Wade's crown of his helmet initiated contact with Lawrence, thus leading to the call after review.
But like Swinney said postgame, it's a shame somebody had to lose that game on Saturday night. And it's a damn shame Wade was a player who was unable to finish the contest as both heavyweights continued to exchange blows.
The targeting rule is in place to protect the athletes, and we see why it is necessary to make the particular call when it is necessary. But there are different types of "targeting" and we saw both on display during each game of the College Football semifinals.
Oklahoma's Bookie Radley-Hiles was ejected for targeting LSU running back Clyde Edwards-Helaire on a Joe Burrow scramble. The blindside hit came away from the play and with malicious intent.
That play has no place in today's game, and deserved the immediate ejection.
When Ohio State's Wade came screaming through the trenches and had Lawrence in his sights, he ducked the crown of his helmet before wrapping Lawrence up. The 6-foot-6 Lawrence also ducked his head a bit to embrace the impact.
The targeting on that play was completely accidental and deserved a penalty, but not an ejection.
If the point of targeting is to make the game safer, it's best to get rid of the hits that have no business being in the game.
If a sport like basketball can have a flagrant one or flagrant two fouls in place, why can't football?
A hit with clear malicious intent, like the one we saw in the Peach Bowl, should be cause for an immediate ejection plus a 15-yard penalty (like a flagrant two). A hit like the one we saw in the Fiesta Bowl could still be a 15-yard penalty, but should not warrant an ejection.
In this case, the player would be issued a warning and would be disqualified from the game if he were to make a targeting foul again. If players can get two unsportsmanlike conduct penalties in a game before being ejected, why can't that rule apply for accidental targeting?
There's no problem with the rule in place, just the consequences. Targeting is in place to keep players safe, but making sure we clean up the inexcusable hits should be the rule's main purpose.
Because the consequences for these ejections are dire.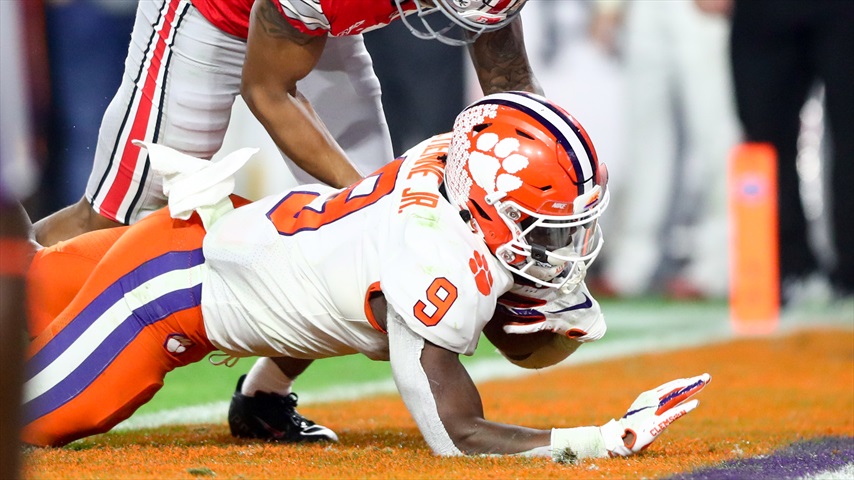 © Mark J. Rebilas-USA TODAY Sports
-- The best was saved for last.
All game, the chess match between Ryan Day and Brent Venables was incredibly fun to watch. And for most of the night, it was Day who was getting the better of Clemson's prized defensive coordinator.
Day pushed the tempo when he wanted to while Venables' crew came up with desperate stops when their backs were against the wall time and time again.
And just when it looked like Venables had the upper hand, Day pulled out what would've been the play call of the night had Ohio State held on.
On fourth-and-2 on Clemson's 23-yard line, Justin Fields delivered a play-action dart right to Chris Olave, who beat Nolan Turner on a post. The throw was perfect, but the gutsy call in that situation, down five points, was even more incredible.
But the best play call was saved when Clemson needed it most while in a position it hasn't been used to being in. The irony was Lawrence wasn't very confident in the particular play all week.
Clemson's quarterback had been thrashing the Buckeyes with his legs. The QB power mixed with some counter elements to allow Travis Etienne take the role as lead blocker worked wonders in Clemson's game plan.
With under two minutes to go and Clemson driving, needed a score, the Tigers had the perfect opportunity to call a play they had been saving all season. Lawrence tucked the ball like he was about to run, causing Ohio State's linebackers to get sucked in.
Travis Etienne bolted out in space and Lawrence stopped and gave a little pop pass to Etienne, who found space and was off to the races for the game's winning touchdown. Perfectly designed and perfectly executed, which wasn't the case all week.
"Honestly, I wasn't a big fan of the play in practice, because it's tough if the defense doesn't really bite on it and that safety comes down hard. It takes it away," Lawrence said."
During practice the week of the Fiesta Bowl, Swinney made him do the play over again three separate times because Lawrence kept throwing the ball in the dirt.
"It was set up so perfect, we couldn't not run it. So we ran it. Luckily, me and Travis were on the same page and we made a good play."
"This week, it just wasn't really clean," Lawrence continued. "Wasn't connecting on the throw like we wanted to. We got a few good reps. So, I didn't feel super confident about it because I didn't have great practice reps at it.
"It was set up so perfect, we couldn't not run it. So we ran it. Luckily, me and Travis were on the same page and we made a good play."
Not just a good play, but a play that defined what the Fiesta Bowl turned out to be. When the Tigers had to make a play with the game on the line, they executed the call.
The margin for error in championship, heavyweight football is excruciatingly thin. The Buckeyes found that out the hard way with Fields' second interception after Olave broke left and Fields threw right - right into Nolan Turner's hands.
Clemson's precise execution and play-calling down the stretch have the Tigers in familiar territory - back in another national championship game, and on the doorstep of 30 straight wins.
Never miss the latest news from Clemson Sports Talk!
Join our free email list