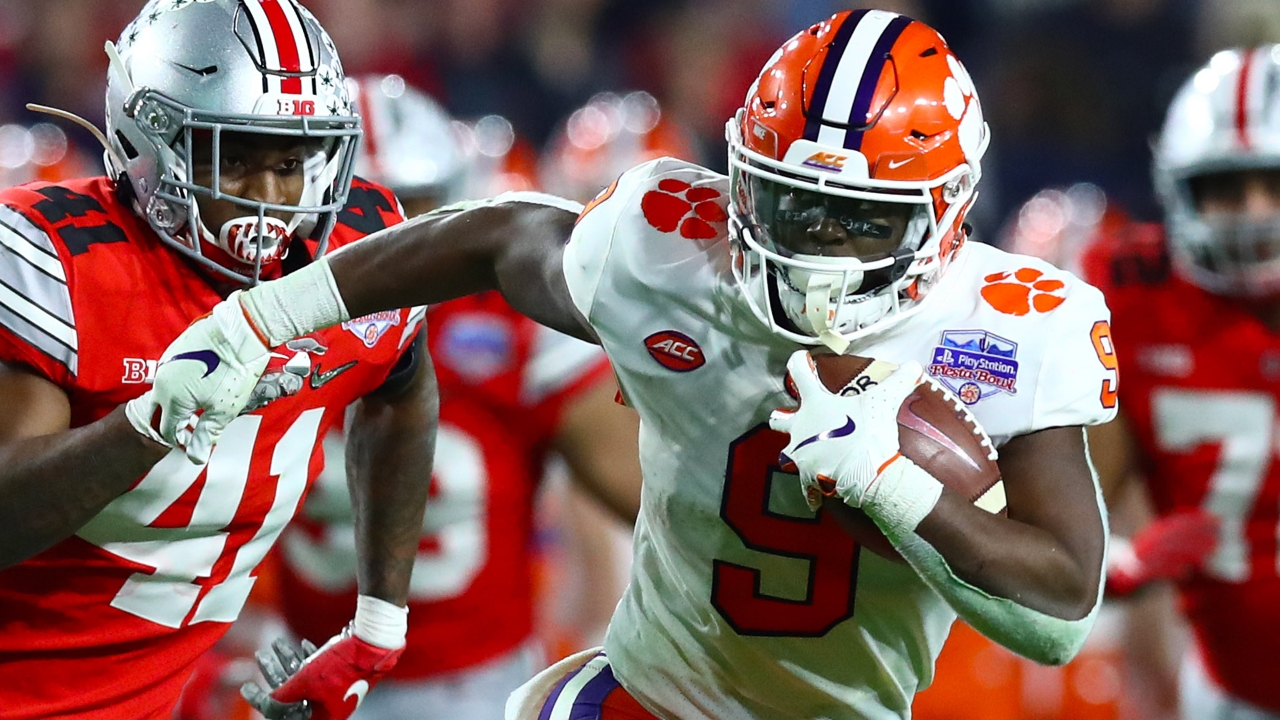 Photo by © Matthew Emmons-USA TODAY Sports
Clemson Football
Clemson calls on "Popeye" for knockout punch
---
We are giving away a LIMITED EDITION Clemson National Championship football to one lucky subscriber in the new year. Sign up today to help us continue to grow!
---
Just when everyone thought the Clemson Tigers might be in trouble trailing 23-21 with under three minutes left in the 2019 Fiesta Bowl, Dabo Swinney had one more trick up his sleeve.
Clemson's 29-23 win over Ohio State as been compared to a heavyweight fight by just about everyone who had a chance to watch the game. In a word, it was brutal.
In the late moments, the Tigers needed one more big drive. Faced with 94 yards of opportunity in front of them with just 3:07 left in the game, no one knew if Trevor Lawrence could lead a game-winning drive. Not because there were real questions about Clemson's sophomore quarterback, but because he hadn't had to do it during his phenomenal run in Tiger Town.
Whether it was a play on words for a pop pass, Popeye the Sailor, or a reference to Travis Etienne's affinity for Popeyes Chicken, the Clemson offensive staff kept one key play under wraps until the waning moments of Saturday night's Fiesta Bowl.
It couldn't have been set up any better.
Before the game, Dabo Swinney wrote two things on his call sheet: "Quarterback Run" and "Running Back Pass" and both made "Popeye" work.
On Clemson's final drive, Lawrence rushed or passed for all 94 yards, including a strike to Justyn Ross, followed by a powerful 11-yard run pushing the Tigers out from the shadow of their own endzone.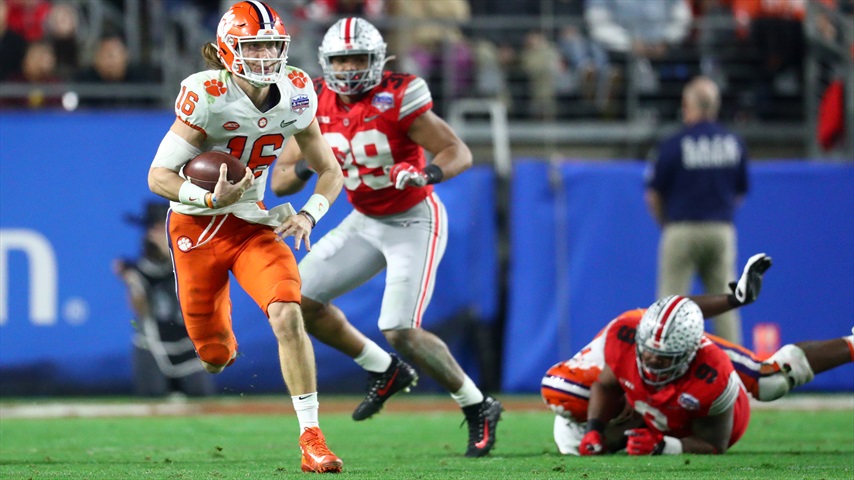 © Mark J. Rebilas-USA TODAY Sports
On the next play, Lawrence found Amari Rodgers for 38-yards before dialing up a play we haven't seen before. Lawrence dipped his shoulders toward the line of scrimmage, seemingly following his running back. Etienne slipped his block, and Lawrence jumped up, tossing the ball over the top to a wide-open Etienne who raced to the endzone giving Clemson the lead with 1:49 left.
Co-offensive coordinator Tony Elliott said that it didn't always go well at practice.
"Just a play we've been working on. A little pop pass to Travis and to be honest with you throughout the course of preparation, he hadn't handed that one very, very well," Elliott said. "It didn't go as designed, we wanted him to work the outside defender, but he slipped it, Trevor was patient, and he did the rest and just hats off to our players."
"Popeye" never happens if Lawrence's legs hadn't already been a huge part of the game. The Tigers' quarterback led the team in rushing with 107 yards on 16 carries with a 67-yard sprint for a score in the first half.
"Coach Swinney's been holding that one in his back pocket, just for the right time," co-offensive coordinator Jeff Scott said.
"Coach Swinney's been holding that one in his back pocket, just for the right time," co-offensive coordinator Jeff Scott said.
"We called that 'Popeye,' it was an RPO. Travis was making it look like he's going to block that backer, slipping by, and Trevor did a great job of play-action, setting it up and throwing it over the top. Ended up being the game-winner."
Even still, after hearing from the coaches, the truth is that Lawrence wasn't excited about the play, it had given him fits all week at practice.
"Honestly, I wasn't a big fan of the play in practice, because it's tough if the defense doesn't really bite on it and that safety comes down hard. It takes it away," Lawrence noted after the game. "I felt like it was good because of how well we set it up throughout the game and thought it was going to work then. Throughout the week, I was like, 'I don't really like this play.' "
After the score, Clemson's defense still had to stare down the best offense in America to close the game, and that's just what they did.
"We pride ourselves on trying to finish in the fourth quarter, and we had to go 94 yards against the best defense in the country to get the lead, and then we had to stop the No. 1 offense in the country to keep it," Swinney said.
"I'm just proud of our guys for how they fought, how they handled adversity. You get down 16-0, and then to come back and score 29 to their seven, it's really all you need to know about who we are as a team, the leadership of the team, the character of the team and the fight."
If we had to take a guess, we'd lean towards "Popeye" being a reference to the squinky-eyed sailor. After all, he was, "strong to the finish," and so are the Clemson Tigers.
Never miss the latest news from Clemson Sports Talk!
Join our free email list