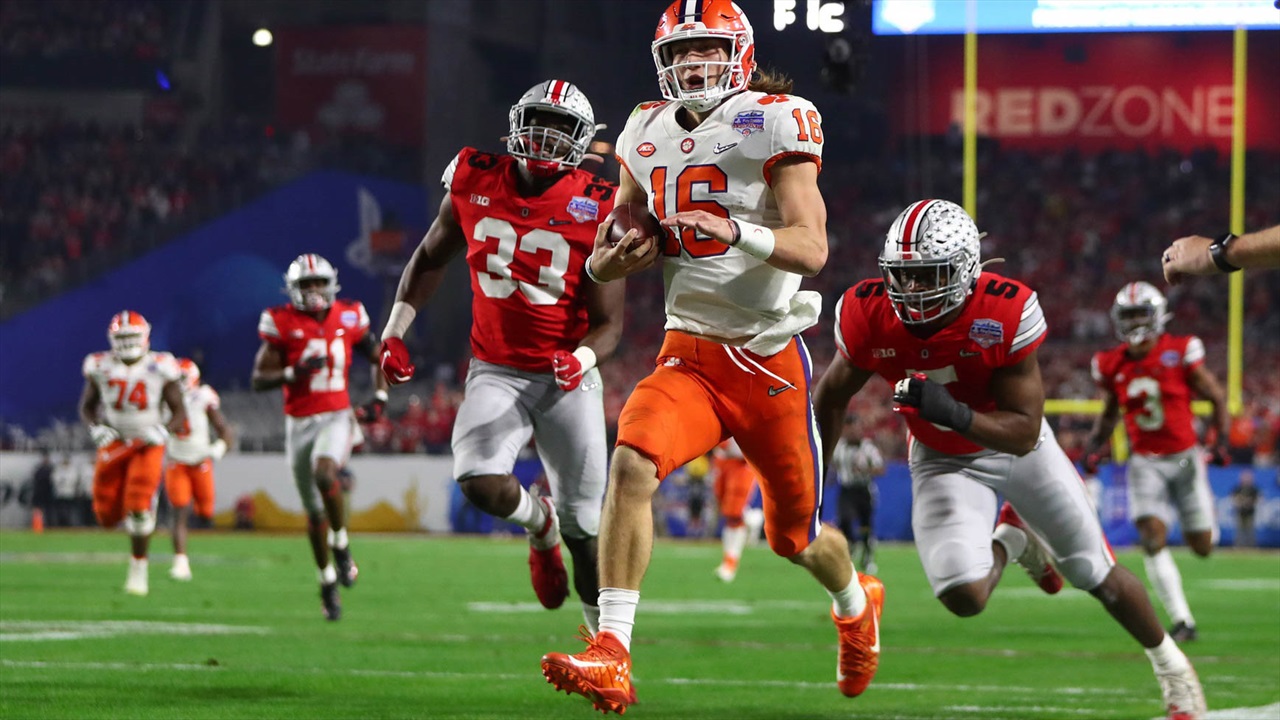 Photo by © Mark J. Rebilas-USA TODAY Sports
Clemson Football
Duel-Threat: No. 3 Clemson wins showdown with No. 2 Ohio State, 29-23
---
We are giving away a LIMITED EDITION Clemson National Championship football to one lucky subscriber in the new year. Sign up today to help us continue to grow!
---
Clemson's run to another national championship game didn't come easy. In a duel between the most balanced teams in America, it was Clemson's dual-threat combo that stole the show as quarterback Trevor Lawrence finished as the Tigers' leading rusher and running back Travis Etienne led the team with 98 yards receiving.
Before the game, Dabo Swinney wrote two notes on his call sheet, "quarterback run" and "running back pass."
"It is just amazing how it all kind of came together like I hoped it would," Swinney said during his post-game press conference.
After trailing 16-0, the Tigers bounced back and outscored Ohio State 29-7 in the final 33 minutes of action advancing to their fourth title game in five seasons.
Trailing 16-0 in late in the second quarter, Clemson faced a 3rd-and-5 at Ohio State's 45. Trevor Lawrence dropped back, and Buckeye defensive back Shaun Wade blitzed, rocking Lawrence and sacking him for an 8-yard loss.
Wade, however, led with his helmet and was flagged for targeting and was ejected from the game.
After being visibly shaken up, Lawrence sat out one play, but jumped back in and helped Clemson score two quick touchdowns to trim the OSU lead to 16-14 at the break.
The first score, on an 8-yard Travis Etienne rush, the second coming after Brent Venables' defense forced a quick three-and-out to give the Tigers another opportunity late in the half.
Taking over at their own 17-yard line, Lawrence tossed two quick incompletions before finding Justyn Ross for a first down on a 16-yard play. Then after missing on another pass, Lawrence, who finished with 107 yards on 16 carries, busted loose, showcasing his dual-threat ability on a 67-yard touchdown run slicing into the margin and the hearts of Buckeye Nation.
Lawrence, who had been seen as the "pocket passer" by comparison to Ohio State's "dual-threat" quarterback Justin Fields, outrushed the Buckeye's quarterback, racing to a career-high 107 yards on 16 carries. Fields finished the day with just 13 yards on 14 attempts.
After the game, Lawrence said that "Just the fight. This team. It didn't look pretty, but we found a way to get it done. I have Ephesians 3:20, and it says, 'God can do measurably more than any of us can because of him within us.'"
Clemson continued their full-court press in the second half, scoring with 7:54 left in the 3rd quarter taking a 21-16 lead, after a 7-play, 99-yard drive that was aided by another Buckeye penalty.
The Tigers were backed up deep when Will Spiers came on to punt the ball away. An aggressive Buckeye rush went too far, roughing Spiers, giving Clemson a first down at the 30-yard line.
After a Lyn-J Dixon burst moved the ball to the 47, Lawrence hit Travis Etienne on a screen pass, and the Jennings, Louisiana, native raced through a gap in the Ohio State defense for a 53-yard score electrifying the Tiger fans in attendance.
© Mark J. Rebilas-USA TODAY Sports
Following another quick Ohio State three-and-out, Clemson had a chance to seize control of the semifinal, but a twist of fate would swing the momentum two times on the same play.
After a sack put Clemson in a 3rd-and-19 situation at the 20-yard line, Lawrence threw the ball out in the flats to Ross. The Buckeyes Jeff Okudah broke the ball loose, and Jordan Fuller scooped the ball up and returned it for what looked like an Ohio State touchdown.
After reviewing the play, it was determined that Ross never had possession and didn't make a football move. The Tigers would punt the ball away without any further harm.
However, Ohio State didn't let that backbreaking play keep them from striking back either, as Fields would lead a 13-play 84-yard fourth-quarter scoring drive to take a 23-21 lead with 11:45 left, giving Lawrence his first fourth-quarter deficit since he arrived at Clemson.
The Tigers' first crack at stealing back the lead ended after just four plays. But after a sustained 10-play, 50-yard drive by Ohio State, Clemson got the stop they needed forcing a Buckeye punt.
Lawrence and the Tigers had their moment to shine with just 3:07 left in the game with their backs against their own 6-yard line setting the stage for a storybook finish.
Before the drive, Lawrence told the team, "Let's go win it. We were built for this. It's what we've been waiting for. We get a chance to prove ourselves. Let's go do it."
Clemson responded with a four-play, 94-yard drive that Swinney knew was coming.
"Well, I just said, "Let's go win it, man." Trevor [Lawrence] kind of took over the huddle, to be quite honest with you. He called the guys up, and he just said, "Hey, man, I love all of you guys. Let's go win this thing." It was just a real poise.
There was never one second that I did not think we were not going to win the game. That's the honest answer. Trevor and I talked about it on the sideline, "Man, is this fun or what? I'm not real sure how we're going to win this thing, but we're going to win the game and it is going to be an epic thing."
After hitting Ross for 11 yards, Lawrence's legs came into play again on a powerful 11-yard run out to the 28. On the next play, Amari Rodgers, who was quiet all night, caught a pass from Lawrence and raced 38-yards to the Buckeye 34-yard line.
The Tigers offensive staff dialed up a play we haven't seen all season in hopes of surprising the Ohio State defense, and boy, did it work.
Lawrence followed Etienne to the line of scrimmage, mimicking the QB Power run we've seen from time to time. Etienne slipped behind the Buckeye defense, and Lawrence popped a quick pass to the Tigers leading rusher, who turned on the jets for a 38-yard touchdown and the game-winning score.
Lawrence completed 18-of-33 passes for 259 yards and two passing touchdowns. The sophomore ran for a career-best 107 yards, including a 76-yard touchdown rush in the second quarter, the longest rush of his career.
Etienne finished the game with just ten carries for 36 yards and a score, but his three receptions for 98 yards and two touchdowns proved to be too much for Ohio State.
Ryan Day's offense would get one final opportunity against Clemson. Yet, the Buckeye's final drive would end with Fields tossing his second interception of the game after throwing just one pick the entire season.
© Joe Camporeale-USA TODAY Sports
It was fitting that on Ohio State's last drive, Fields threw the ball into the waiting arms of Nolan Turner, who had been burned earlier, on a huge 4th down that gave the Buckeyes a 23-21 lead with 11:46 left in the game.
Swinney said after the game, "Right before that last one, I told Nolan Turner, 'Don't be pouting. You are going to make the interception to win this thing.'"
Clemson will now head to New Orleans, La. for a chance at its third College Football Playoff Championship. The Tigers will face off against No. 1 LSU on Monday, Jan. 13, on ESPN.
Never miss the latest news from Clemson Sports Talk!
Join our free email list