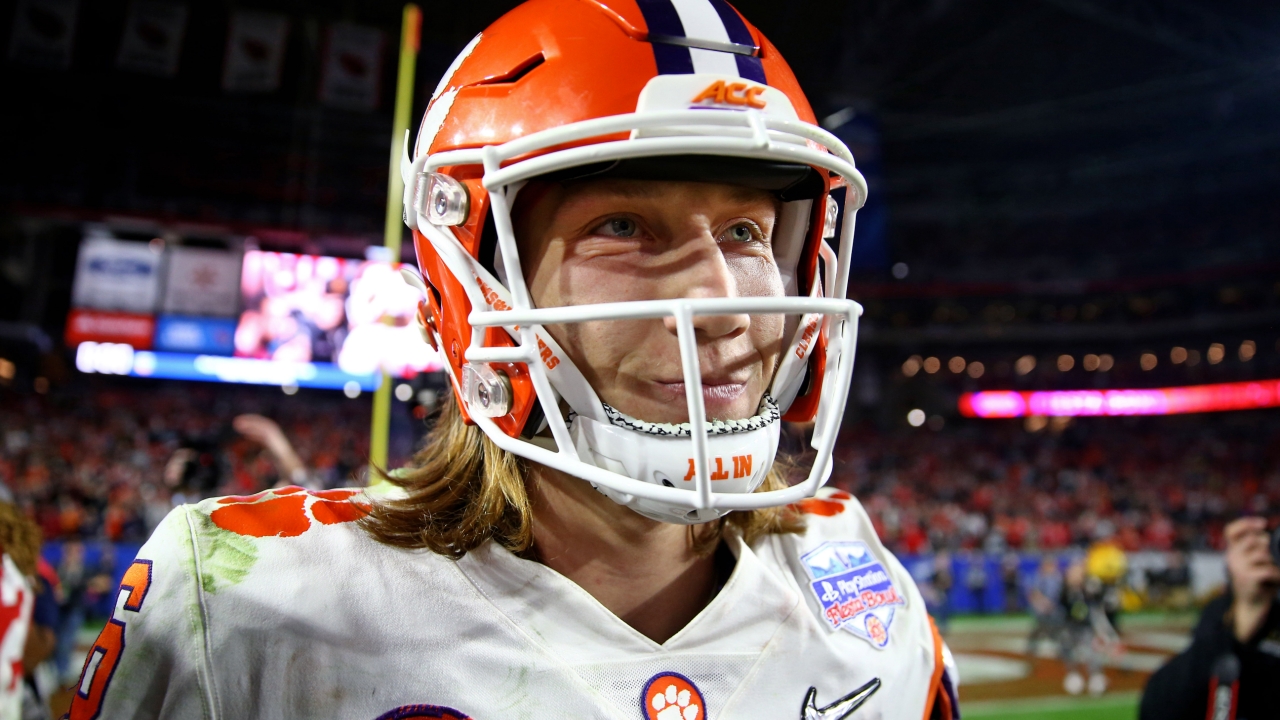 Photo by © Mark J. Rebilas-USA TODAY Sports
Clemson Football
Trevor Lawrence on playing LSU in Louisiana, "The game is won on the field."
---
We are giving away a LIMITED EDITION Clemson National Championship football to one lucky subscriber in the new year. Sign up today to help us continue to grow!
---
Q. Trevor, how difficult was it for you there in the first half with Tee taken out of the game as hot as he was coming out of the game the last few games with eight touchdowns and just having to shuffle the wide receivers around for you in the first half?
TREVOR LAWRENCE: Yeah, it was definitely a challenge. It was a little different. We obviously have a lot of guys that can go out there and play, so it wasn't nothing that we couldn't do, but it was challenging just because obviously Tee is a great player, and having to shuffle guys around was kind of tough, and then -- so we just had to kind of get adjusted. We were moving the ball -- the first quarter we were moving the ball really well at first, just couldn't finish the drives, and after he went out, we kind of stifled a little bit, and then we kind of got momentum back after that. But yeah, it was definitely an adjustment.
Q. Chad, I was kind of standing there during the postgame celebration watching you on the stage, and just seeing your emotion and the tears on your face, game MVP, knowing what you've been through since you've been at Clemson, all of the practices, all of the time, did that moment on the big stage kind of make that all worth it, and what was going through your mind up there on stage?
CHAD SMITH: Yeah, it definitely did make it all worth it. Just the journey that I've been on, starting January 5, 2015, when I first got on campus as a freshman, having to redshirt that year, and just buying my time, being patient, and then this year getting the opportunity to be a starter and being able to fulfill that role to the best of my ability and being able to help lead this team to where we are now, to another National Championship run, and being able to be part of such a great team with players like Trevor and Jamie and the leaders that we have and the guys on this team. It was just an emotional moment to be a part of such a great game and a great moment. Q. Trevor, I noticed you kind of limping after the game, and you took the shot early. Is this as physical a game maybe as you've ever played? You ran it so much, took so many shots. How sore were you on Sunday, and then again, was it as physical a game as you'd ever been in?
TREVOR LAWRENCE: Yeah, yeah, for sure. It's definitely I would say the most physical game I've ever been in and the most sore I've been after a game. Yeah, I woke up yesterday morning and definitely felt it. But you know, it's a good feeling, though, when you wake up and you know you left everything out there. I know a bunch of guys on our team felt that way, that they left everything out there, and especially when you win the game that's a really good feeling. But hats off to Ohio State; they played us -- that game was so tough, and just back and forth, and they never gave up. Just a really fun game to be a part of.
Q. Chad, I wanted to ask you about Nolan Turner. As one of his defensive teammates, what's it been like watching his career and specifically the emotions of his up-and-down game from getting beat to making that amazing play? Can you just kind of summarize his career and that punctuation mark in that semifinal?
CHAD SMITH: Yeah, Nolan, he's a quiet guy. I mean, not many people when you look at Nolan Turner would figure he's one of the key players on the No. 1 defense in the country. You know, he's a smart guy. He's a great athlete. He's a guy that plays with a chip on his shoulder. He wasn't highly recruited out of high school, so he brings that edge to practice all the time. He's a great leader. He's very smart, very intelligent, helps the young guys a lot, off the field, in the film room, watching them up on the field. He's just everything that you could ask for as a leader for this defense and for this program. Even though he's not a starter, he's out there playing like one whenever he gets the opportunity. And just in the game, I was just so happy for him to have that moment that he had, to clinch it for us at the end. I mean, he had a tough play earlier, lost his leverage and gave up that touchdown, but he never lost faith. He was pissed at himself, but we had his back on the sideline. We knew he was going to come back and make a play when we needed it, because he's done that. He's done that before. And he's just been resilient throughout his entire career, getting opportunities and making the most of them. We're really proud of him. We expected that of him, to be able to go out there and make that play, so it wasn't a surprise for us. But we're just so happy that he was able to do that, and we're excited for this next opportunity. Q. Trevor, I don't know how close you are to Nolan because you guys are on opposite sides of the ball, obviously, but can you speak to what it was like watching that and how well do you know him?
TREVOR LAWRENCE: Yeah, I mean, I know him pretty well. Our team is really close. I feel like everyone on the team is friends. But yeah, me and Nolan are friends, and just watching him do that was special because Chad talked a little bit about just his journey and the kind of guy he is. It's a testament to that, coming in here I had no idea who Nolan was, and you get here and I see him and I meet everyone, and you kind of think like I've never seen this guy before, I don't know if he plays or what, and then you get out there to practice and he's just a baller. He's flying around the field, making plays. Just who he is, he works really hard, and the it's cool to see him get to seize that opportunity and take advantage of that moment, just knowing how hard he's worked and prepared.
Q. Trevor, I was wondering, have you had a chance to -- have you crossed paths with Joe Burrow? I know you guys obviously are in different conferences, and is there something about the way he plays that you particularly enjoy or have had a chance to watch?
TREVOR LAWRENCE: Yeah, I get a chance to watch, obviously, as much as I can, like big games. So this season, just whenever a team like LSU, Alabama, Ohio State, Oklahoma, any of those teams are playing, I try to watch them. I always see highlights and stuff. So I try to watch that. But I just -- I like a lot of things about his game. Just his pocket presence is really good. His accuracy, obviously, and just how he's pretty mobile, too. He can extend plays and has a really good feel for pressure and doesn't take too many sacks. I like a lot of things about his game. Yeah, I got to actually meet him this summer at the Manning camp in Louisiana. So we got to hang out a little bit there, but that was my first time meeting him.
Q. Trevor and Chad, it looks like you guys again are going to be underdogs heading into this spot. How accustomed are you guys to playing that role, given the way Coach Swinney has kind of protected or categorized this team this year as a forgotten bunch at times and overlooked? How comfortable are you guys in this role heading into the game, the National Championship game?
CHAD SMITH: I mean, I guess you could say we're pretty comfortable with it. We don't really look too much to like the outside noise, whether we're an underdog or whether we're the team to beat in a particular game. I mean, we just focus on what we can control, focus on our preparation, and LSU is a great team. They're here for a reason. They've got a great offense, great defense, all-around team and program, so it's going to take a lot from us in our preparation to be able to have an opportunity to beat LSU in the championship. But it's definitely going to be a challenge. So I mean, it just goes back to our preparation. We can hear all the outside noise or we can really focus on what we can do, have a narrow focus, put those blinders on, get ready to go back to work here soon in the next few days, and prepare ourselves to the best of our ability to have that chance to be national champions again.
TREVOR LAWRENCE: Yeah, just to add on to what he said, being here two years now and playing in a few games, you just see how much it doesn't really matter who's the favorite, and I think we as a team really understand that. Not necessarily that we take offense to it, it's just like it really doesn't matter who the favorite is. You've got to go play the game. The game is going to be won on January 13th. It's not won before when all the odds come out. You've got to play it. So I think, like Chad said, you have to prepare, and whoever prepares the best and plays the best on Monday is going to win the game.
Q. Trevor, I asked you Saturday night about your 40 time, and you said you hadn't done one in a couple of years. I was able to find I guess maybe from recruiting you had a 4.78 40. What is it, in relation to that touchdown run? Do you know what your 40 time is right now?
TREVOR LAWRENCE: I really don't. Yeah, I ran that in high school I guess my senior year, or my junior year before my senior year at the opening thing, the combine thing I did that. So I don't know what it would be now.
Q. You may have picked up a couple of hundredths of a second since you got to college.
TREVOR LAWRENCE: Hope so.
Q. And then following up, whether you realize it or not, once you get there it's going to be kind of a de facto home game for LSU in the Dome. I wonder if you guys have thought about that and just a reaction to it.
TREVOR LAWRENCE: I mean, this game, this past game honestly there was a ton of Ohio State people there, so it'll be -- it might be a little bit more LSU than Clemson compared to Ohio State-Clemson, but even that game was probably 70-30 or close to it out in Arizona. Like even that, too, it's nice to have a big crowd there for you, but even then, you've still got to play the game. The game is won on the field. It'll be a cool experience, though, for sure.
CHAD SMITH: Yeah, just to echo that, the game is won on the field. It's going to be interesting to see what the ratio is because last game it was definitely like 70 to 30 Ohio State. So it'll be interesting to see. But I know we've got some of the best fans in the nation, and they'll do their best to travel out to that game for sure. But we don't really look at it too much about having to do with much of the fans or who's going to be in the stands. Really it just goes back to our preparation and our focus and how we execute on the field. But it'll be a fun environment either way. It's going to be cool playing LSU in Louisiana, in New Orleans, so it's going to be a fun game.
Q. Chad, I know you said after the game obviously you gave a lot of credit to your teammates and everything as far as winning the individual award, but if you could just be selfish with us for a moment and just kind of tell us after just being there for so many years and going through a lot of ups and downs through your Clemson career, just how cool it was for you to be recognized individually on such a big stage.
CHAD SMITH: Yeah, it definitely was an honor to be awarded the MVP. I didn't realize it until they just pulled me aside when everyone was about to get up on stage and say, you're the defensive MVP, and I said, oh, wow, that's crazy, because there's a lot of players on that defense that could have won defensive MVP. We had a lot of players that had a heck of a game, and being able for me to go out there and execute the way we were supposed to execute on some of the plays out there in order for me to make those plays, it was pretty special. I mean, all this hard work and all this perseverance and commitment all came to fruition that night, being able to be recognized on a stage like that was just truly an honor. I wouldn't have been able to get to that position if it wasn't for my teammates, if it wasn't for my coaches who invested their time in me and coached me up, my people that came before me, the Ben Boulwares, the B.J. Goodsons, the guys that set the example what it looks like to be a leader, to be a playmaker out on the field, the Kendall Josephs, those guys that set the example for me. And then for me to be able to kind of follow in their footsteps and be able to shine in a big moment like that is special. It's definitely something that I will remember for the rest of my life.
Q. Trevor, we asked Etienne after the game if he had been told that you had out-rushed him against the Buckeyes. He would have said, you've got to be kidding me. Did you maybe get a laugh out of it afterwards or your teammates have a little fun with the fact that you had 100-yard rushing game, including the 67-yard run, and that was one of the big differences in the game?
TREVOR LAWRENCE: Yeah, it was kind of a weird stat line after the game how everything looked. He had close to 100 yards receiving and I had more rushing yards. It was kind of weird. But really he didn't have as many opportunities to run the ball as much. There was a lot of pull reads and then also just things were opening up for me to have a lot of chances to run the ball. He didn't have a ton of chances. I feel like he did pretty well when he did. And then in the passing game obviously he did great, making plays with his hands and with his feet.
Q. I was wondering for either Trevor or Chad, whoever wants it, this is the fourth time Clemson has been in the finals in the past five years. Is that experience a positive factor for you guys going in? You guys haven't been there all the time, but your coaches have, the program has. Everybody is comfortable with where you are. Do you think that might be a factor come game time?
CHAD SMITH: Yeah, I would say that's a little bit of a factor, being able to be in that moment before. I've been blessed to be a part of all four National Championship appearances all the way back to my redshirt year. So I mean, yeah, that's a pretty surreal just stat line and moment for me. But yeah, it's drawing back on those experiences and how those guys before us prepared and how they approached the game, and then we still have players on this team that have played in that moment last year, guys like Trevor and Nolan Turner and Tanner Muse and those guys who have been in that moment. Being able to draw back from their experience and how they approached that game is going to be important for the young guys because we have such a young team, to be able to rely on those older guys and how they go about their preparation. And really it doesn't change. We treat it just like any other game. Yeah, it's the biggest game on the biggest stage, but we wouldn't have been able to get there if it wasn't for our preparation in the previous games. So we've just got to approach it the same, with the same focus, with the same intensity that we prepared for each and every game, and go out there and execute what we have game planned.
TREVOR LAWRENCE: Yeah, just to add on to what he said, yeah, same thing. Like I said for some of the other questions, it doesn't make a huge impact just because the game will be won out there, and I know LSU is going to put together a great game plan and they're going to be ready. Even though they haven't played in a National Championship, they're not thinking about that. But just knowing that you've been there before helps a little bit, especially with me. I know what to expect as far as how everything is going to go, and even just schedule-wise, when you're going to get there and how the days are going to be. I'm pretty comfortable knowing that, and I know what I'm kind of going into and the stage and know the lights are a little bit brighter, it's a big stage, but knowing we've been there before definitely does help a little bit.
Q. After you took the hit and you laid there on the turf, it looked like you just got up with a different look in your eye. I don't know, maybe I'm wrong, and you just came back, and that was to me the turning point for you. You played so much better after that as a team and maybe you individually. Was that a bit of a wake-up call? Did it make you mad? Was that a turning point for you?
TREVOR LAWRENCE: Yeah, I think kind of what you said, there's some truth in all that. It was just, they hit me, and I was worried it was my collarbone for a second because I couldn't feel it up there around my shoulder and neck, and my arm just went numb. It was just a really bad stinger. And then I got kind of -- I was kind of pissed off because I knew they were over there thinking like, all right, we knocked him out. They think had all the momentum, so I was like, all right, I'm just going to pop up, I'm going to run it off, and I was pissed, too, because I thought we were punting, and then it turns out they called targeting and we got a chance to go back out there and we finished and scored on that drive. But I was just like, man, from then on, they thought they had knocked me out. I had a different kind of edge when I got up.
Never miss the latest news from Clemson Sports Talk!
Join our free email list