Photo by © Joe Camporeale-USA TODAY Sports
Clemson Football
Clemson able to 'catch their breath' ahead of National Championship
---
We are giving away a LIMITED EDITION Clemson National Championship football to one lucky subscriber in the new year. Sign up today to help us continue to grow!
---
*****
Mirror Images (Premium)
'He's unstoppable': Clemson's media day littered with praise for Joe Burrow, LSU offense
K'Von Wallace, Malcolm Greene overcome odds thanks to prep coach who focuses on life (Premium)
*****
After Clemson won its fifth consecutive ACC championship, the Tigers had a quick turnaround in terms of preparation for its battle with Ohio State in the Fiesta Bowl.
In the previous four trips to the College Football Playoff, the Tigers have usually had three weeks to prepare for the semifinal matchup. Instead, they got two weeks this year, and head coach Dabo Swinney wasn't too thrilled about the abbreviated schedule.
But how fortunate is it for Clemson that this year's college football schedule hasn't operated at a "normal" capacity?
In what is the understatement of the year, the Tigers had their hands full against Ohio State, fighting tooth-and-nail to scrape out a 29-23 win. To come back from a 16-point deficit took everything Clemson had in the tank to be victorious.
We've noted that the Fiesta Bowl was a heavyweight fight. It seemed as if bodies from both sides were laid out on the grass after every play. The physical nature of that game was one of the most extreme that we've seen since Clemson's been on its historical run the last five years.
If the schedule were like it had been in years past, Clemson would have been in New Orleans on Monday sitting patiently, waiting for the kickoff of the national championship against LSU instead of sitting in front of reporters at the team's media day.
"Yeah, we'd be playing tonight, this time last year," starting linebacker James Skalski told ClemsonSportsTalk.com. We asked him how beneficial it was, if at all, that Clemson got an extra week to get off its feet.
"I think it helps a lot, especially just your body and how it's feeling and then the game prep, too," Skalski continued. "I mean, any coach would love an extra week of prep, but I actually liked how it's worked out this year. I like this extra week in between. I think it's helped this team."
When you watched the Peach Bowl and the moments that ensued after, Joe Burrow and the rest of his LSU teammates looked like they barely broke a sweat after their 63-28 beatdown of Oklahoma. Burrow's postgame comments, saying they only expected that outcome from the beginning, confirmed that LSU knew they overmatched the Sooners.
Compare that with the end of Clemson's dramatic win over Ohio State, you'll notice an entirely different reaction. Clemson had to hang on for dear life in the closing seconds of what was an emotional win.
After Nolan Turner's interception in the end zone sealed it and Trevor Lawrence took a final knee, ESPN's broadcast immediately cut to a shot of offensive lineman John Simpson, who dropped to one knee while his teammates celebrated. He covered his face, but his emotions were on his sleeves after the semifinal win.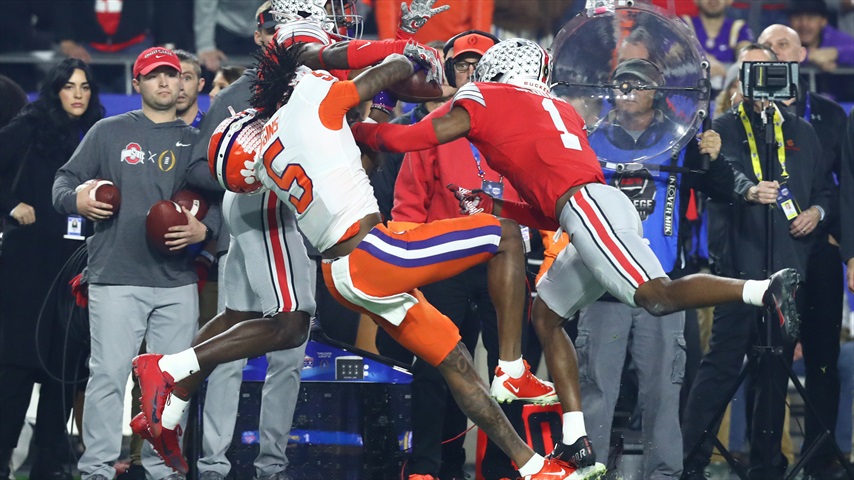 © Matthew Emmons-USA TODAY Sports
"I think I was more emotional because just knowing that all the guys around me are so selfless," Simpson told us. "They are willing to do anything for me and I am willing to do anything for them. Coming out with a victory just made me super emotional because I know that those guys are willing to do whatever it takes to get to where we got."
Two of the more important players who got banged up during the Fiesta Bowl were standout Clemson receivers, Justyn Ross and Tee Higgins. Ross, a sophomore, had been dealing with a hip injury earlier in the season and looked to be slow getting up multiple times against the Buckeyes.
Higgins' injury was a bit more mysterious. The junior receiver left the game after the fourth snap of Clemson's first drive in a freaky play when he landed hard going up for a catch on a free play. Higgins' helmet was knocked off while falling to the ground before heading to the locker room for further evaluation. Oddly, he told reporters on Monday that he didn't remember what the injury really was.
Even Trevor Lawrence looked a bit gimpy after a stinger he took in the second quarter, which left his left arm numb for a few moments. The Clemson quarterback thought for a split second that he broke his collarbone, but hopped back up and put the Tigers on his back.
Days following Clemson's win, Swinney told reporters that he hoped all his players were still asleep after the game they just endured.
"Oh, there ain't nobody okay. Are you kidding me?" Swinney said the day after Clemson's win. "We just came out of a 15-round bout. Coaches are sore. We're all sore. Everybody is beat up. That was an unbelievable game."
Tremayne Anchrum, a senior offensive lineman, confirmed this sentiment to ClemsonSportsTalk.com on Monday.
"No one is playing this game at 100 percent, for sure," Anchrum said. "I'm feeling OK. I'm feeling better than I was after that game."
"No one is playing this game at 100 percent, for sure," Anchrum said. "I'm feeling OK. I'm feeling better than I was after that game."
The break before having to ramp up preparations for the biggest game of the season against LSU couldn't have come at a more perfect time. To be frank, Clemson needed this time way more than LSU - not only to rest up and get healthy, but to give defensive coordinator Brent Venables a stronger opportunity to get his gameplan established.
After all, Venables has a pretty substantial track record when he gets more than a week to prepare for an opposing offense.
For Clemson, the extra week of rest and game prep was not only good for the body, but for the mind.
"I think it's helpful for sure. We got guys that are really banged up. We got guys that aren't really healthy but to just give them a chance to just catch their breath," Anchrum continued.
"We've been going hard for weeks now - months even. Just give them a chance to catch their breath, rejuvenate themself, and just get healthy. And just re-evaluate what we did last week - what we did good and what we did bad. Really helpful to get our mind back on track for this big game."
The national championship between Clemson and LSU will kick off at 8:15 p.m. on Jan. 13.
Never miss the latest news from Clemson Sports Talk!
Join our free email list