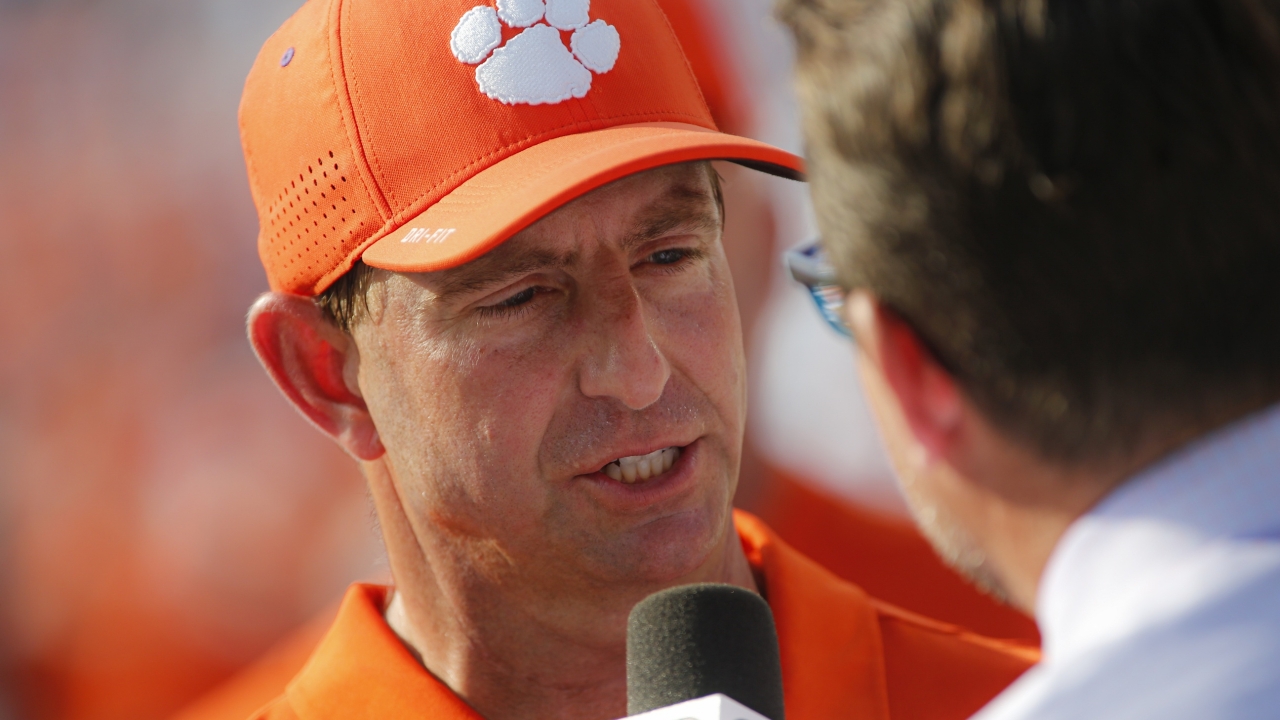 Clemson Football
Tom Rinaldi sits down with Dabo Swinney for a wide-ranging interview
---
We are giving away a LIMITED EDITION Clemson National Championship football to one lucky subscriber in the new year. Sign up today to help us continue to grow!
---
Looking ahead to the College Football Playoff National Championship Game, ESPN's Tom Rinaldi sat down to talk with Dabo Swinney, but not just about football.
Coach Swinney shared a little bit about his upbringing and what he went through to get to where he is today. He said, "If I was growing up today, I'd be an at-risk kid. You know, being an at-risk kid, no education in the home, divorce, violence, alcoholism, and addiction, you know, I would be labeled at risk."
Swinney was also considered an "at-risk" hire. In 2008 when he was named Clemson's 27th head coach, he was well aware that critics were rating him as a D-plus hire, an inexperienced position coach that shouldn't have gotten the job. This was just fuel added to a fire that is now a college football dynasty. When asked about the criticism, he responded, "I was a D plus higher, you know, and I hung on to that more than anything. There are all kinds of criticisms that come but that's just part of it. You know, you spent 13 years of Alabama you learn how to handle criticism, and doubt..."
If Clemson were to win this game, Swinney will have led his team to a third straight championship in four years, making the senior class only the third team in history to win three national championships.
On the other side of the ball, if LSU were to win this game, it would solidify them as one of the best teams football has ever seen. Swinney recognizes the talent that his squad is up against, especially Heisman winner Joe Burrow. He said, "He's so smart. It just makes me sick to watch it on tape. It's like watching a video game. Savviness that can only come if you really, really know it. And you're very confident. That type of stuff. He's like watching Tom Brady. Just more athletic."
The talent that Clemson is facing is nothing they haven't seen before. Making the playoffs for five years straight, the Tigers have faced elite competition. The only group of Clemson players that haven't been on a stage like this are true freshmen. When asked about the importance of having experience in a game like this, Swinney told Rinaldi, "It helps just from an understanding of the moment, but I think preparation, and planning, Understanding what's too much and what's not enough, what the responsibilities are that you have. I think that's the biggest thing."
As the big day approaches, Swinney told Rinaldi that his mindset is no different than any other game they've played during the regular season. His routine stays the same. His competitive drive stays the same. His work ethic stays the same. If he were to waver, there would be a lack of consistency.
The stakes are high for Monday. Death Valley vs. Death Valley. The Tigers vs. The Tigers. Lawrence vs. Burrow. Let the catfight commence.
Never miss the latest news from Clemson Sports Talk!
Join our free email list