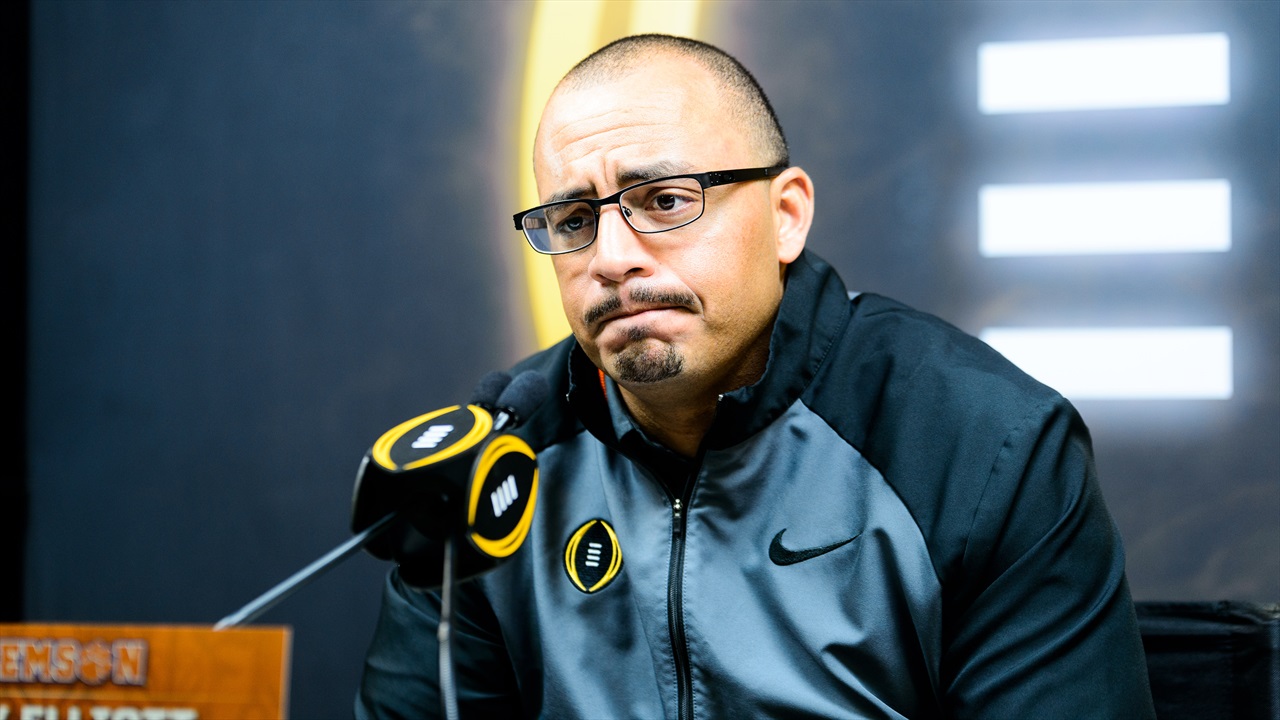 Dabo Swinney
Brent Venables
Tony Elliott
Clemson Football
Tony Elliott: "All of our playmakers have got to be at their best"
---
We are giving away a LIMITED EDITION Clemson National Championship football to one lucky subscriber in the new year. Sign up today to help us continue to grow!
---
Note: Dabo Swinney's quotes were posted yesterday. You can listen to the full audio of all three coaches or read over several quotes from yesterday in New Orleans.
Brent Venables
What is it about the LSU offense that's made things click?
Yeah, absolutely, to adjust. Just very experienced within the scheme. It's a tough scheme. They do a great job of spreading you out and making you defend every patch of grass on the field with incredible, explosive, dynamic play-makers.
I'm so sick of seeing 22, 81, 1, 2, 6, then the quarterback. Man, you got so much respect for Joe and the success he's had. That's a very tough thing. I know just as a professional picking up my family however long ago that was, eight years ago, how hard that is, how hard it is for a young person.
He thought his dream was to go to Ohio State, he grew up in that state. I don't know the half of it. But it takes a lot of courage and boldness and belief in himself to go somewhere he has no familiarity with and start over. To see him win the Heisman, that's cool. That's a cool part of being in college football at such an innocent, young age, to see him mature and grow, to have the kind of success he's had.
He's done it in such a way as to inspire. What a great example he is for having some toughness and belief in himself.
How would you quantify this challenge?
Again, matchup-wise, you know, you'd like to take your very best of all your different pieces and parts throughout the years, but you can't do that. That's the fun part of it, too.
But they have all been really good. These guys, I don't know if we faced a quarterback completing 80% of his passes, 55 touchdowns, over 5,000 yards. Again, the depth of the play-makers is what makes them unique, as well. The running back is not just a running back, he's really a bonafide receiver, as well.
Again, the system is a little bit different than many of the others, a true spread offense. Yeah, they're all tough when you get here, so...
How unique is it to have 16 days to get ready for this game?
Yeah, no, it feels like really, to be honest with you, how we got ready for our first game, the same type of a timeframe. Sometimes having too much time is not a good thing, to be honest.
But it has been nice. We needed – after a really tough, physical game against Ohio State, I think it came at the right time to regroup, heal up, make one last go of it here for this season.
It's actually been good under the circumstances for us.
Tony Elliott
Every team is different. Was there a specific moment you felt like you got a pulse on DNA of this team?
You know, I think that the North Carolina game would probably be – you found out just how much heart that this team has. We know one of the core values of our program is to have heart, to not flinch in the face of adversity, but we haven't had a whole ton of adversity over the lasts couple years.
Trevor was in that situation for the first time, and so you had an opportunity to see these guys not flinch in the face of adversity. That's when you knew these guys were cut from the same cloth as the previous teams that came before them.
Travis Etienne's role:
He's got to be at his best. In this game, all of our playmakers have got to be at their best. I think biggest thing for him is try not to do too much, not be too amped up in this situation. So for he's done an unbelievable job of controlling his emotions, blocking out the noise. Even kind of put some restrictions on his family. Look, I'm not dealing with tickets, anything. I'm focused in on playing my best. So he's ready to do whatever.
Again, how they defend us is going to more dictate his role. We're planning on letting him touch the ball in the run game and then get him involvement if the pass game, and when there are situations where we have to throw the ball down the field, he's got to be very, very effective in pass protection, especially on third down.
What's this last stretch been like?
You know, the first game was difficult because of the turnaround. It was such a quick turnaround, and then he had his time to go do what he need to do for South Florida, so really didn't have much time to think about. We had Grish kind of inserted in that role, so we were rocking and rolling.
These last couple weeks we've had a chance to just work together, but we try to keep it as normal as possible and really not focus on the future. We understand that that's going to come on Monday night after the game. Right now, we're just focusing on doing what we've always done to help these young men be successful. That's really what our work has been the last couple weeks.
Never miss the latest news from Clemson Sports Talk!
Join our free email list