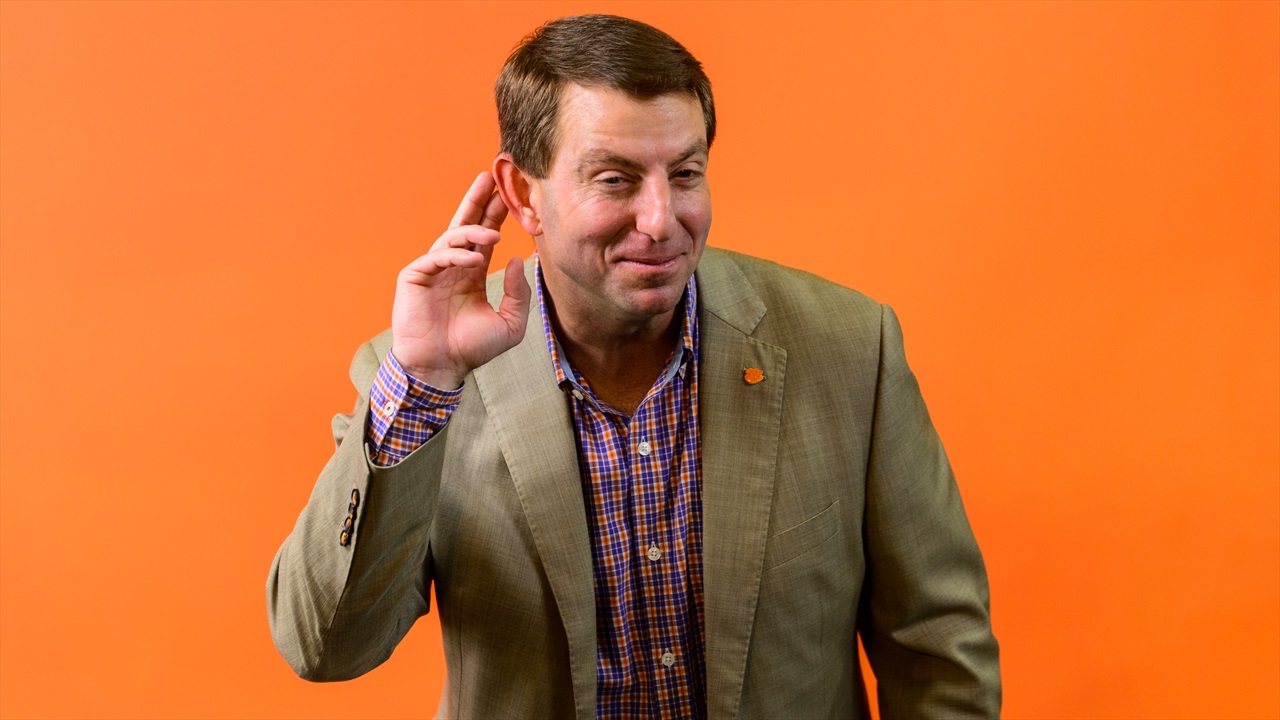 Photo by © David Grooms/Clemson Sports Talk
Clemson Football Recruiting
Clemson adds two more top prospects to 2021 class
---
Like Hulk Hogan back in the day, Dabo Swinney and his staff have Clemson Tiger fans flexing their collective muscles after a huge elite junior day brings in at least three four-star commitments.
After adding four-star WR Beaux Collins‍ (Bellflower, CA) last night, Clemson added two more commits today. Four-star TE Jake Briningstool‍ (Brentwood, TN) and four-star DE Cade Denhoff‍ (Lakeland, FL) are both now a part of Clemson's 2021 class.
Last night Collins during his third trip to the campus, committed kickstarting the weekend. He attended Dabo Swinney's Camp in June in which he received an offer, and he also was in town on Oct. 12 to watch the Tigers defeat Florida State 45-14.
Collins finished his junior season with 1,000 yards and 14 touchdowns for the nation's number one team.
As for Briningstool (6-6, 218), he is considered the top tight end in the 2021 class, according to ESPN.
Briningstool had offers from many Power 5 programs, including Alabama, Florida State, Michigan, Michigan State, Oregon, Penn State, and South Carolina.
Check out this snag that Briningstool made:
As for Denhoff, he simply tweeted, "Committed!!! Recruitment is over!!!"
Clemson's defensive line coach Todd Bates tweeted, "We just got better."
Denhoff bonded with the Clemson program through his mom, who went to high school with defensive coordinator Brent Venables. He has been a regular at Dabo Swinney's Camp since his freshman year and received an offer in July. The 6-foot-5, 230 pounder was also on campus when the Tigers beat Texas A&M 24-10 in September and Oct. 26 for the Tigers 59-7 win over Boston College.
Denhoff's final list of teams according to his Twitter account included: Alabama, Clemson, LSU, Nebraska, Ohio State, Penn State, and Virginia.
The 2021 class is quickly beginning to take shape for the Tigers. Clemson has eight players currently committed and one of the top classes thus far.
---
This Sideline Player Full-Zip Jacket from Nike is on fire! The sleek Clemson Tigers graphics will give you bragging rights over your rivals and ensure your style is unmatched.
Never miss the latest news from Clemson Sports Talk!
Join our free email list