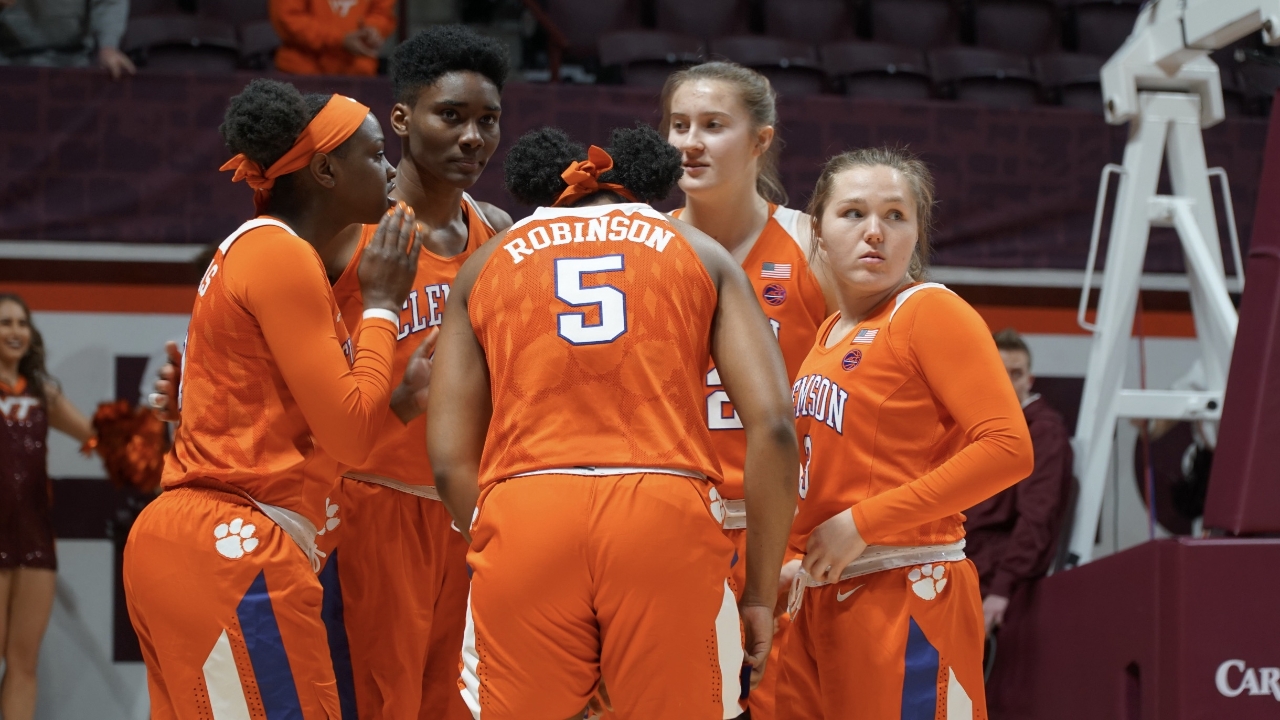 Clemson Women's Basketball
Tigers Fall to Hokies 71-50
---
BLACKSBURG, Va. — Despite a career performance from Clemson's Mikayla Hayes, the Clemson Tigers fell to the Virginia Tech Hokies at Cassell Coliseum on Sunday afternoon, 71-50.
Clemson (7-13, 3-6) shot 29.5 percent from the field while Virginia Tech (15-4, 5-3) produced a shooting percentage of 39.7. The Hokies benefited from knocking down eight 3-pointers and corralling 50 rebounds. The Tigers went 11-of-18 at the free throw line and racked up 23 points off the bench.
Hayes scored a career-high 13 points on 6-of-9 shooting from the floor and 1-of-3 shooting from the charity stripe. She also matched her career high with three blocks on the day. Amari Robinson led the Tigers in rebounding with a season-best 11 boards to go along with her six points, and Kobi Thornton tallied seven points and four rebounds. Native Australians Hannah Hank and Isis Lopes suited up for the Tigers on Australia Day, with Hank recording six points and two rebounds. Lopes sank a 3-ball in the third quarter for her first points of the season.
The matchup was tight-knit early on, as Clemson took a 10-9 layup on a Destiny Thomas layup at the 6:06 mark of the first quarter. However, the Hokies closed out the opening period with a 14-4 run after that and led 23-14 heading into the second quarter. Hayes braced the Tigers with seven points in the first half, but Virginia Tech led 36-27 at halftime. In the third quarter, the Hokies outscored the Tigers 19-6, going up 55-33, and the Tigers responded by outscoring Virginia Tech 17-16 in the fourth quarter. In the end, the Hokies topped the Tigers 71-50.
With their two-game road trip finished, the Tigers will return home to Clemson, S.C., and play the No. 8 NC State Wolfpack (18-1, 7-1) on Thursday, Jan. 30. The matchup at Littlejohn Coliseum is scheduled to tip off at 7 p.m. and will be broadcast on a regional sports network (RSN).
Never miss the latest news from Clemson Sports Talk!
Join our free email list