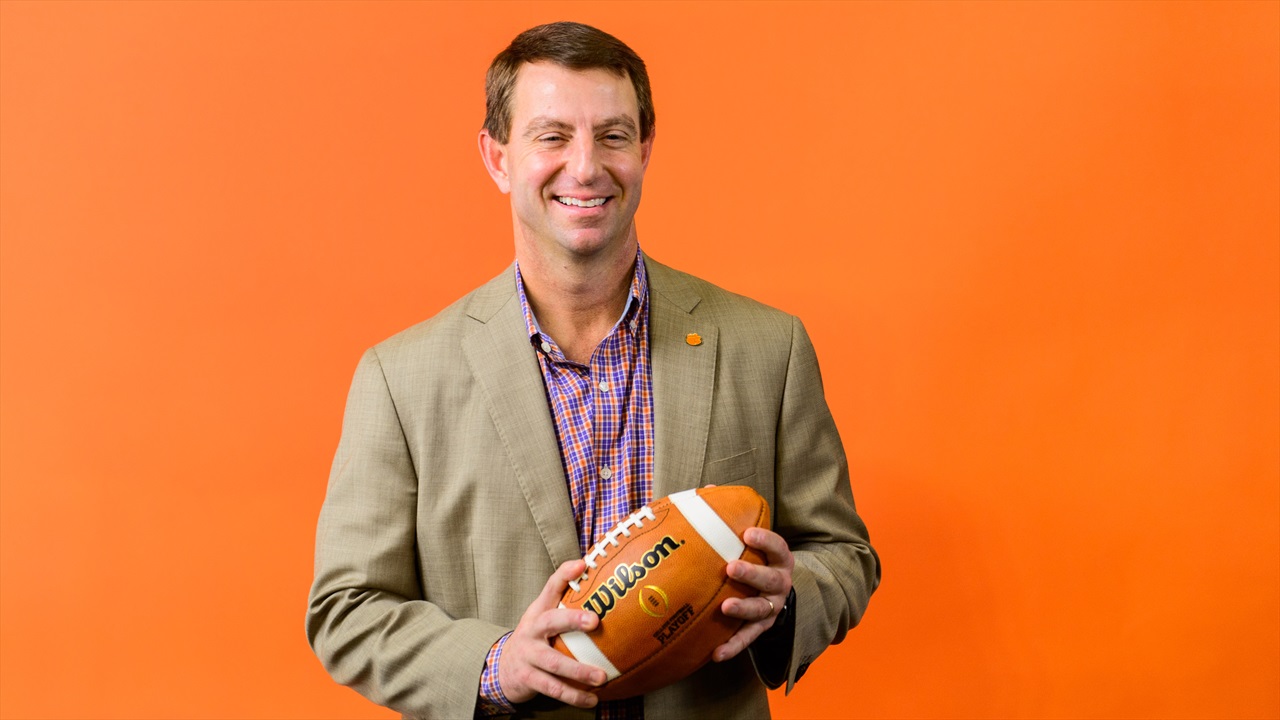 Photo by © David Grooms/Clemson Sports Talk
Clemson Football
'Time will tell': Dabo Swinney Signing Day press conference notes
---
The following are notes and quotes from Dabo Swinney's National Signing Day press conference where the head coach spoke for 45 minutes.
– Today has been a good day to re-celebrate. Signed our 24 players in December. Will probably sign three or four more walk-on guys at some point.
– As I always say, 'time will tell.' Everybody wants to put a ranking on these players but that is based on potential. It's a very subjective process based on many factors. It's a developmental game. Jimmy Garoppolo was a two-star. Over time, you have to prove you are a special group. You should rank these groups at the end of their time, four years later. Then you will see how great they are.
– I love this year's group. They could be one of the best groups we've ever had. It's always critical to fill your needs and I believe we have done that. It's always hard to walk away from other really good players, but we try to recruit to a number and fill our needs. What I love about this group is, "let's recruit people first, and players second."
– Last year's class - 14 states represented. This year's - 12 and Canada. Where our brand is and the fact that we can go out to California and go out and get great players or Texas or Canada - it's great. As our brand has grown, it has allowed us to expand and let us be selective. The kids we are recruiting, they have an opportunity to be selective as well.
Very thankful for this group of young men and the families that really came together. Thankful that they chose to become a part of what we do at Clemson.
– Fifteen mid-years that are here are going to be a lot of fun. It's going to create a ton of competition this spring. You got to start over. It doesn't matter if you won the national championship or went 3-8. We pretty much have the entire roster here this spring. This allows us to practice well and develop our team.
– On Logan Rudolph: Off to go be the new Rock. Didn't see that coming. But if that's what he is putting his mind to, watch out. He'll probably be the next action hero. … He just called and said he had a blast and was kind of beat up. He's an undersized guy at that position. Knowing that he had his degree and he maybe he was looking ahead and didn't want to get into a practice squad competition. He then said he was going to pursue an acting career and I said, 'really? That's a first." He's going to be successful. If that's what he wants to do, he will find a way. It's just what he wants to do. That's the way education and graduation should be. There is nothing holding him back.
– We are going to take a break. Coaches have been grinding since Jan. 14. It's been a crazy last couple of weeks. We will get back in here next Wednesday as a staff and really crank it up. All In and mat drills will start next Wednesday and start practice Feb. 26. Let's turn the page and get on the field, we have a lot of guys that are eager to get back out there.
– On DJ Uiagalelei: He can do anything. They said the same thing about Trevor (running) and that myth has gone out the window. DJ can do anything he wants to do.
– On Travis Etienne's decision to return: I was initially surprised a little bit. He initially told me before the bowl game that he was leaning on coming back. Some guys are patient and some guys are not patient. Usually ask guys what they are thinking before getting into Draft grades. Travis said, "honestly? I'm thinking about coming back."
Travis got a second-round grade. Said the reports he got were knit-picky.Ten other players wanted his number nine, but not so fast.
– On Chase Brice: Dabo called David Cutcliffe and wanted to make sure he ended up at the right spot. Graduation should create opportunities and options in place for the right people. He put the work in. The fact that he got his degree has created more opportunities. It's like being a senior again. I think he's a pro, personally. Think we had the two best quarterbacks in the ACC last year.
"Chase prepared every single week as if he were the starter. Chase was very in tune to the game. He was almost like a coach. Such a selfless young man and so prepared to win the game. I think he probably played the most of any backup QB in the country behind a player he didn't get hurt." Chase never entertained the conversation ever about transferring, but Swinney always thought it was a possibility.
Coach Cutcliffe is one of the best people I know. He is one of the top two or three people that I would call about anything. It's a great opportunity for change and I am really happy for him.
– On the last month for the players: It's tough. Was at the Super Bowl and was really excited for the Chiefs and our guys, but I was really sad for the other side because I've been on both sides. I'd rather get there. Our guys competed and I could not be more proud of our team. The great majority of our roster had never lost a game. It was something I paid close attention to, especially with Trevor. But he got back to work. It was a gut-punch. You feel that pain and you feel that burden. I know the agony of it and the joy of it, but it's all good. It's all a part of life and the journey. You can't have fear.
"I was convinced we were never going to lose again. Ever. 250 in a row and ride off into the sunset. We aren't going to win the national championship every year, but hopefully, we'll have a shot."
– On Demarckus Bowman: He's another version of CJ Spiller. He's a long way from that but based off high school tape and track speed - every time he touches it, he can go the distances. There is a lot of similarities between the two. He's got that type of explosiveness and it's easy to see.
– Nyles Pinckney is still nursing his ankle. Had to clean Andrew Booth's knee up. He battled through it all fall. Don't know if Blake Vinson will be cut loose this spring, but hopefully, he'll be able to get back into the groove of football.
– Biggest key for recruiting defensive line: Evaluation and development. Occasionally we got the guy that everybody wanted. As we've had success, we've been able to get more of a finished product type of guy - the Christian Wilkins'. We took guys last year who were developmental. Some of these guys now that we are signing are much further along. That's why everyone in the country is recruiting them. Where we are brand-wise, we are attracting a more finished product.
Stay tuned for more as spring practice gets under way in just three weeks.
Never miss the latest news from Clemson Sports Talk!
Join our free email list