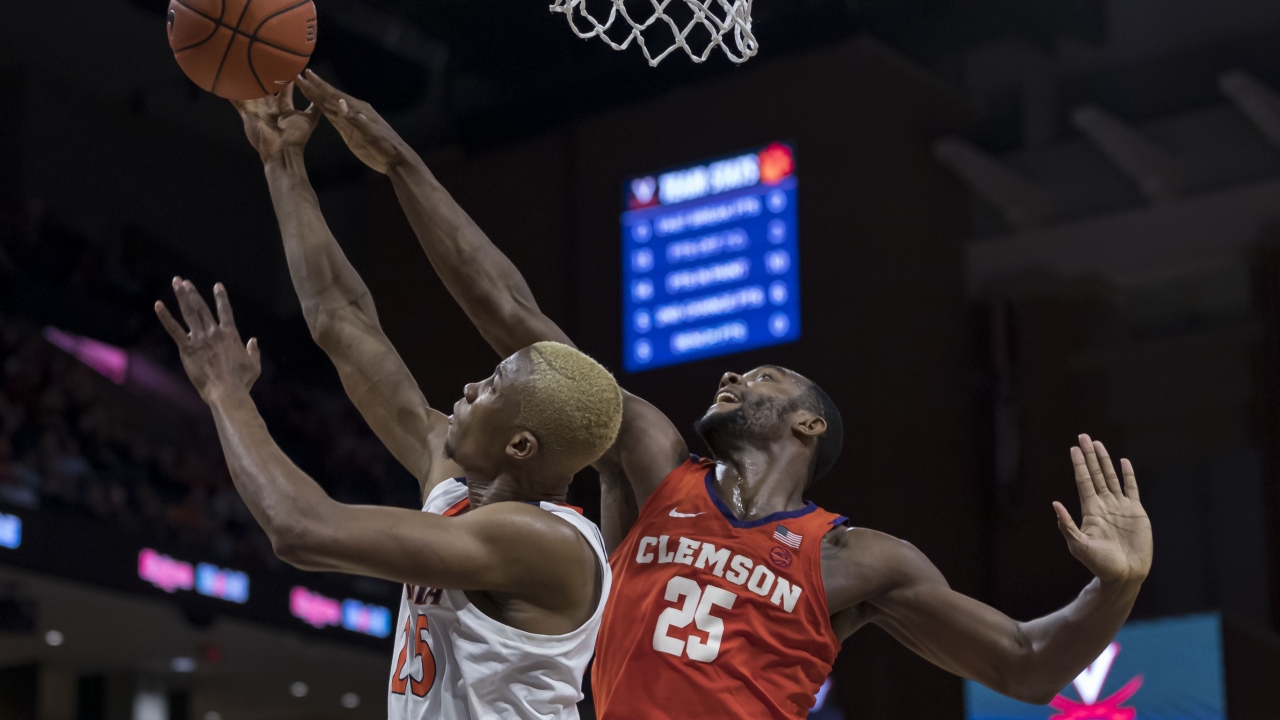 Clemson Basketball
Clemson Falls to Virginia in Defensive Battle
---
CHARLOTTESVILLE, Va. — In a low-scoring affair, the Clemson University men's basketball team lost to Virginia on Wednesday. The Tigers' second-half comeback bid fell short, as the Cavaliers won 51-44 at John Paul Jones Arena.

The defensive battle saw Clemson (11-11, 5-7) and Virginia (15-6, 7-4) shoot 32.7 and 37.0 percent from the field, respectively. Beyond the 3-point arc, the Tigers were 6-for-28, while the Cavaliers went 7-for-20 on 3-pointers. Clemson hauled in eight offensive rebounds and totaled eight second-chance points. Virginia, on the other hand, benefited from 13 points off turnovers.

Aamir Simms played the entire game and led Clemson with 16 points on the night, with the big man knocking down a pair of 3-balls to go along with his three rebounds on the night. Al-Amir Dawes was a solid 5-of-12 from the floor in his 32 minutes of action. He tallied 11 points and a season-high eight boards. In addition, Tevin Mack recorded 10 points and seven rebounds. He sank two 3-pointers in the contest. Braxton Key, who made four 3-pointers, sparked Virginia with a game-high 19 points.

Virginia's trademark defense culminated in the Tigers trailing 26-14 at the intermission, which matched the largest lead of the game. However, Clemson was the team that showed out on the defensive end of the floor early in the second half. The Tigers cut into their deficit while holding Virginia scoreless for 5:26, using a zone defense to keep the Cavalier offense in check. Clemson pulled to within three points of Virginia down the stretch, but the Cavaliers ultimately iced the game at the free throw line and came away with a 51-44 win.

Clemson will return home to Littlejohn Coliseum to take on Notre Dame (14-8, 5-6) on Sunday, Feb. 9. The matchup in Clemson, S.C., between the Tigers and the Fighting Irish is scheduled to tip off at 6 p.m. and air on ACC Network.
POSTGAME QUOTES
Head Coach Brad Brownell
Opening statement:
"This one hurts a little bit. I felt like the atmosphere bothered us early in the game. The crowd was electric, and the band was going crazy. We were just a little fidgety, and it was hard for us to get going. Virginia jumped on us. Then, we mixed in some zone and eventually went primarily to zone. That settled our guys down. I thought the guys played well in the second half. But, at the end of the day, it's a shot maker's game, and we're not making timely threes or the shots that we need to win. Virginia had seven blocks, but it felt like they had 17 blocks. It was hard for us to drive and score. We had some open looks down the stretch, though. If you're going to win a game on the road against a good team, you have to make those shots."
On Clemson's standout performers:
"I thought Al-Amir [Dawes] was terrific. We still need to work with him on his shooting, but he's a courageous little guy. His speed and energy are what enabled him to run down eight rebounds. He was going in there to make plays. Aamir [Simms] was really good. Tevin [Mack] was really good, as well. I thought those three guys played aggressively and fearlessly in a tough environment."
On the Tigers' defensive showing:
"Virginia shot 37.0 percent and got only five offensive rebounds. I thought our guys were physical and did a great job of tracking down long misses against a Virginia team with a tremendous size advantage. I just thought our guys competed really hard."
On Aamir Simms' performance:
"He did a little bit of everything. He's growing as a player. He's a guy we trust a lot, and we put the ball in his hands a lot. He was the guy who kept us in the game in the second half tonight. He played with poise, made big baskets and kept our team together in the second half."
Never miss the latest news from Clemson Sports Talk!
Join our free email list