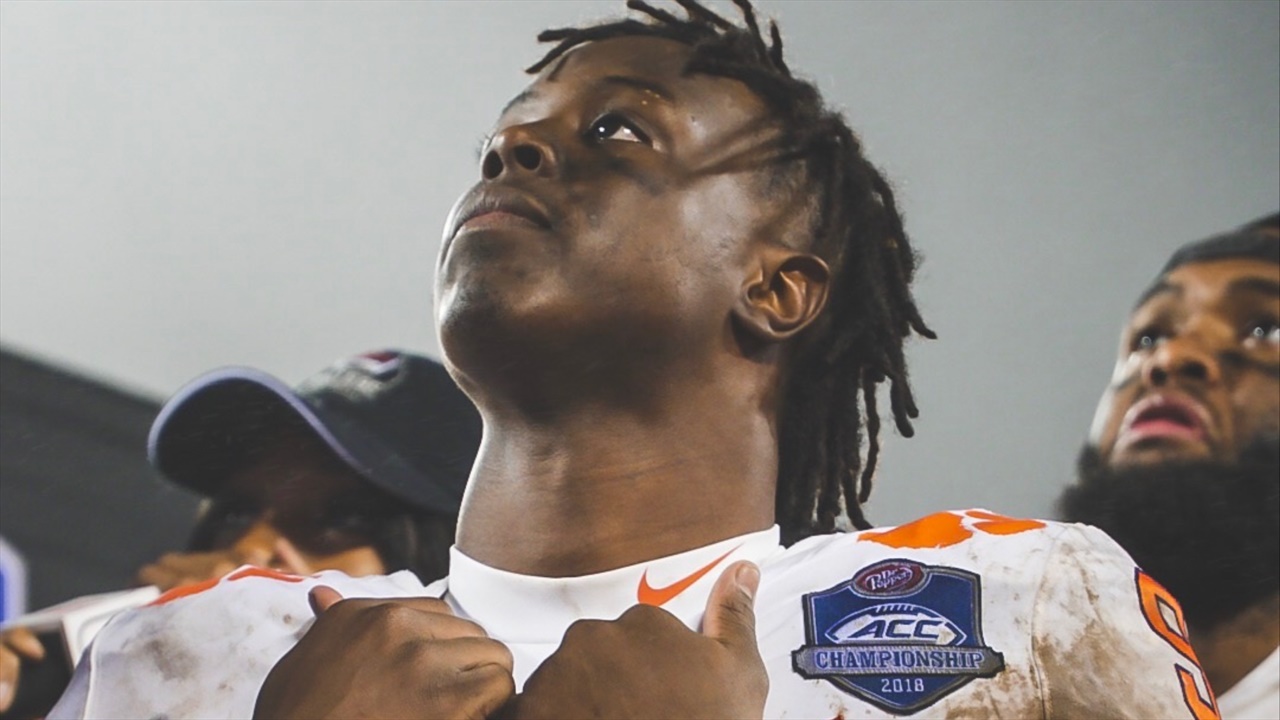 Clemson Football
Not So Fast, My Friend
---
We are giving away a LIMITED EDITION Clemson National Championship football to one lucky subscriber on February 28. Sign up today for just $1 and help us continue to grow.
---
Dabo Swinney had already given his jersey number away.
Around ten players were chomping at the bit to take it, and who could blame them?
It is a number that, for the last three years, has been a blur to Clemson fans who have witnessed the jaw-dropping speed. That white number on the front of the home jersey was the last thing many defenders saw before getting trampled or stiff-armed into oblivion by the two-time, consecutive ACC Player of the Year.
The number on the back - that silky No. 9 - was the first thing those same defenders saw when they got back up as it raced into the end zone for another touchdown.
The number, of course, belonged to running back Travis Etienne and has become more and more popular among Clemson culture due to how sensational his career has been. But as Etienne walked off the field in New Orleans after Clemson's 42-25 loss to LSU in the national championship, the common thought was that we'd seen the last of Etienne wearing that number.
Other players were eagerly ready to take No. 9 the second Etienne hung up his pads. After all, you'd have to think many Clemson fans around the country have that jersey in orange, white, or purple somewhere in their closets.
"Them old boys, man, they're vultures," Swinney said with a laugh on Wednesday. "Vultures around here with them numbers. Had a lot of guys with (No.) 9."
Them old boys, man, they're vultures," Swinney said with a laugh on Wednesday. "Vultures around here with them numbers. Had a lot of guys with (No.) 9."
So it wasn't irrational for us to believe that Etienne was going to forego his final season of eligibility and enter the NFL Draft because it seems like there were quite a few folks on the inside of Clemson's doors that thought the same thing.
But as Swinney told all those players who wanted to get their hands on that No. 9 jersey, "not so fast."
It is safe to say that most of the college football world was shocked when Etienne announced he was returning to Clemson for one last ride.
There didn't seem like there was much left for Etienne to prove. He has the best single-season of any Clemson running back under his belt, finishing his sophomore campaign with 1,658 yards rushing while averaging 8.1 yards per carry, 24 rushing touchdowns, and 26 total touchdowns - all program records.
Etienne is the ACC's career leader in rushing touchdowns with 54 and the only running back in Clemson history to have multiple 1,500-yard seasons on the ground. With his many magical moments like when he burst onto the scene his freshman year against Louisville or when he put the Tigers on his back his sophomore year against Syracuse - Etienne cemented legendary status.
The shock-and-awe that came with Etienne's decision was felt all over social media - from fans celebrating to media members questioning. Swinney, however, was not as shocked when the announcement was made as we were.
The initial surprise came when Etienne met with Swinney before Clemson's trip to Ohio State and he told the head man what was going on in his mind.
A sit-down with Swinney is common protocol for Clemson's program, whether it's an exit interview after the Spring Game before a summer workout dead period or for players who are eligible to enter the NFL Draft.
The Draft conversation usually goes like this: Swinney will tell a player what he's been told by draft experts and what their draft grade is, which is gathered together by Woody McCorvey. The player will take that information, process it, and then chat with Swinney about the options before a decision is made on the player's own time days later.
The length of the talks depends on the player, their situation, and what is going on inside their head. Swinney has told a player before that he would be an undrafted free agent if he were to leave early and he still left anyway. We imagine that has probably happened once or twice.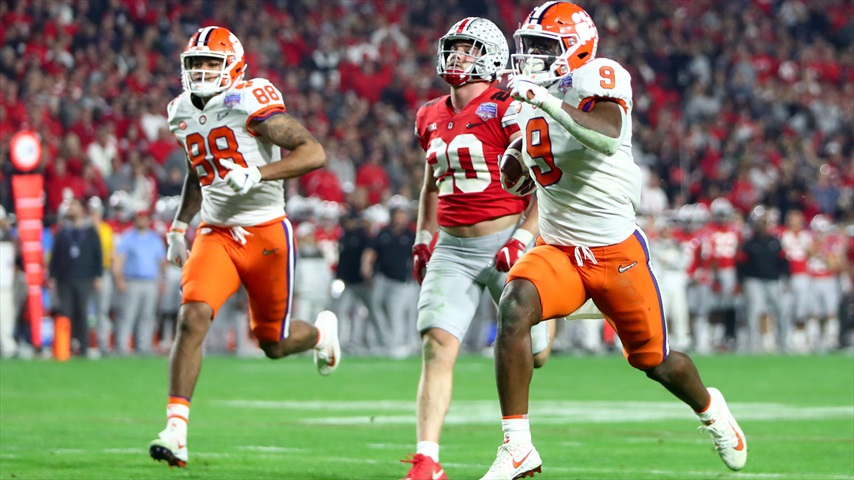 © Mark J. Rebilas-USA TODAY Sports
"I've had some guys that it doesn't matter what I tell them," Swinney said. "I've had some guys that I've told, 'You're not going to be drafted' and they'll look at me and say, 'Ah, I think I will' and then they leave and I'm like, 'Ok.' At the end of the day, they've got to make the decision and they have their mind made up so there's really no sense in us sitting around having a big in-depth conversation if they've got their mind made up.
So these days Swinney tries to take a different approach.
"Before I even tell them anything, I'm like what's your mindset right now?" Swinney continued.
Swinney recalls the conversation with Etienne in his office.
"Tell me what you're thinking right now before we get into this," Swinney said.
"Honestly?" Etienne said. "I'm thinking about coming back, Coach."
"Really?" Swinney asked.
The initial surprise started to settle in for the head coach who, like us, thought Etienne may have been headed towards the exit.
Knowing what he knew, Swinney then dove into Etienne's draft analysis - a second-round grade with a wide variety of information and details on the reasoning and what Etienne had to improve upon, which Swinney did not publicly go in to.
"It's pretty nit-picky, if you ask me," Swinney said. "If I was in the draft this year, he'd been my guy if I needed a running back. I know there's other great running backs out there, but he's pretty special."
"It's pretty nit-picky, if you ask me," Swinney said. "If I was in the draft this year, he'd been my guy if I needed a running back. I know there's other great running backs out there, but he's pretty special."
One of the knocks on Etienne's game going into his junior season was his pass-catching ability out of the backfield. Of all the talent Clemson's wide receiver room had in 2019, Etienne finished the season third on the team in catches (37), yards (432), and receiving touchdowns (4).
Swinney was not the only person who sat down with Etienne to discuss his future at lengths. The Thursday before the Tigers traveled to New Orleans, former Clemson running back C.J. Spiller sat down with Etienne for 30 to 45 minutes.
Spiller knew what it was like to be in Etienne's shoes. After his junior season, Spiller had a bad taste in his mouth after a 26-21 loss to Nebraska in the Gator Bowl and had to make a decision. He was a projected first-round pick, but decided to return to Clemson where he had the best season of his career.
There was plenty of advice Spiller gave Etienne, who was still leaning on following in Spiller's footsteps at that point.
"The biggest thing that we talked about was him graduating. That was huge for him," Spiller said on a radio interview with WCCP The Roar. "He wanted to be an example to his younger brother, obviously, who is playing football back in Louisiana.
"The thing I told him was, 'if you come back, you can't have one leg in and one leg out. You gotta be both legs in. You gotta put the blinders on and go to work."
The usage of both of those legs will be vital for a Clemson offense, which is returning other superstars in junior quarterback Trevor Lawrence and junior receiver Justyn Ross. Etienne called Swinney the Friday after the national championship during a meeting with the new team to tell him the good news.
There wasn't much of a surprise then due to the initial conversations, but that was replaced with excitement.
Wednesday was National Signing Day for college football and as much as the spotlight surrounded Clemson's 23 signees, the highest-rated class in the Dabo Swinney era, the conversation around Etienne's decision dominated an otherwise quiet day. One could argue that getting Etienne back for another run was as big as any recruit who signed their National Letter of Intent back in December.
Swinney noted to reporters in the room that Etienne might have felt incomplete if he had left Clemson as a projected second-rounder and without his college degree.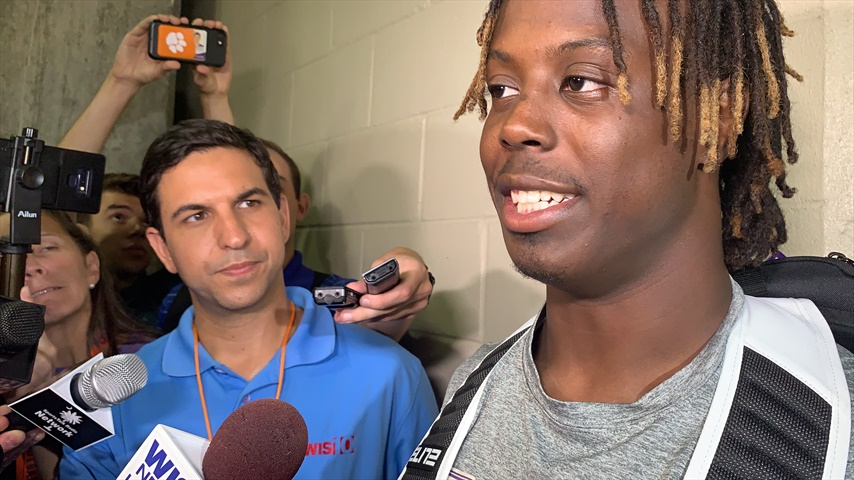 Clemson Sports Talk
Reasons for players to stay in school or ride off into the sunset to the NFL Draft vary on a case-by-case basis. There will always be hindsight when the dust of a college player's career settles, but who are we to judge the factors that play into the decisions of 21-year-olds?
When Etienne posted his statement declaring his return via social media, he quoted a Bible verse, which about summed it all up:
"What will it profit a man to gain the whole world, yet forfeit his soul?" - Mathew 16:26
From what we heard from Swinney, Etienne is looking to finish his Clemson career as a complete and polished product.
"He's enjoyed his time. I think for him, If he leaves here as a second-rounder next year, he'll do cartwheels," Swinney said. "But he's got his degree, he feels like he's a little more ready. He feels complete, and I just think leaving early for him, as a second-round grade, he felt a little incomplete.
"I think he's the best back in the country. Period."
The many players who wanted to get their hands on Etienne's number are going to have to wait a little longer. But depending on what Etienne is able to accomplish during his fourth and final year (Heisman potential, NCAA records, NFL Draft pick), there's a possibility that no player may be able to touch No. 9 ever again.
Or, at the very least, without a patch etched on the top right corner of the front that reads "Travis Etienne Jr."
---
This Sideline Player Full-Zip Jacket from Nike is on fire! The sleek Clemson Tigers graphics will give you bragging rights over your rivals and ensure your style is unmatched.
Never miss the latest news from Clemson Sports Talk!
Join our free email list