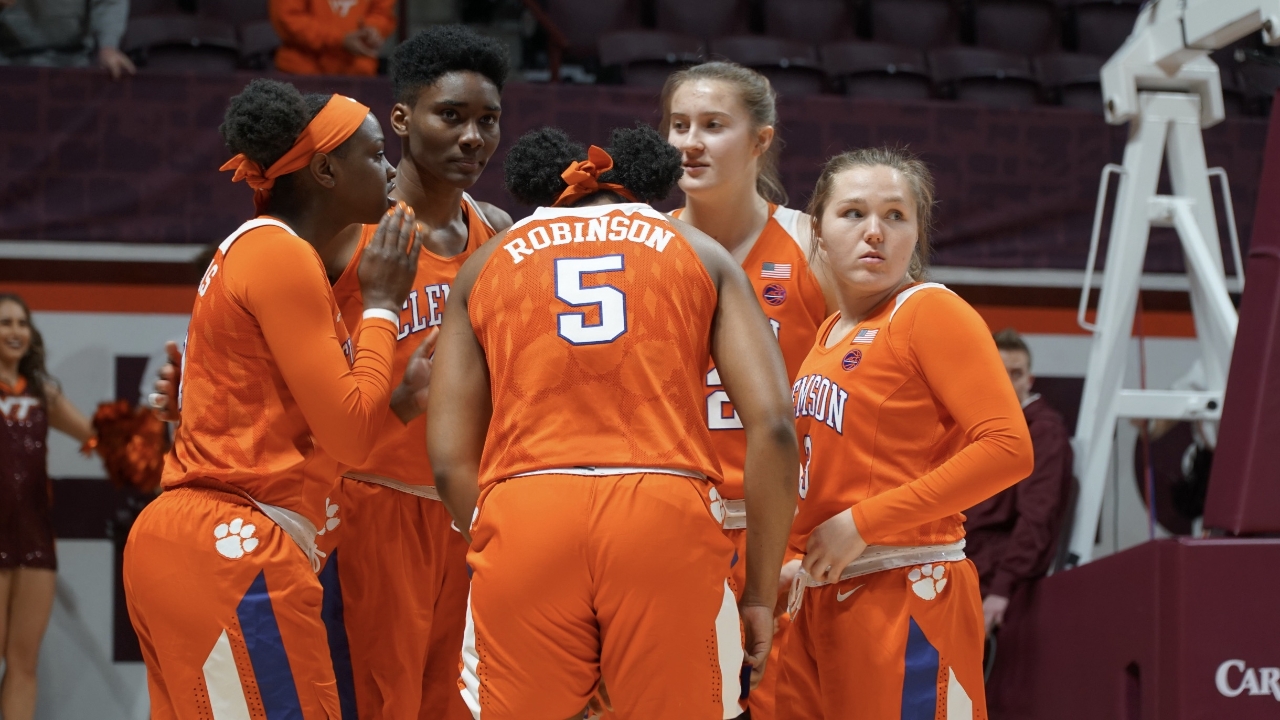 Clemson Women's Basketball
WBB: Clemson Falls 66-52 to Wake Forest
---
CLEMSON, S.C. — Wearing all pink in honor of the Kay Yow Cancer Fund, the Clemson Tigers took on the Wake Forest Demon Deacons in a Play4Kay-themed contest on Thursday. Wake Forest came away with a 66-52 victory over Clemson.
Clemson (7-18, 3-11) was a favorable 6-for-12 from 3-point range on the night and shot 42 percent from the floor. Wake Forest (13-12, 6-8) finished with a shooting percentage of 45 and went 5-for-17 on treys. The Tigers pulled down 27 rebounds, while the Demon Deacons corralled 35 boards. On defense, Clemson forced 14 turnovers, which translated into 15 points. Clemson also recorded 24 points in the paint.
Amari Robinson led Clemson with 14 points on 6-of-9 shooting to go along with her five rebounds. Kobi Thornton tallied 11 points and six boards and moved into sole possession of seventh place on Clemson's all-time rebounding list. Also of note, Destiny Thomas registered six points, five assists and five rebounds. Wake Forest's Ivana Raca recorded 23 points, five boards and four assists.
Clemson was solid from the field early on, leading 12-9 at the first media timeout. The Demon Deacons outscored the Tigers 12-2 for the remainder of the first quarter, leading 21-14 heading into the second quarter. After closing out the first half on a 7-0 run, Wake Forest sported a 35-24 advantage at the intermission. The Tigers trailed by as many as 20 points in the third quarter but fought back, manufacturing a 7-0 run to trim a 19-point deficit down to 12 on a 3-pointer by Kendall Spray. Wake Forest was able to hold Clemson off the rest of the way, though. The Tigers won the fourth quarter 12-11, but the Demon Deacons won the game 66-52.
The Tigers will conclude their current three-game homestand when they face the Miami Hurricanes (12-12, 4-9) on Sunday, Feb. 16. On Thursday, Jan. 23, Miami defeated Clemson 68-64 at the Watsco Center in Coral Gables, Fla. Sunday's game at Littlejohn is scheduled to tip off at 1 p.m. and air on ACC Network.
Clemson Head Coach Amanda Butler
Opening statement:
"We committed a lot of turnovers. That was really costly. It's hard to overcome. When you're playing against a team that can really score, you can't keep giving them the ball back. We didn't protect the ball like we needed to. It's very disappointing, but we'll get ready to play on Sunday."
On Clemson's defense:
"I'd really like for us to play more consistent defense. We keep showing that we're capable, but we're not doing it consistently. We're not defending well for four quarters. We'll look for ways to get better starting tomorrow."
Never miss the latest news from Clemson Sports Talk!
Join our free email list